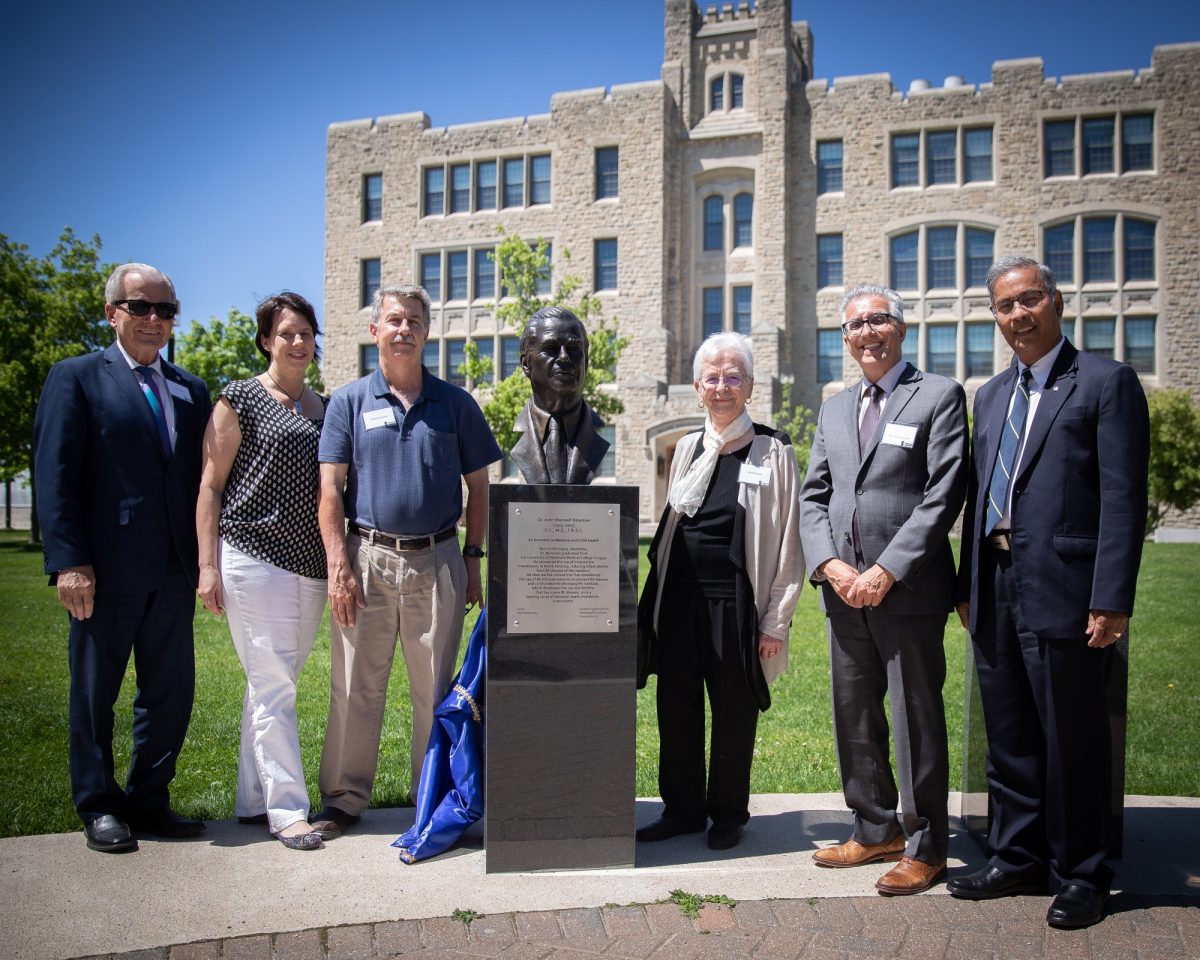 Commemorating the lifesaving legacy of Dr. John M. Bowman
New bust added to Innovation Plaza in honour of UM researcher
June 20, 2022 —
Dr. John Maxwell Bowman was a UM alumnus and an internationally recognized expert in the treatment and prevention of Rh disease in newborns. His lifelong devotion provided a cure to the once fatal in 4 of every 1000 births in the 1940s. During his career he transitioned from treatment of Rh disease, through blood transfusion for the affected fetus in utero, to prevention, through development of the WinRho antibody which continues to save many lives each year.
Dr. Bowman was immortalized last week with a new bust unveiled at Innovation Plaza to inspire students and faculty with a tangible reminder of the highest standard of excellence at UM. "John Bowman was the model of a dedicated physician and researcher," says Dr. Digvir Jayas, UM Vice-President (Research and International). "He combined research with clinical practice, and it is wonderful to see him join the illustrious group here at Innovation Plaza."
The other researchers featured in the plaza are Dr. Baldur Stefansson, Dr. Henry Bruce Chown, and Dr. Carol Shields.
Remembering an Icon
Dr. Bowman began his research career in 1957 as a part-time associate at Winnipeg's Rh Laboratory with Dr. Bruce Chown. At the same time, Dr. Bowman also worked as a part-time member of the University of Manitoba's Department of Pediatrics. He would then serve as Medical Director of the Rh Laboratory at the Health Sciences Centre and the Department of Pediatrics and Child Health of the Faculty of Medicine from 1961 to 1996.
It was during his time as Medical Director that Dr. Bowman and a colleague, Dr. Rhinehart Friesen read about an experimental method of fetal blood transfusion being used in Africa to treat Rh disease. In 1964, they would conduct the first successful fetal transfusion in Canada at the Winnipeg General Hospital on a former nurse who had suffered two previous hydropic fetal deaths.
Dr. Thomas Baskett documents this early success in his 2019 Journal of Obstetrics and Gynecology Canada article. "The baby, a son named Paul, was delivered by Friesen on April 20,1964 at 34.5 weeks gestation, required three exchange transfusions, and thrive." Baskett goes on to explains that, "Bowman, regarded the fetus as his patient," and performed the transfusions himself.
Simultaneously, Bowman served for 15 years as medical director of the Manitoba Red Cross Blood Services from 1967 until 1982. During this time, he would also co-found the Winnipeg Rh Institute in 1969, a private, non-profit institute supporting research and development of blood and blood related products. Dr. Bowman, along with fellow Rh Institute researchers Dr. Bruce Chown, Professor Marion Lewis, Dr. Jim Jamieson, and Dr. Albert Friesen, developed the WinRho immune globulin. This life-saving serum prevents Rh disease in newborns and continues to save countless lives every year.
In his long and impactful career, Dr. Bowman was recognized many times, receiving the Queen Elizabeth II Silver Jubilee Medal in 1977. He was made an Officer of the Order of Canada in 1983, a Fellow of the Royal Society of Canada in 1986, and Provost in the Manitoba Order of the Buffalo Hunt in 1996. Dr. Bowman was also awarded the F.N.G. Starr Award, and the Karl Landsteiner Memorial Award, and continued to lecture after retirement until 3 days before his passing in 2005.
The unveiling ceremony took place on Friday, June 17, 2022 at 2:00 p.m. on the south lawn of the Buller Building. The new commemorative bust of Dr. John Bowman was sponsored by the Winnipeg Rh Institute Foundation. "Dr. Bowman was an inspiration to many, and we owe a great deal to his tireless commitment to patients," said Dr. Juliette Cooper, Chair of the Winnipeg Rh Institute Foundation Board. "We are grateful for the nomination by Dr. Albert Friesen, which provided the opportunity to indelibly commemorate the tremendous legacy of Dr. John Bowman."
The University of Manitoba College of Medicine Archives has records and photographs of Dr. Bowman's career.
Innovation Plaza was established in 2013 to celebrate and honour University of Manitoba academic staff who have demonstrated sustained excellence and global impact and influence through a body of research, scholarly works or creative activities with a series of commemorative busts. The project was made possible through the vision and leadership of the Richardson Foundation.
Research at the University of Manitoba is partially supported by funding from the Government of Canada Research Support Fund.