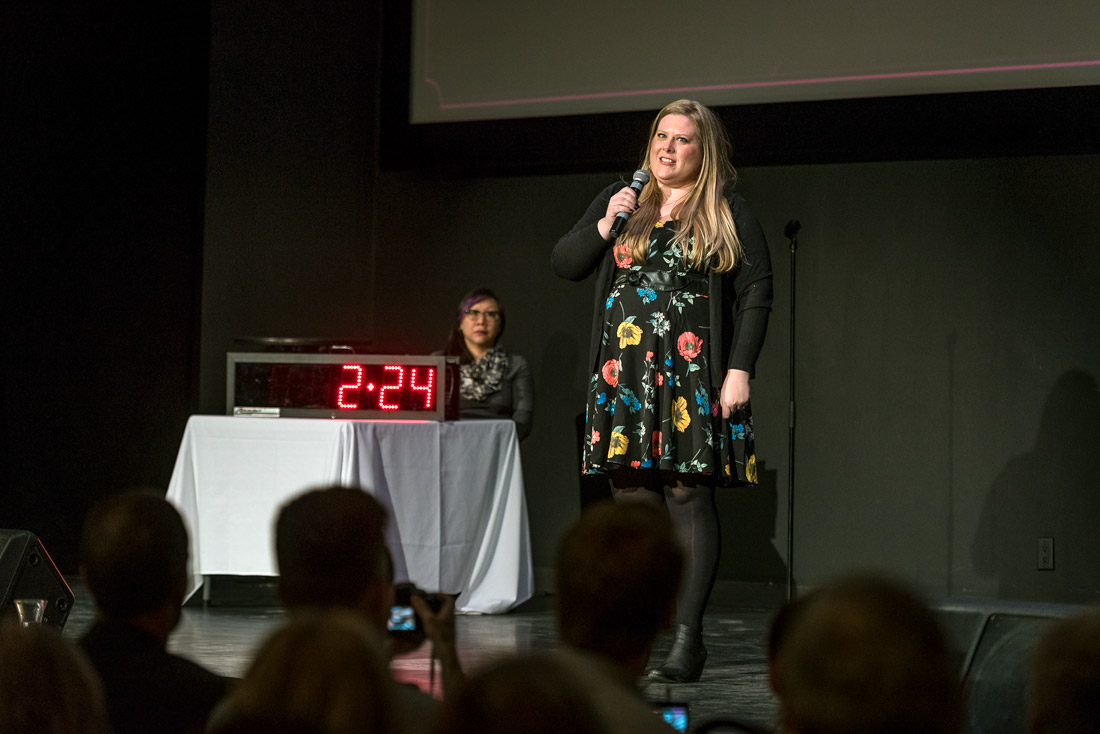 Three minutes of fame
Faculty of Education alumna among Fast Pitch winners
March 30, 2017 —
If public speaking is your greatest fear, try it without a script, sweating under a blazing spotlight, a clock ticking down three minutes to sell an audience on the work of your organization.
Seriously. Try it, say two winners of this year's Winnipeg Foundation Fast-Pitch Competition.
"I've spoken at big events, conferences, church services, and I've never been as nervous as I was in this competition," says CanU founder Roger Berrington. "There's no Powerpoint. You're just naked with your story. It's very intense."
In the end, sweating in the spotlight was worth it for the opportunity to sharpen CanU's message and connect with organizations across the city, Berrington says.
After 10 weeks of rigorous training and 50 drafts of his speech, Berrington walked away with the People's Choice award and $5,000 to support CanU, a mentoring and leadership development program bringing together children from challenged Winnipeg neighbourhoods and Manitoba university students.
Judged on criteria that include the persuasiveness of the pitch and the clarity of the content, Berrington says training for the competition forces contestants to focus on telling their organization's story succinctly and powerfully.
"One of the most important take-aways from the event was to understand why you're doing what you're doing, and to communicate that in a clear, compelling and brief way," he said, adding the experience reinforced his love of story and his appreciation for the power of story of persuade win people over.
Contest winner, Chelsea Jalloh, was paired with two coaches who also reinforced the importance of using story to connect with audiences.
"Whenever you have people connecting, the ability to authentically engage by honouring your own story and that of others is really integral to the process," said Jalloh, co-chair of Sunshine House, a community drop-in and resource centre focusing under-served groups.
Jalloh, a Faculty of Education PhD student who earned her BA, BEd, and MEd at the University of Manitoba, won the contest on a proposal to renovate a dilapidated garage on Sunshine House property into a greenhouse for the people who access their drop-in programs to plan, cultivate and harvest a garden. Her PhD studies focusing on education as the social-determinants of health—especially people who are experiencing homelessness—Jalloh now looks forward to investing the $10,000 prize money into making the greenhouse project a reality.
"We look at it as a social-enterprise project," Jalloh says. "Not only would they benefit from having more nutritious meals, but we could also sell some of the fruits and vegetables to local restaurants and reinvest the profits in order to keep the project sustainable."
Moreover, Jalloh maintains her number-1 takeaway from the contest was a sense of inspiration.
"I was so profoundly moved by all of the diverse work that other people are doing in Winnipeg," Jalloh said. "(Fast Pitch) was a great opportunity to plug in and be inspired by that work."