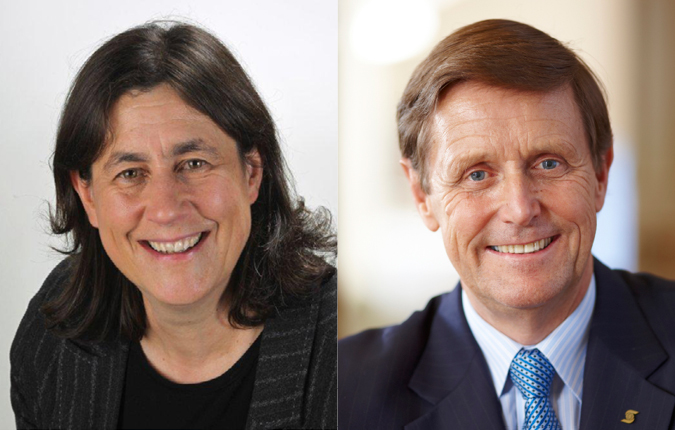 They climbed to the top of their fields, we honour them at Convocation
October 21, 2014 —
This fall, 1,403 graduands are eligible to receive their diplomas at Fall Convocation 2014, the highest-ever number for the Fall. During the two-day event the University of Manitoba will confer honorary degrees on two of exceptional Canadians: Ms. Chantal St-Cyr Hébert and Mr. Rick Waugh.
Two sessions of the 47th Fall Convocation at the University of Manitoba will be held: Wednesday, October 22, 2014 and Thursday, October 23, 2014. Each session will begin at 3:30 p.m. in the Investors Group Gym. Each ceremony will be webcast at: www.umanitoba.ca/convocation/live/
Chantal St-Cyr Hébert,
OC, BA (York), LLD
One of Canada's most influential journalists, Ms. Chantal St-Cyr Hébert's reportage and commentary have profoundly shaped the way Canadians understand their government, their country, and their place in global society. Guided by integrity, scepticism and a challenger's mind, Ms. Hébert has promoted and protected our democracy through her insightful questioning of the status quo. The University of Manitoba is proud to recognize her with an Honorary Doctor of Science.
Ms. Hébert is a national affairs writer with the Toronto Star, a guest columnist for L'Actualité, and a regular voice on the At Issue political panel on CBC's The National. She is also a panelist on Les Coulisses du Pouvoir and C'est pas trop tôt on Radio-Canada.
Ms. Hébert's distinguished career began in 1975 when she reported for Radio-Canada in Toronto. Her understanding of politics and determination to promote public discourse quickly landed her on Parliament Hill where she also served as parliamentary bureau chief for Le Devoir and La Presse.
"You could tell from the get-go that she was good—and that she was going to be really good," Peter Mansbridge, CBC news anchor, told the Ryerson Review of Journalism about a young Ms. Hébert. Mansbridge later made Hébert a regular on the At Issue panel and now calls her the group's lynchpin.
A Senior Fellow of Massey College at the University of Toronto, she holds numerous honorary degrees from Canadian universities and is the recipient of two Asia-Pacific media fellowships. In 2005 she received the APEX Public Service Award, and in 2006 the Hy Solomon Award for excellence in journalism and public policy. In 2012 she became an Officer of the Order of Canada, and in 2014 her column Politique in L'Actualité won gold at the National Magazine Awards.
Her 2007 political affairs book, French Kiss: Stephen Harper's Blind Date with Quebec, explores the fall of the Liberal party and the rise of the Conservative party in that province. It was short listed for the Edna Staebler Award for Creative Non-Fiction in 2008.
Her latest book, The Morning After, investigates the 1995 Quebec Referendum by asking a simple question: What would the different party leaders have done if the 'Yes' vote won? Published in September 2014, it is described as being a "sly, insightful and wonderfully original book…that cleverly expose[s] the fractures, tensions and fears that continue to shape Canada today."
Born into a francophone family in Ottawa, raised in Hull and Toronto and educated at York University, she is a rare bilingual political columnist. She has acquired and nurtured the ability to assess and critique our cultural and political landscapes, reporting on them with passion and courage. As Allan Gregg, pollster and frequent panellist on CBC, told the Ryerson Review of Journalism: "She is the most influential journalist in the press gallery right now….When she says something, when she writes something—English and French—all her colleagues pay attention."
She is undoubtedly one of the best-known and trusted political pundits in our country. In her three decades of commentary and investigative journalism, Ms. Hébert has explained, documented and argued the finer points of constitutional struggles, free trade, parliamentary politics, and First Nations concerns, among others.
She is bold. She is astute. She is a rebel. The University of Manitoba is proud to bestow Ms. Hébert with one of its highest honours, a Doctor of Science, honoris causa.
Rick Waugh
OC, BComm (Hons) (Manitoba), MBA (York), LLD, FICB
Rick Waugh's career reflects a truly Canadian success story – a story that started from humble beginnings and culminated with trailblazing achievements in Canada's banking sector.
The son of a fireman, Mr. Waugh worked his way through university in Alberta's oil industry, graduating from the University of Manitoba with a Bachelor of Commerce (Honours) degree in 1970. At the age of 20, he began his banking career working as a Bank of Nova Scotia teller at the Windsor Park branch in Winnipeg. Over the next 43 years, his talents and tenacity saw him ascend to the apex of the banking world, moving from Scotiabank's treasury, corporate international and retail banking areas, to eventually serving as Scotiabank's President and CEO from 2003 until his recent retirement.
Under his watch, Scotiabank experienced a period of unprecedented growth – a period when the bank's profits tripled. Mr. Waugh also oversaw Scotiabank's international operations with a steady hand during the most severe global financial crisis since the Great Depression.
These accomplishments represent a fitting career arc for a man who received the International Award from the Horatio Alger Association of Distinguished Americans in 2011. Despite international acclaim, Mr. Waugh remains true to his prairie roots and proud of where he came from. In a profile published in Canadian Business Magazine, reporter Jason Kirby wrote that Winnipeg is never far from Mr. Waugh's thoughts.
"If the so-called Winnipeg mafia—those power brokers who hail from the keystone province—ever handed out loyalty cards, Rick Waugh would warrant super-elite status. His stories almost always circle back to the prairie city. He's a diehard Bombers fan. When the Jets returned home in 2011, he was there for the opening game. An aerial painting of Winnipeg fills an entire wall in his living room."
Throughout his life, Mr. Waugh has managed to balance a busy professional life with a truly philanthropic spirit. In recognition of his contributions, Mr. Waugh was appointed an Officer of the Order of Canada in 2012 and in 2008 he received the Award of Merit from B'Nai Brith Canada for his great success as a leader in the corporate and humanitarian realms – an honour made all the more meaningful when it was presented to him in Winnipeg.
For his work to promote Canadian business interests internationally,Mr. Waugh received the Corporate Social Responsibility Award from the Foreign Policy Association in New York, and had the Order of Merit conferred upon him by the president of the Dominican Republic for distinguished service to that country. In 2007 he received the Merit of Honor, Council of the Americas, for his distinguished contribution to the Americas.
Mr. Waugh actively contributes to his community as a dedicated philanthropist. He has worked extensively with the MS Society, and is a board member for their Scientific Research Foundation. In 2006, he was campaign chair for the United Way of Greater Toronto's 50th anniversary. He is a director of St. Michael's Foundation and was co-chair of the hospital's campaign to build the Li Ka Shing Knowledge Institute.
A tireless advocate for the importance of education, Mr. Waugh and his family have endowed scholarships at the University of Manitoba for the children of Scotiabank employees living and working outside of Canada. In keeping with his commitment to education, Mr. Waugh also serves on the advisory councils for the Guanghua School of Management at Peking University and the Schulich School of Business at York University.
Mr. Waugh, along with his wife Lynne and their three sons, has also generously contributed to the construction of the Canadian Museum for Human Rights in Winnipeg.
As Winnipeg philanthropist and community builder Gail Asper stated, "Rick Waugh is one of Canada's most visionary leaders with a sharp mind and a huge heart. He and Lynne and their family truly understand the importance of investing in a better future and of igniting the energy and the transformative power of young people. They lead by example."
Mr. Waugh's leadership has helped guide the banking sector, both in Canada and internationally, to greater prosperity, stability and security.
His boundless generosity and passionate involvement continue to positively impact communities around the globe. The University of Manitoba is proud to honour him with a Doctor of Laws, honoris causa.