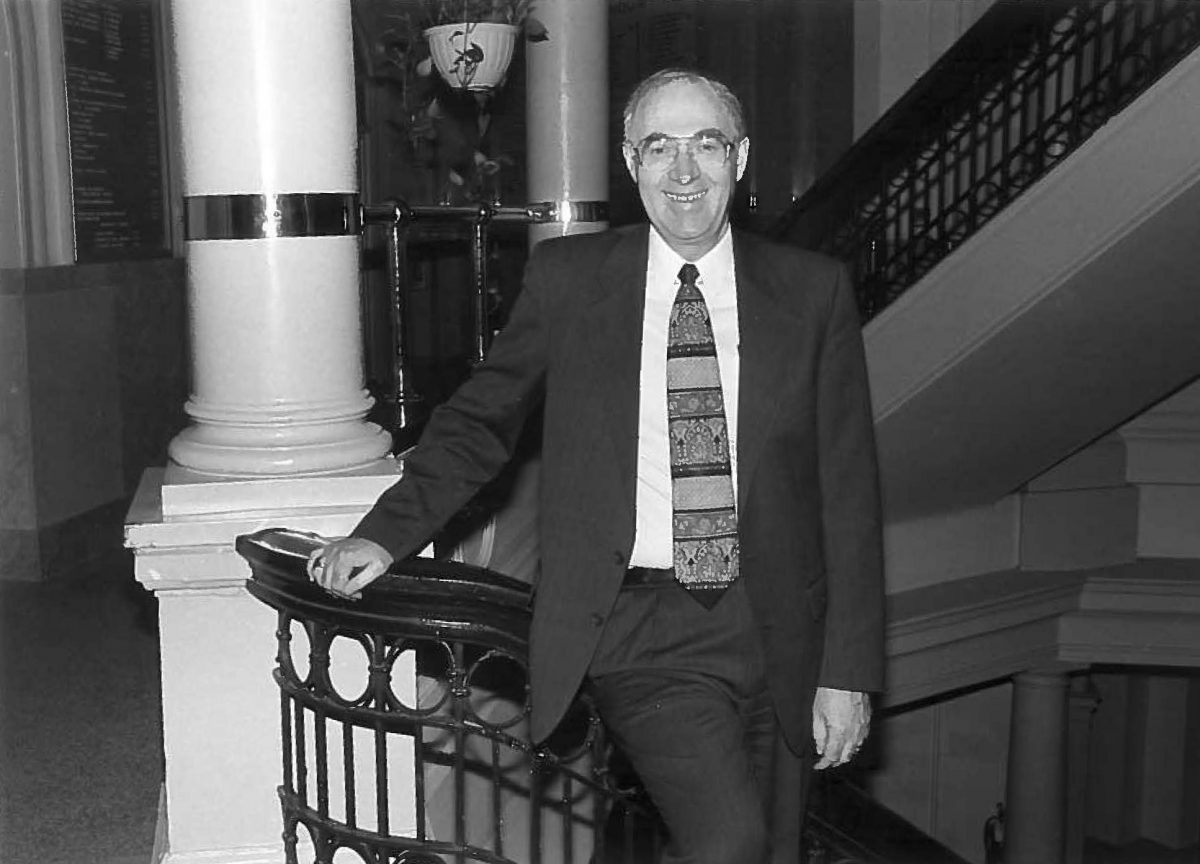 The UM legacy of Robert (Bob) Raeburn, 1943-2019
September 12, 2019 —
Members of the University of Manitoba community were saddened to hear that Robert (Bob) Mackenzie Raeburn passed away on September 8, 2019, at age 76, after a battle with cancer.
Mr. Raeburn graduated from the U of M (Brandon College) in 1964 and joined the U of M as assistant to the head of the chemistry department in 1967. In 1972, he began his 25-year service with the Board of Governors, and was the director of public affairs, the progenitor of what is now External Relations.
Mr. Raeburn served under five university presidents, retiring initially in 1998 but returning in 2001 to become Executive Assistant to the president until his "second retirement" in 2008. During those intervening years, he was co-mayor of the Athletes Village for the 1999 Pan Am Games, continuing his dedication and commitment to the U of M community and its members.
Mr. Raeburn was a staunch supporter of the U of M throughout his life. He attended Bisons home games whenever possible, including as recently as last year, cheering for his home team in the stands among the crowds. He was passionate about U of M student success, supporting many activities and groups on campus.
During his tenure at the university, Mr. Raeburn worked with literally all departments, colleges, and divisions within the university, advising, participating on boards and committees, and leaving behind a legacy of developing the University of Manitoba.
President Emerita Dr. Emőke Szathmáry had great admiration for her executive assistant. She notes: "I thought the world of Bob Raeburn. He knew the university, the city and the province. He knew most of the influencers within it, he knew the bonds and he knew the divisions."
She adds: "A man who has worked with five presidents knows the business of the office. Bob was simply superb—there is no other word to describe him. He was a wonderful human being; he loved this University, loved his family, and was loyal too to Brandon, the city where he was born and educated. I can't put into words how sad I am that he is no longer with us."
Mr. Raeburn was predeceased by his parents Andrew and Grace (nee Mackenzie). He leaves behind his wife Sandra, of 54 years; his children Todd and Drew (Janis); and grandchildren Jessica, Vanessa, and Kaase.
In his memory, contributions may be made to the University of Manitoba's Naimark or Szathmáry funds or a charity of choice.
In keeping with Bob's wishes a private family service will be held.