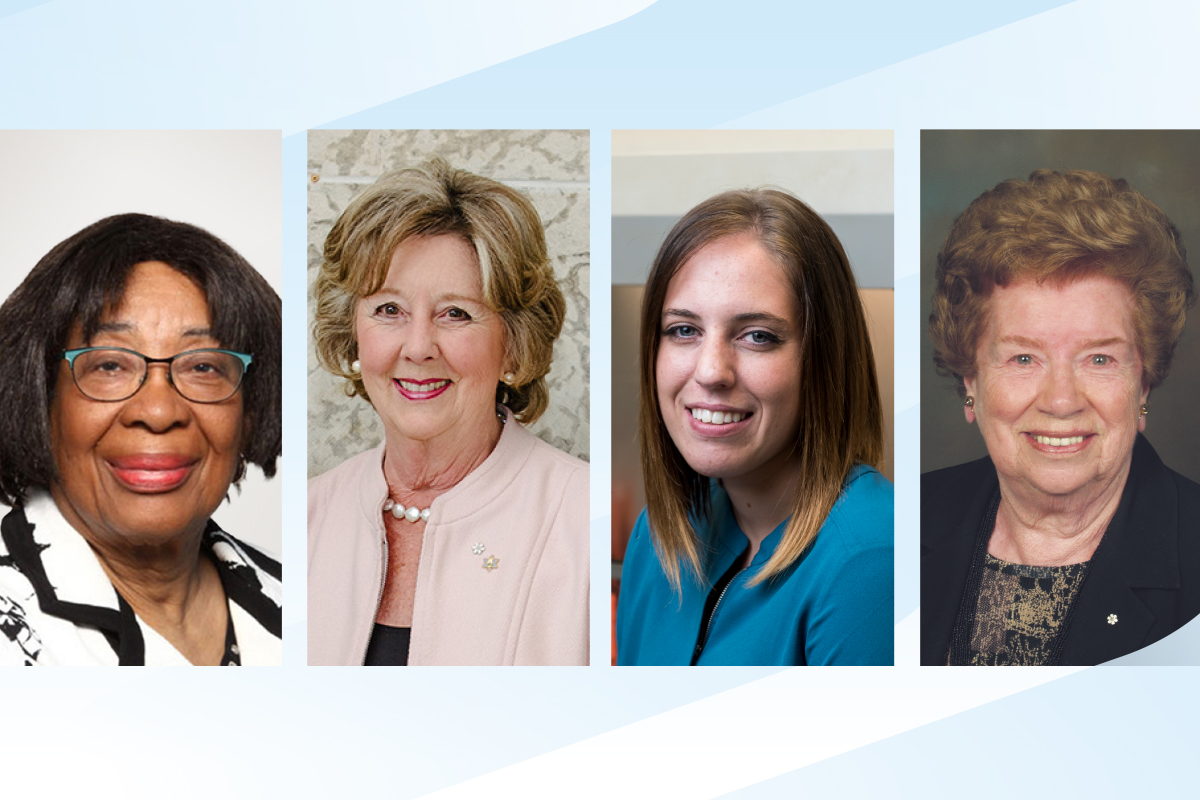 The Manitoba 150 Women Trailblazers announced
February 3, 2021 —
On Jan. 28, the Nellie McClung Foundation introduced the 150 Manitoba Women Trailblazer Awards to salute the contributions that Manitoba women have made to social justice, arts, sports, politics, education, community activities and promoting democracy while developing this great province. The awards honour Nellie McClung's trailblazing spirit by recognizing these incredible women leaders, so many of whom are University of Manitoba alumnae, faculty and friends.
Below we have highlighted just a few of these pioneering women with a proud UM connection as alumni, donors and friends.
Dr. June James [BSc/63, BSc(Med)/67, MD/67]
Born in Trinidad and Tobago, Dr. June James moved to Manitoba in 1960 and became the first Black woman admitted to the University of Manitoba's Max Rady College of Medicine, receiving her M.D. in 1967 and later earning her Specialist Certificates in Pediatrics and Allergy and Clinical Immunology. Over her distinguished career, Dr. James has practiced at the Department of Allergy and Immunology at the Winnipeg Clinic, was a founding member of Manitoba's Family Allergy Program, served as President of the College of Physicians and Surgeons of Manitoba, and taught at UM's Max Rady College of Medicine.
Honourable Janice Filmon [BScHEc/63, LLD/11]
The Honourable Janice Filmon has dedicated her life to philanthropy and the broader community of Winnipeg, particularly championing women's rights as the founding chair of the Nellie McClung Foundation. She has volunteered on countless other boards as well, including the Cancer Care Manitoba Foundation. Filmon was inducted into the Order of Manitoba in 2007 and the Order of Canada in 2013 and was installed as Manitoba's 25th Lieutenant Governor in 2015.
Gail Asper [BA/81, LLB/84, LLD/08]
Gail Asper's relentless passion helped spearhead the $351 million endowment to establish the Canadian Museum for Human Rights – the first national museum to be built outside the Ottawa region. She has long been associated with arts and culture as a volunteer, performer, and fund-raiser – keeping the arts thriving in Winnipeg and beyond.
Taylor Morriseau [BSc(Hons)/17]
Taylor Morriseau is a rising Indigenous scholar and PhD candidate at the Children's Hospital Research Institute of Manitoba. As a member of the Diabetes Research Envisioned and Accomplished in Manitoba (DREAM) team, her CIHR Vanier research examines early-onset type 2 diabetes among Indigenous youth in Manitoba. In 2019, she was recognized by WXN as one of Canada's 100 Most Powerful Women and by Corporate Knights Top 30 under 30 Sustainability, and in 2020 received a UM Distinguished Alumni Award in the Outstanding Young Alumni category.
Muriel Smith [BA/50, BA(Hons)/51, BEd/75, MEd/75, LLD/09]
Muriel Smith is a pioneering politician and feminist. She was the first woman in Canada to serve as a deputy premier when she was elected to the Manitoban provincial government in 1981. She held several ministerial portfolios throughout her career, including the minister of Community Services, minister for the Status of Women, and the minister of Labour and Housing. She has received the Order of Manitoba, become an Officer of the Order of Canada and has received the Queen Elizabeth II Diamond Jubilee Medal.
Carol Shields [DLitt/03]
Carol Shields was a beloved professor at UM for nearly two decades. She joined its English department in 1980 and taught students until her retirement in 1999. Shields died in July 2003. Her award-winning work, including non-fiction, poetry, drama and fiction, has attracted accolades far and wide. In the mid 1990s, her novel The Stone Diaries won both the Governor General's literary award and The Pulitzer Prize.
Janis Johnson [BA/68, LLD/18]
The Honourable Janis Johnson was appointed to the Canadian Senate in 1990, and upon retiring in 2016 was the longest-serving Conservative member. Volunteerism has been a fundamental part of Johnson's life, through her extensive involvement with Special Olympics and arts organizations in Winnipeg. She also worked with the University of Manitoba's continuing education division, where she designed a program enabling women to become better-equipped to return to the workforce.
Kimberly Prost [LLB/81]
Kimberly Prost's commitment to justice has been marked by her fair and unbiased views while negotiating with the United Nations Convention against Transnational Organized Crime and the UN Convention against Corruption, and shaping counter-terrorism legislation with the Commonwealth Secretariat as Head of the Criminal Law section. In 2017 Prost was elected as a judge of the International Criminal Court (ICC) for a nine-year term. She is only the second Canadian to sit on the 18-member ICC and the first Canadian woman. In 2020, she received a UM Distinguished Alumni Award in the Professional Achievement category.
Isabel Auld [LLD/86]
Isabel Auld was a long-serving member of UM's board of governors, and in 1977 was chosen as the school's first female chancellor, a position she held until 1986. She has been inducted into the Order of the Buffalo Hunt, Order of Canada, and the Winnipeg Citizens Hall of Fame, and is the recipient of the Queen Elizabeth II Diamond Jubilee Medal and multiple honorary doctorates.
Kathleen Richardson [BA/49, LLD/89]
Kathleen Richardson was passionate about arts and culture, having nurtured almost every arts organization in Winnipeg. She served as president of the Royal Winnipeg Ballet from 1957 to 1961 and honorary president until her death, and lead the campaign to raise $5.5 million towards construction of its new headquarters in the mid-80s. A lifelong friend of UM and an honorary fellow of St. Paul's College, she received both an Alumni Jubilee Award and an honorary doctorate. She was a member of the Order of Manitoba and promoted from Officer to Companion of the Order of Canada—the country's highest civilian honour.
Dr. Noralou Roos
Noralou Roos is a ground-breaking UM researcher and a Tier 1 Canada Research Chair. She has pioneered population health research through the examination of the social determinants of heath and co-founded the Manitoba Centre for Health Policy at UM. Roos received the Order of Canada in 2005, was elected a member of the Academy of Sciences of the Royal Society of Canada in 2009, and most recently received a Fellowship in the Canadian Academy of Health Sciences.
Patricia Bovey
Before being appointed to the Senate in 2016, the Honourable Patricia Bovey was a Winnipeg-based gallery director and curator, art historian, writer and professor. She was the Director of the Winnipeg Art Gallery (1999-2004) and the Art Gallery of Greater Victoria (1980-1999), and was appointed Director Emerita of the Winnipeg Art Gallery in 2014. She was the chair of the Board of Governors of UM and served on the Boards of the National Gallery of Canada (2005-2009) and the Canada Council for the Arts (1990-1993). She is the recipient of multiple prestigious awards including the Queen's Gold Jubilee Medal.
Tannis Richardson [BScHEc/48, LLD/12]
Tannis Richardson is a steadfast philanthropist and volunteer who has spent decades committed to arts, health and cultural organizations including the Winnipeg Symphony Orchestra, the United Way of Winnipeg and the Canadian Foundation for AIDS research. She has been invested in the Order of Canada in 2004 and is the recipient of a Manitoba Philanthropy Award in 2018 in the category of Outstanding Philanthropist.
Adele Wiseman [BA(Hons)/49, LLD/89 ]
Ann Callahan [MA/02]
Beatrice Watson [ExtEd/00]
Bonnie Korzenlowski [BSW/80]
Carol Shields [DLitt/03]
Chriss Tetlock [BEd/82]
Clara Hughes [LLD/06]
Connie Eyolfson [BA/81]
Connie Magnusson Schimnowski [BSW/94, MSW/01]
Corrine Joan Scott [BComm(Hons)/80 ExtEd/94]
Dayna Spiring [BA/98. LLB/01]
Debora Durnin-Richards [BHEc/76, ExtEd/98, MEd/10]
Diane Roussin [BSW/96]
Doris Mae Oulton, Friend
Dr. Helen Glass [Cert.Nurs(T&S)/58]
Dr. Jennifer Shay [MSc/59, PhD/66]
Dr. Jessie Lang [BA/37, BSW/63]
Dr. June James [BSc/63, BSc(Med)/67, MD/67]
Dr. Noralou Roos, UM Researcher
Dr. Rayleen De Luca [MA/81, PhD/85]
Dr. Sherry Peden [PhD/11]
Dr. Sybil Shack [BA/29, BEd/45, MEd/46, LLD/69]
E. Cora Hind [LLD/35]
Eira Friesen [BSc/39]
Elaine Froese [BHEc/78]
Elba Haid, Friend
Elder Mae Louise Campbell, Elder in Residence
Erna Kimmel, Friend
Evelyn Hart [LLD/89]
Gail Asper [BA/81. LLB/84, LLD/08]
Honourable Janis Gundrun Johnson [BA/68, LLD/18]
Honourable Janice Filmon [BScHEc/63, LLD/11]
Honourable Kimberly Prost [LLB/81]
Honourable Pearl McGonigal [LLD/83]
Honourable Sharon Carstairs [LLD/07]
Isabel Auld [LLD/86]
Isabel Ross Maclean Hunt [LLB/1916]
Jean Agnes Hird, Friend
Joan Mary Harland [BArch/38]
JoAnn MacMorran [BN/65]
Judy Wasylicia-Leis, Friend
Kathleen Richardson [BA/49, LLD/89]
Leanne Boyd [BSW/73, MSW/86]
Margaret McWilliams [LLD/46]
Margaret Morse [BA/46]
Marianne Cerilli [BPE/82, BEd/85]
Mary Dyma [BA/23]
Mary Scott [BA/59, BSW/60, MNRM/81]
Muriel Smith [BA/50, BA(Hons)/51, BEd/75, MEd/75, LLD/09]
Muriel Sprague Richardson [LLD/58]
Pamela Rebello [Cert.Ed/70, BPed/74, MEd/89]
Rita Chahal [ExtEd/91, ExtEd/99]
Samantha Rayburn-Trubyk [BA(Adv)/06]
Senator Marilou McPhedran, Friend
Senator Patricia Bovey, Friend
Shahina Siddiqui [LLD/19]
Sherri Walsh [LLB/85]
Shirley Render [BA/64, MA/84]
Susan Hart-Kulbaba [BA/77]
Tabitha Langel [BSW/86, ExtEd/04]
Tanis Mindell [AssocEd/72]
Tannis Richardson [BScHEc/48, LLD/12]
Taylor Morriseau [BSc(Hons)/17]
The Very Reverend the Hon. Lois M. Wilson [BA/47, LLD/06]
Theresa Oswald [BEd/88, BA/93]
Tina Jones [BEd/89]
Verna Kirkness [BA/74, BEd/76, MEd/80, LLD/08]
Wilma Derksen [ExtEd/08]
Sister Geraldine MacNamara [BA/59, CertEd/60, BEd/65, LLB/74]