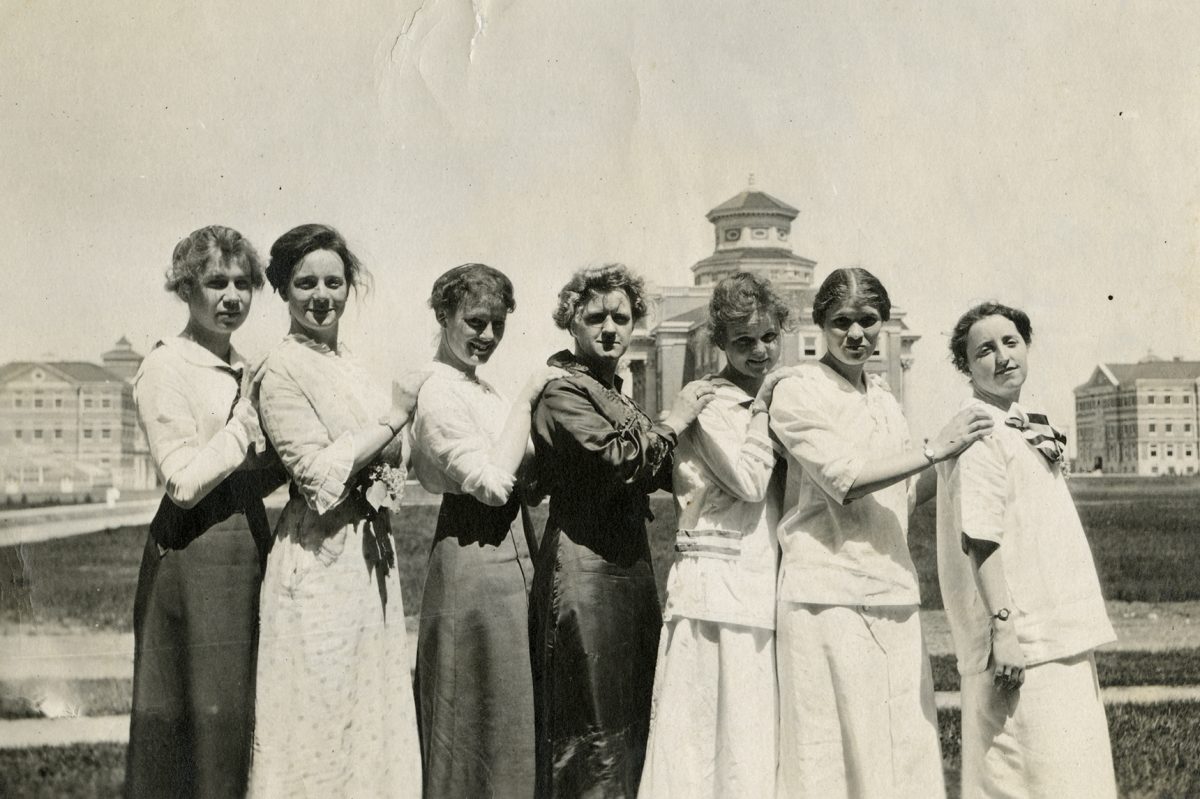 The Disrupters: Alumnae who persisted in an inequitable world
March 6, 2020 —
It's a fact: societies who have embraced more gender equality are healthier, wealthier and happier. As this year's International Women's Day calls for a more gender-equal world, we're celebrating our own UM alumnae whose perseverance led to incredible contributions for Manitoba, Canada, and the world.
Ella Peters [MD/35]
Dr. Ella Peters was one of the first Canadian Mennonite women to hold a career in medicine, and her mark on the profession in Manitoba is profound.
Raised in rural Manitoba, Peters completed high school in Gretna before attending UM. She was one of six women to graduate medical school in 1935, out of a class of 53. When the Second World War broke out during her post-grad in England, Peters joined the British Army Medical Corps. She later served in the British Field Hospital, caring for Holocaust survivors.
After the war, she attained a master's in public health from Harvard. She returned to Manitoba where strong leadership was needed in the face of the post-war baby boom. Peters – as the province's director of Maternal & Child Hygiene – conducted research that not only changed the standard of care for newborns, but also modernized hospital nurseries and introduced prenatal classes for moms-to-be.
She later stood resolute against government officials who wished to house the elderly and infirm in old hospitals. Instead, Peters advocated for the construction of new facilities, and spent the remainder of her career developing, implementing, and monitoring standards for personal care homes in Manitoba. Peters died on Feb 23, 1997, aged 87.
Ruby Samlalsingh [BA/45]
Born in Trinidad and Tobago, Ruby Samlalsingh was the first female visible minority to graduate from the University of Manitoba. She completed her B.A. from UM in two years, then went on to attain a master's in economics from McGill University.
For seven years during the 1950s, Samlalsingh worked in public relations for the Bookers Brothers, McConnell & Company which owned the sugar estates in Guyana. At the time, the estates had a low standard of living and considerable unrest – Samlalsingh was sought to improve conditions through social programs.
She arranged classes in cooking, nutrition, child care, hygiene, and handicrafts for local women. She also created various youth clubs to compensate for limited formal education. Samlalsingh's creative and successful efforts drew much attention from Britain's sugar producers, for whom she presented at conferences and published papers outlining her work. She once wrote: "… the time and effort … is not wasted because the development of human personality is an end to itself."
Her success in Guyana led to a lengthy career as a civil servant, working at Statistics Canada and various Canadian government ministries around the world.
Barbara Humphreys [BArch/41]
Considered to be a pillar of Canadian heritage conservation, Barbara Humphreys helped create the world's first computerized database of historic buildings.
In 1941, she graduated with UM's gold medal in architecture, becoming one of a limited number of female architects in Canada. During wartime, she designed munition and aircraft engineering plants, then supervised the establishment of housing subdivisions for returning veterans.
Canada's centennial sparked an increased desire to learn more about the country's "built heritage" – both the monumental and every day. Humphreys was hired by Parks Canada, and created what is now the Canadian Inventory of Historic Building. Its successful design has since been adopted by New York City, UNESCO, and in other countries around the world.
Humphreys believed that "buildings around us reflect what we were … how we lived," and followed her passion for heritage well into retirement. She received Queen Elizabeth II's Silver Jubilee and Golden Jubilee Medals for her efforts. Humphreys died on Feb. 21, 2017 aged 97.
Pauline Wood Steiman [BA/97]
A long-time champion of Indigenous health care, Pauline Wood Steiman was a founding member of the Manitoba Indian Nurses Association.
Born in St. Theresa Point, she evaded being taken into Residential School until age 13, where she first learned to speak English. She finished Grade 12, and promptly began her medical career, first working as a nurse's aid then graduating from St. Boniface Hospital as a licensed nurse.
She would go on to act as a surgical nurse, health advisor for the Island Lakes Tribal Council, and was also employed in UM's Rady Faculty of Health Sciences. Forever striving to improve health outcomes for her people, she told Canadian Nurse magazine: "Our people desperately need better health care and education. The nursing profession can help us achieve this goal if only they will continue to develop expertise in learning about the Indian people and their needs in the home and in the community."
True to her word, Wood Steiman participated in and co-authored many research studies into the health of First Nations communities, helping bring to light the prevalence of Type 2 diabetes and risk of fractures.
At age 56, Wood Steiman attained her B.A. in native studies and psychology from the University of Manitoba. She died on April 28, 2015 aged 73.
Yvonne Brill [BSc/45]
From a young age, pioneering rocket engineer Yvonne Brill was discouraged from pursuing science. She first showed promise in high school, though her principal recommended she become a teacher. Undeterred, Brill enrolled in Engineering at UM but was refused admission as there were no accommodations for female students at the faculty's mandatory outdoor camp. Brill instead studied chemistry and mathematics, graduating in 1945.
Her first claim to fame came soon after graduation when she configured a lightweight rocket fuel for unmanned satellites while working at Douglas Aircraft in California. In 1972, she patented a propulsion system that, to this day, keeps communication satellites in orbit.
Brill's invention garnered her international acclaim, and participation in projects of increasing prestige. She worked on propulsion systems for the first weather satellite; the Mars Observer; rocket designs for U.S. moon missions; and the rocket motor for the Space Shuttle.
She once justified her career choice, saying "I reckoned they would not invent rules to discriminate against one person," acknowledging that in the 1940s, she was the only women in the industry.
Her many honours include NASA's Distinguished Service Medal, the National Inventor's Hall of Fame, UM Faculty of Science's Memorial Award, and the National Medal of Technology and Innovation – for which she was nominated by then-U.S. President Barack Obama. Brill died from breast cancer complications on Mar. 27, 2013, aged 88.
Know of other alumnae trailblazers? Let us know in the comments.