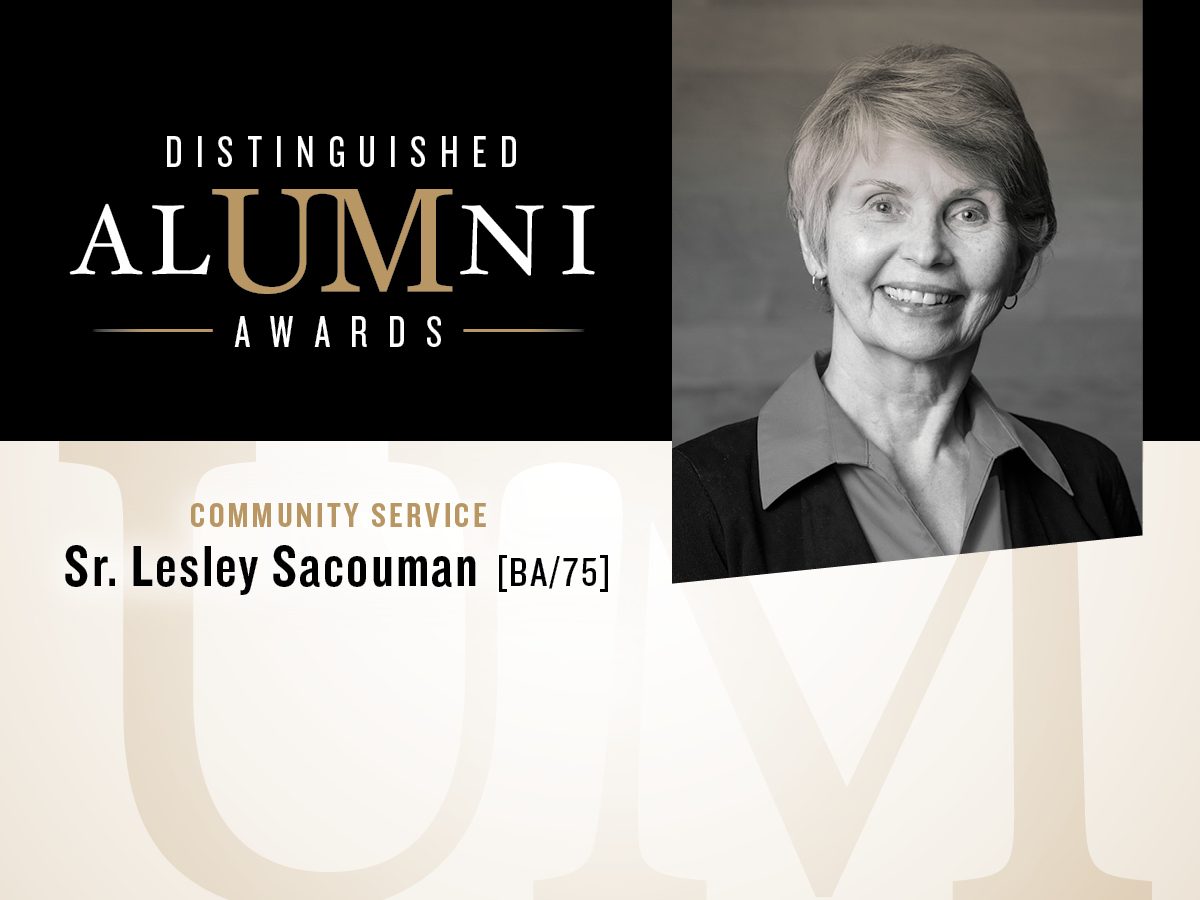 The 2017 Distinguished Alumni Award Recipient for Community Service is Lesley Sacouman
March 8, 2017 —
The recipients of the 2017 University of Manitoba Distinguished Alumni Awards have been selected, representing graduates who are outstanding in their professional and personal lives. These honourees encompass a wide range of achievement, innovation and community service and inspire fellow alumni, current students and the community.
Help us celebrate Lesley's achievements at this year's Distinguished Alumni Awards Celebration of Excellence. Get your tickets here.
Community Service
Sr. Lesley Sacouman [BA/75] has created a system of care and a place to call home for hundreds of disenfranchised people.
She co-founded Rossbrook House in 1976, which now provides alternative schooling and nutrition, music, leadership, and Indigenous culture programs for 80 children and young mothers every day. In 2004, Sr. Lesley opened the Holy Names House of Peace for immigrant and refugee women in transition. Living with these women from countries around the world, she offers us a timely lesson in empathy.
Sr. Lesley brings together the marginalized and the elite, and in the face of grim realities, helps them to see possibility.
In Her Own Words
Sr. Lesley Sacouman had a chance to tell us about the importance of providing a safe place for people from all walks of life, why all children deserve a chance at a good life and other thoughts, memories and musings that make this 2017 Distinguished Alumni Award recipient tick.
That feeling of home and safety was always crucial. There was opposition, sure, but we knew we stood on right ground. These young people didn't feel safe, and we were determined to trust their judgment. They preferred the floor in a safe space to some flush bedroom in a stranger's house, and you can understand that.
It was these tough teenagers who wanted to be where three nuns lived. They wanted a place that was open the hours they were most at risk, which was evenings and weekends, and there was nothing open for them at that time.
We came home once, and someone had broken a window. But nothing was gone. It was just that someone needed a place to stay.
I loved the kids, but at school, they were spitting in the halls and swearing at the teachers. But they were coming into our home in the evenings, and they were little lambs. I just realized that if the kids felt at home, they could get the intellectual stuff. If they're not comfortable and they don't feel at ease, well, they can be destructive.
I think beauty and order help healing.
We said the young people will give direction. They'll point the way; we'll listen and support their dream. We'll not lead.
There was such growth within them and us; it was their dream and ours. We were building it together.
What poverty really does is it takes all your choices away. Without choices, you're disempowered. Without resources, you have no food, so how do you sit in school? You're in dirty clothes because you can't wash them, so how do you get a job?
Every child is good and they deserve a chance. Once they have the chance, then they can lift off like every other child. Every child needs a place of safety, and someone they can trust, whether that's one person, or ten or fifty.
I have been seriously mentored by them, walking the paths of disenfranchised people. It has been my good fortune to live and work with them and among them. It is the joy of my life, and it opened everything up to me.
When you're all working together towards something, it builds solidarity. Everything is based on relationships, with the kids, with the immigrant women, with politicians, donors, everyone.
Everything I've ever been involved in has started with almost nothing, so very small, and it just built day by day.
I'm always in a circle of people, it's never just me. I'm always listening and being helped by others. I'm one leg on the table, that's all.
The community support, both financial and just believing in the cause, giving roots to something that no one else will, and then knowing someone else will take over. That's faith.
At 17, I entered Sisters of the Holy Names (of Jesus and Mary). How much do any of us know at that age, I suppose, but I was very clear that this was what God was inviting me to.
When I moved to the inner city and we opened the doors, every day, all of my day, was filled with mission. It was vibrant, adventurous, bright—it took up all of my energy. I could be myself and pour out everything I had.
I'm so grateful for the diversity in life and of my life. Living here (at the House of Peace) with Muslims, Sikhs, Protestants, you name it, my life is always widening.
I feel known and loved. I'm OK with life and death that may be coming any time now.
I've had such a happy life, the chance to explore the few talents I was given, to use them, to meet people of all different walks of life, and to be loved by people on the street and by millionaires.
Do I see needs bubbling up? Yes, I do, and when the door opens, I'll claim it and move. I have no fear.
I've never had a plan for what's next. I have a gut feeling, I listen and I respond. I don't know what's next, but I'm ready.
---
Related Stories
Advocates, Designers, Providers, Artists and a 'Destroyer' among recipients of the 2017 University of Manitoba Distinguished Alumni Awards
The 2017 Distinguished Alumni Award Recipients for Lifetime Achievement are John and Patricia Patkau
The 2017 Distinguished Alumni Award Recipient for Professional Achievement is Reva Stone
The 2017 Distinguished Alumni Award Recipient for Service to the University of Manitoba is Isabella Wiebe
The 2017 Distinguished Alumni Award recipient for Outstanding Young Alumni is Desiree Scott