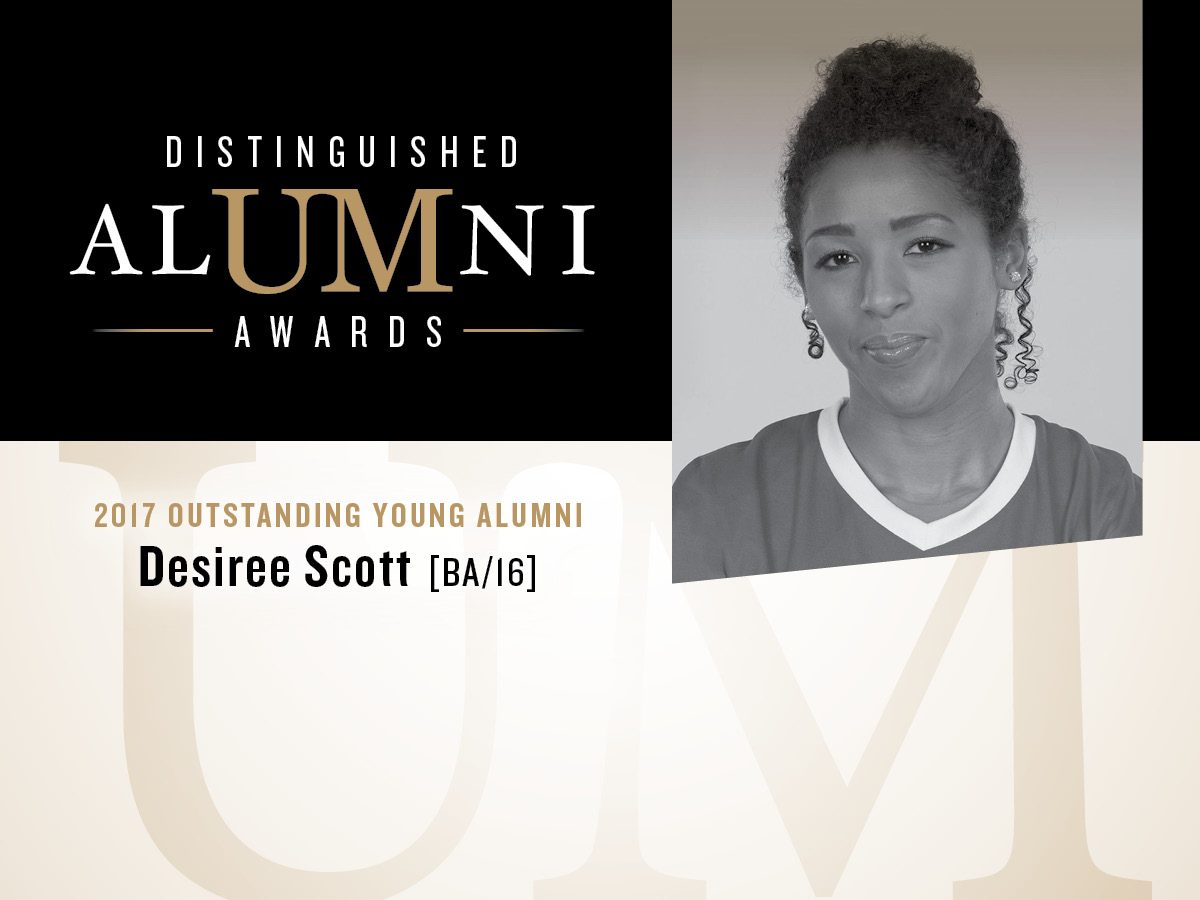 The 2017 Distinguished Alumni Award recipient for Outstanding Young Alumni is Desiree Scott
March 6, 2017 —
The recipients of the 2017 University of Manitoba Distinguished Alumni Awards have been selected, representing graduates who are outstanding in their professional and personal lives. These honourees encompass a wide range of achievement, innovation and community service and inspire fellow alumni, current students and the community.
Help us celebrate Desiree's achievements at this year's Distinguished Alumni Awards Celebration of Excellence. Get your tickets here.
Outstanding Young Alumni
National soccer star Desiree Scott [BA/16] believes any dream can be attained with hard work and dedication.
She is a two-time Olympic bronze medalist and has played in more than 100 games internationally. Known as The Destroyer, thanks to her aggressive play, she is adored by fans for her tenacity on the field.
Scott is, without question, the U of M's most esteemed soccer player and continues to hold the record for most points and assists in a Bison career. She is an enthusiastic ambassador for KidSport Winnipeg and she hosts an annual soccer camp for young girls, with proceeds paying the fees of children who otherwise would not have the opportunity to play competitive sports.
Scott is in her third season as a midfielder for the FC Kansas City Blues in the National Women's Soccer League.
In Her Own Words
Desiree Scott had a chance to tell us about her time at the U of M, her soccer career and other things that make this Outstanding Young Alumni tick.
The U of M is a huge part of my story and my success. If my family wasn't in the stands every game, if I had gone somewhere else, it would have been completely different. Family is huge for me, and to experience the ups and downs of a season with them is huge for me.
Soccer was what my older brother played. It was the way we bonded, I idolized him and it was a way to play together. And then I just fell in love with the game. I just enjoyed playing with my friends, my mom was at every single match—it was great.
I'm good at breaking up play, and then starting the attacks from there, that's just my bread and butter.
(On her nickname, The Destroyer) It came from my present team coach, John Herdman. When we were playing the 2012 Olympic qualifiers, he was doing some press and they asked about me, and he answered, "Yeah, she's destroying them out there." And it kind of stuck. I love it.
Five years go by very quickly and you don't appreciate it at the time. It's such a unique chance, to be a student athlete.
I love that soccer's a team sport, I don't think I'd have much success as an individual. I really like that you have the support of your teammates. You're not alone; you're working together and aiming for a common goal.
You're fuelling your body for the exercise you do, but I like chocolate cake, and I'm going to have it when I want it.
You have to be quite disciplined to stay at the top. I'm the only Winnipegger on our team, so it's me motivating myself by myself, and going to the gym twice a day.
I'm a homebody, so it's hard to be away from friends and family, but it's balanced by representing my country and doing what I love.
I see the world playing soccer; I wouldn't change that for anything.
I love working with kids. I love teaching them that dedication can get you there, and you don't know where opportunity can take you.
At a young age, it's just about finding something you love. You have to recognize there'll be ups and downs, but the hard work is easy, because you love it.
In 2012, I got to see Usain Bolt do his 200-metres to win the gold medal. To see that live was really amazing. He is smoking fast. He's very tall, and just built like a machine.
Our coaches always remind us, "There's very few people who get to wear a maple leaf on your chest," but the truth is it's hard to hang onto that experience.
There are 50,000 people coming out to our games; the little boys and girls in the stands wearing our jerseys and screaming; those kids want to be us.
I look at it now, and it's crazy, I never thought this would happen. Two Olympics, two World Cups! It takes getting out of that bubble, coming home, to be able to understand it.
It's a lot of sacrifice. You're missing family, and events like graduations. You're constantly monitoring your diet. But it's always about the passion for the game and our team, and wanting to improve.
You have to be the best and you're always striving for that. It's not just that I love what I'm doing, but how do I get there, how do I get better, in every single moment.
We live abnormal lives, but that's what we want.
(at the 2012 Olympics) It was a just this big splash of emotion. Those three years leading up to the Olympics, it had all paid off. It was the first time in decades that Canada had a medal in soccer. It was an emotional high for sure.
The best part is coming back to your home city and seeing everyone else's excitement.
They're singing O Canada and waving flags and that's when you realize, you're actually winning the medal for your country.
We just got our highest ranking. We're number four in the world; we used to be #10. So now number one is in our sights. It's a tough goal, but that's what the next four years is about for us. As a team and a country that's where we're headed.
I want to get back into the community. Working with kids, working with soccer.
I love to dance. If I wasn't a soccer player I'd be a dancer for sure.
---
Related Stories
Advocates, Designers, Providers, Artists and a 'Destroyer' among recipients of the 2017 University of Manitoba Distinguished Alumni Awards
The 2017 Distinguished Alumni Award Recipients for Lifetime Achievement are John and Patricia Patkau
The 2017 Distinguished Alumni Award Recipient for Professional Achievement is Reva Stone
The 2017 Distinguished Alumni Award Recipient for Community Service is Lesley Sacouman
The 2017 Distinguished Alumni Award Recipient for Service to the University of Manitoba is Isabella Wiebe