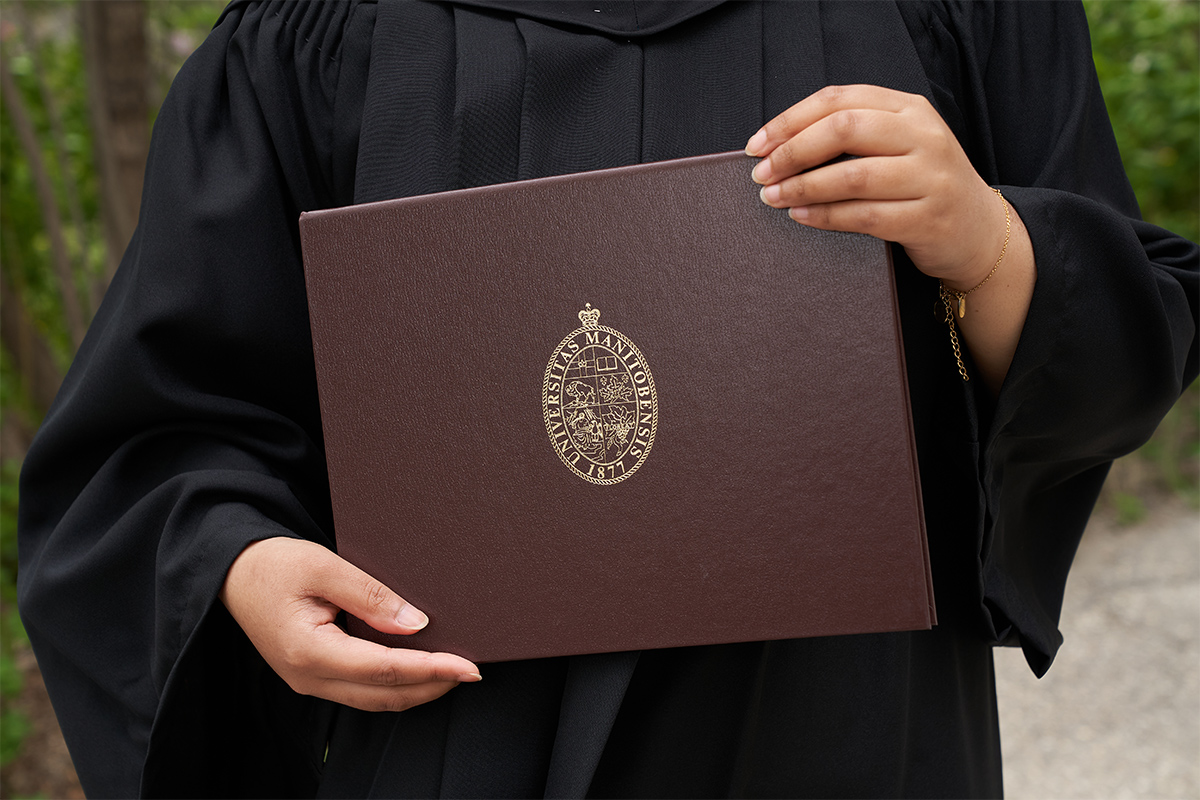 Spring Convocation returns to in-person events for 2022
Indigenous leaders, human rights advocates, notable philanthropists, community and business mavens among honorary degree recipients
May 30, 2022 —
After two years of virtual ceremonies because of the pandemic, the University of Manitoba Convocation ceremonies will again be held in person this spring. Convocation will continue to also offer a virtual experience for those who aren't ready to attend a large in-person gathering or aren't able to attend in person.
Convocation ceremonies for February and Spring Graduates from the Fort Garry campus will be held from June 7-10, 2022. Separate ceremonies will be held for graduating students from the Bannatyne campus (May 19, 2022), Extended Education (June 9, evening) and Université de Saint-Boniface (June 13, 2022). Find out more on the Convocation website.
President's Installation
On the morning of June 7, 2022, Convocation Week will kick off with the Installation of Dr. Michael Benarroch as the 12th President and Vice-Chancellor of the University of Manitoba. The UM community is invited to watch the livestream and submit a message to celebrate the installation of Dr. Bennaroch.
Honorary Degrees
In addition to conferring degrees to our graduates, each year, the University of Manitoba bestows honorary degrees upon individuals who have achieved acclaim for their advancement of culture, communications, education, administration, scholarship, leadership, philanthropy, mentorship, or business.
During its 143rd Spring Convocation, the University of Manitoba will confer degrees, diplomas and certificates on 4,468 graduates, and the following noteworthy individuals will be awarded honorary degrees:
Spring 2022 Honorary Degree Recipients
Elder Margaret Lavallee
Doctor of Laws
Bannatyne Campus, May 19, 2022, 10:00 a.m.
For more than 50 years, Margaret Lavallee, a Traditional Ojibway woman, has been committed to sharing Indigenous culture and knowledge, improving health services for Indigenous communities and mentoring young people. She is the respected Elder in Residence in the education division of Ongomiizwin, the Indigenous Institute of Health and Healing in the University of Manitoba's Rady Faculty and led the naming process for the institute.
Born and raised at Sagkeeng First Nation and a Survivor of the residential school system, Elder Margaret has devoted her life to passing on traditional teachings and advocating for equitable health care.
Since joining the UM community in 2005, Elder Margaret has provided cultural teaching and support to Indigenous and non-Indigenous students, faculty and staff. She is determined to ensure that Rady Faculty of Health Sciences students graduate as health professionals who provide culturally safe care. She has influenced many lives as a wise and generous mentor. She also leads ceremonies and provides grounding in Indigenous principles for academic operations, research projects and clinical teaching. She has played a key role in the Rady Faculty of Health Sciences' approach to addressing racism and working in support of Reconciliation.
Mary Jane McCallum
Doctor of Laws
Bannatyne Campus, Thursday, May 19, 2022, 2:30 p.m.
Dr. Mary Jane McCallum, a First Nations woman of Cree heritage, has made an extraordinary impact as a champion for health care in northern and Indigenous communities, a social justice advocate and an Indigenous leader. In 2017 she was appointed to the Canadian Senate, where she continues to represent Manitoba.
Dr. McCallum is believed to be the first Indigenous woman in Canada to become a dentist. During three decades of distinguished service and leadership as a dentist, her roles included leading the UM dental clinic in Churchill and working for the federal First Nations and Inuit Health Branch, delivering care across northern Manitoba.
She has used her voice to draw attention to the social determinants of health–such as inequitable access to care–for First Nations, Inuit and Métis people. Improvement will come, she has said, through decolonizing the health care system, reclaiming traditional teachings, and supporting patients' mental, emotional and spiritual healing in addition to their physical care.
Susan C. Millican
Doctor of Laws
Fort Garry Campus, Tuesday, June 7 at 3:00 p.m.
From her days producing hard-hitting documentaries and her tenure as vice-president of Women's Television Network (WTN), to her time as head of the National Screen Institute (NSI) and her diverse philanthropic work, Winnipegger Susan Millican has had a hand in shaping Canada's cultural scene.
As chief executive officer of NSI, Canada's oldest national training school for film and television professionals, she expanded education and outreach. Contributing her expertise to empower others, she worked to level the film and TV industry playing field and create opportunities for underrepresented groups to succeed because "everyone, everywhere deserves a shot at their dream." Through her leadership, greater numbers of Indigenous Canadians and visible minorities have joined the ranks of writers, producers and directors, resulting in film and television programs that better reflect Canada's diverse audiences.
Since stepping down from the NSI in 2010, Ms. Millican has immersed herself in community work with organizations like the Winnipeg Foundation, Rossbrook House and the Bruce Oake Recovery Centre. She is currently a director on the Nature United board and is responsible for bringing the work of UK non-profit Onebillion to Canada, distributing thousands of their learning devices in northern Manitoba and core areas of Winnipeg to help students improve their math and literacy skills.
David Asper, Q.C.
Doctor of Laws
June 8, 2022, 9:30 a.m.
David Asper has made exemplary contributions to Manitoba and Canada through philanthropy, community service and in advancing law, justice and human rights.
Many Canadians will associate Mr. Asper with his tireless efforts to overturn the notorious wrongful conviction of David Milgaard, a case he was introduced to as an articling student in 1986. The fight to free Mr. Milgaard lasted years, and Mr. Asper faced challenges and criticism for refusing to accept the status quo. Where many would have abandoned the pursuit, fearing loss of personal reputation or political fallout, he persisted in the face of almost insurmountable systemic resistance. After visiting the scene of the original incident, re-interviewing witnesses and uncovering new evidence, he formulated compelling arguments for Mr. Milgaard's innocence. He led what became a political crusade to rectify the point at which the law protected the true wrongdoer and punished the innocent.
He founded the David Asper Centre for Constitutional Rights at the University of Toronto, and he served as acting dean of UM Faculty of Law from 2020-2021, encouraging the next generation to pursue truth, justice and the betterment of all. Following his legal career, Mr. Asper excelled in business as former chair of the National Post and senior executive at Canwest Global Communications.
David Milgaard
Doctor of Laws (posthumous)
June 8, 2022, 9:30 a.m.
David Milgaard spent 23 years behind bars for crimes he didn't commit, emerging from the darkness to shine a light on others wrongfully convicted. Mr. Milgaard was only 16 years old when he was imprisoned in 1970 for the rape and murder of Saskatoon nurse Gail Miller. He never wavered in his innocence, even when doing so would have brought freedom sooner.
This integrity and tenacity were things he learned from his mother, Joyce—his fierce ally in their decades-long crusade. She eventually convinced then-Prime Minister Brian Mulroney to order a case review, which finally led to the overturning of Mr. Milgaard's conviction in 1992. One of the first clients of the non-profit organization Innocence Canada, Mr. Milgaard gained support from UM alum and lawyer David Asper, a member of the legal team that helped to secure his release. It wasn't until 1997 that DNA evidence exonerated Mr. Milgaard and identified the true culprit.
His guiding philosophy was you cannot do nothing, when you can do something. Mr. Milgaard not only supported the successful exonerations of others wrongfully convicted but significantly advanced the dialogue of prisoner rights. A passionate advocate known for his perseverance and optimism, Mr. Milgaard passed away a few short weeks before receiving his honorary degree.
Harvey Lyon Secter, O.C., O.M.
Doctor of Laws
Wednesday, June 8 at 3:00 p.m.
Harvey Secter, chancellor emeritus, began as a UM undergraduate student, later earned his law degree, and eventually returned to his alma mater to serve as dean of Law and then as chancellor. His nine years as chancellor were, according to his colleague, former president and vice-chancellor David Barnard, "perhaps the greatest gift he has given to this city and this province." In this leadership role, his colleagues most valued his wisdom and sage advice.
For decades Mr. Secter and his wife, Sandra, have supported numerous institutions including universities, hospitals, performing and creative arts organizations, the United Way, Assiniboine Park Conservancy, and the Jewish Foundation. He has served on many philanthropic, community and professional boards, and recently was honorary chair of the University of Manitoba's Front and Centre fundraising campaign, which vastly exceeded its goal by realizing a total of more than $626 million.
As chancellor, Mr. Secter spent many hours advising the president, chair of the Board of Governors, and other members of the executive team on the most critical issues faced by UM. He has regularly encouraged new alumni to take leadership and philanthropic roles, because when one devotes oneself to service, the return you receive is inevitably greater than the contribution you make.
Paul Marie Soubry
Doctor of Laws
Thursday, June 9 at 9:30 a.m.
Mr. Paul Soubry rose through the ranks at StandardAero for 24 years, becoming Canadian president in 2001, chief operating officer in 2006 and chief executive officer in 2007. After leaving StandardAero, he was soon hired as president and chief executive officer of New Flyer Industries (NFI). He helped transform two Manitoba companies into two of Canada's greatest international success stories, and energized product development in the aerospace and transportation industries. For these reasons, Mr. Soubry was named Canada's CEO of the year in 2016 by the Financial Post.
As chair of the University of Manitoba's Front and Centre capital fundraising campaign, Mr. Soubry's unrelenting energy and vision helped to raise $626 million to support students and key university projects. He was honoured with the University of Manitoba's Distinguished Alumni Lifetime Achievement Award in 2018. He was also recognized as one of Canada's Top 40 under 40 in 2003, inducted into the Canadian Manufacturers and Exporters Hall of Fame in 2014, given the Chartered Professional in Human Resources Patron of the Year Award in 2016, and the Canadian Council for the Advancement of Education Distinguished Service Award in 2020. He brings that same drive and passion to the causes he champions.
Jan Currie
Doctor of Laws
Thursday, June 9 at 3:00 p.m.
A leader, advocate and skilled nurse, Jan Currie has dedicated her career to shaping the Manitoba health care system for nearly four decades.
Ms. Currie built effective coalitions and partnerships with a variety of nursing, academic and health care institutions in Manitoba to advance nursing practice, resolve operational issues, and develop long term strategies for nursing and health care as a whole. An advocate to the core, Ms. Currie spearheaded complex initiatives to improve health care in many areas, including women's health, eating disorders, transplant services, seniors, patient safety, emergency and critical care, and cardiac sciences.
Ms. Currie was CEO at Deer Lodge Centre and was vice president and chief nursing officer for 11 years at Winnipeg Regional Health Authority (WRHA). She also developed and chaired the Regional Nursing Leadership Council.
Ms. Currie has received many awards including the Canadian Nurses Association's (CNA) Centennial Award, the Canadian College of Health Service Executives' Leadership Recognition Award, and the College of Registered Nurses of Manitoba's Lifetime Achievement Award. She currently serves as a member of the University of Manitoba's College of Nursing Advisory Council.
Levinia Nuqaqlaak Brown
Doctor of Laws
Friday, June 10 at 10:30 a.m.
Levinia Nuqaalaq Brown, a residential school Survivor, uses her voice to educate hearts and minds, and her statement to the Truth and Reconciliation Commission of Canada is included in its final report. She is a member of the National Centre for Truth and Reconciliation's Governing Circle and shares her knowledge and insight on Reconciliation.
Ms. Brown served as the first female mayor of Rankin Inlet from 1989-1991 and was first elected to the Legislative Assembly of Nunavut in 2004, at one point serving as Deputy Premier.
In 2021, Ms. Brown travelled to Ottawa for the first National Day of Truth and Reconciliation and was one of the Survivors who was part of the landmark raising of the Survivors Flag on Parliament Hill. She also spent 14 years proudly serving on Canada's national "Celebrate Canada Day" committee.
Ms. Brown was proud to be the first Inuk "Grandmother" in Winnipeg to be awarded the Keeping the Fire Burning award in 2011 – this was of particular importance to Brown, as in Inuit culture, it was the women in the igloo who kept the oil lamp burning in cold weather. She also received the Aboriginal Circle of Education, Inc., Honouring our Elders award in 2017. Throughout her career, Ms. Brown has devoted her life to the development and promotion of community capacity building, especially regarding health and social services.
Gilbert Vielfaure
Doctor of Laws
Université de Saint-Boniface, Monday, June 13 at 12:00 p.m.
Gilbert Vielfaure has worked tirelessly for the past 17 years to establish Centre Flavie as an ally in the fight against poverty. After a notable career in private industry and education, Mr. Vielfaure became the first executive director of Centre Flavie, helping to launch and run the organization that offers comfort and support to those in need by providing used household goods at no cost. In 2012, was awarded the Queen Elizabeth II Diamond Jubilee Medal in recognition of his remarkable and exemplary contribution to the community.
Thanks to his determination and dedication to the Centre's mission, over 8,000 families throughout Winnipeg, southern Manitoba and in many northern Indigenous communities now receive help annually. In 2019 alone, more than 54,000 items were distributed to those in need.