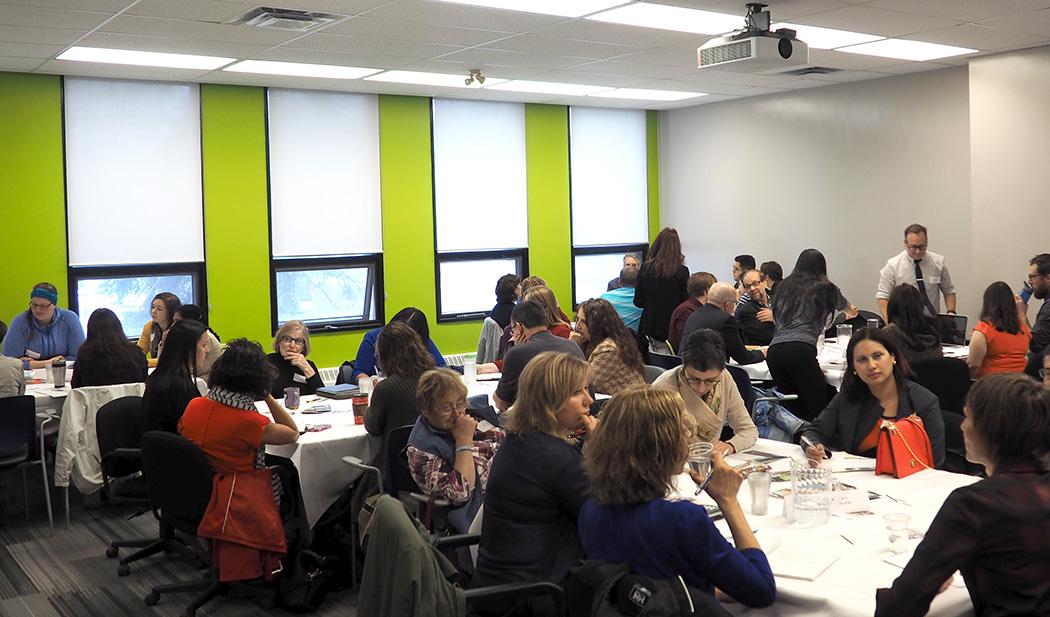 Sharing strategies at lively inaugural Teaching Café
June 6, 2017 —
The room was abuzz at the U of M's inaugural Teaching Café, as teaching staff and faculty moved from table to table, listening to quick presentations and sharing their own innovative teaching ideas with peers. Every 30 minutes, participants moved on to a different table and a different discussion.
The collaborative format made for a lively, day-long event that included lunch as another opportunity to network and share. The May 17 café was hosted by the Centre for the Advancement of Teaching and Learning.
In Jocelyn Thorpe's session, participants were eager to hear how she used the first week of classes to guide students though syllabus-crafting. Thorpe is an associate professor in women's and gender studies, Faculty of Arts.
Advantages of co-creating a syllabus with students (which she noted is applied within certain parameters) include students' shared ownership of the course, their increased awareness of rationales for different approaches, and potential for flexibility and creativity in how the course is structured.
An opportunity to discuss teaching with peers
Librarian Sarah Clark said that she was drawn to attend the Teaching Café for an opportunity to discuss teaching, since teaching is a major part of her role at Libraries.
The gamification session by Nathan Greidanus, assistant professor of business administration, Asper School of Business, stood out for her. Greidanus presented on using live simulations, board games and student-designed games as pedagogical tools. He has used these activities in courses on entrepreneurship, sustainable development and managing innovation.
Clark mentioned that the UM Learn game-based "badges" were also discussed in the session, something she'd like to try. Badges are mini-credits that students can earn in UM Learn, and to which the instructor can assign marks as desired. They can be used as building blocks for an e-portfolio in a course, and students can also use these as transferrable skills if they are going on job interview or applying for work after graduation — or even in other courses.
Clark was glad she'd attended the café.
"I find that engaging in discussions in informal settings really helps me to think about new things that I can apply in my own teaching," she said. "It's just a great space to interact with people that you might not often get a chance to speak with — or not about teaching specifically."
'Stimulating to hear others' ideas about teaching'
Another session that stood out for Danny Mann, department head of biosytems engineering, was the "just-in-time," problem-based teaching approach discussed by Doug Ruth, professor, mechanical engineering, Faculty of Engineering.
He also enjoyed sessions on team-based learning and gamification, and saw how the two might be combined. "I saw the possibilities of using a team-based gaming approach, where students create their own game."
And, he laughed, "I also see gaming as [an area in which] I could get some advice from my son, who's just turning 16."
Mann says he's always been interested in attending the sessions organized by the Centre over the years. "I find that it's very stimulating to hear other ideas that people try and see how they can fit into my courses," he said.
The Centre for the Advancement of Teaching and Learning offers teaching and learning support programming throughout the year and collegial leadership, expertise and support to fulfill the teaching and learning mission of the University of Manitoba.
Read more about the sessions offered at the Teaching Café.
Read more about the Centre's summer seminar series, which runs from June 12 to 16 and focuses on technology and teaching.
Save
Save
Save
Save
Save