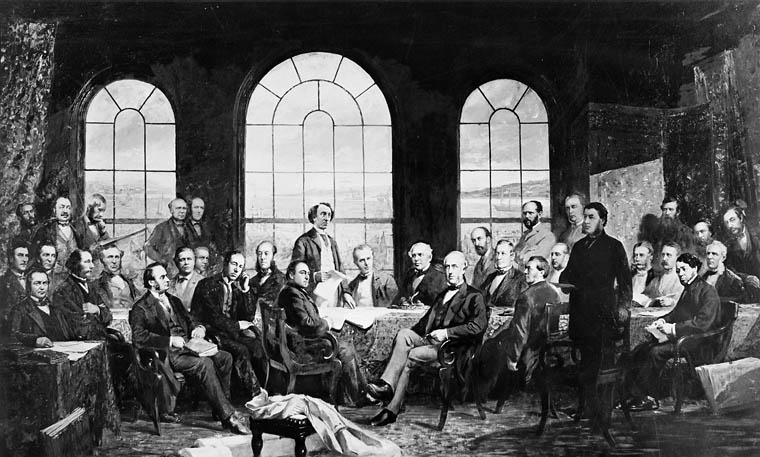 Reconciliation through Recognition lecture postponed
Phil Fontaine and Kathleen Mahoney are starting a movement to have Indigenous peoples officially recognized as founders of Canada
January 31, 2018 —
Update: This article originally referenced a lecture. Due to unavoidable circumstances, the lecture has been postponed and new date will be announced at a later time. Sorry for the inconvenience.
Three groups of people founded Canada. Only two, the British and the French, however, are officially recognized because they wrote the rules during Confederation.
The third group, Indigenous peoples, was left out, subjugated as wards of the state, says Phil Fontaine [BA/81, LLD/10], former National Chief of the Assembly of First Nations.
Fontaine and University of Calgary law professor Kathleen Mahoney are leading a movement called Recognition2Action that will ask Parliament to officially rewrite our origin story, acknowledging Indigenous peoples as founders.
Indigenous peoples' founding role is inarguable. A few examples from a list of many, in brief: For hundreds of years Indigenous people were the backbone of the fur trade; they helped explorers survive and fought in the War of 1812; and Indigenous people signed the Treaties that gave access to land to, well, essentially everyone, making Canada one of the wealthiest nations in the world.
Changing the constitution could be cumbersome but Mahoney, the primary architect of the Truth and Reconciliation Commission of Canada (TRC) and the Chief Negotiator for Canada's Aboriginal peoples claim for cultural genocide against Canada, said a quasi-constitutional change—like what the Canadian Human Rights Act, the Supreme Court Act, or Official Languages Act are—would achieve the same thing.
"No government would undo those pieces of legislation," Mahoney says, noting it is a protection she would like for this cause. If the government officially recognized Indigenous peoples as founders in legislation, Mahoney argues it would create a framework within which all sorts of future decisions would be made – language, political representation, appointments, participation in the economy.
Such a change, Mahoney says, would also put Indigenous peoples in a position whereby they could be compared to British and French peoples, and comparative questions could then be asked about languages, laws, cultures, and how they are treated in the Canadian system.
"People will see everything as perfectly reasonable and normal. Right now people tend to think that when Aboriginal people get something it's somehow a benefit or handout or favouritism. It's a false premise," she says. "This will be highly symbolic of course. But it will also be highly substantive in the sense that everything that is not symbolic, that is important and practical, will fit within this framework and the country will make sense of it going forward."
Resolving our existential crisis
Thanks to the work of the TRC and the National Centre for Truth and Reconciliation at the U of M, and many other organizations across the country, Canada is experiencing a shift in consciousness and conscience.
Canadians are coming to grips with what their country did, Mahoney says, and it's causing an existential crisis as Canadians wonder who we really are. The populace is facing the fact that the British and French turned their backs on the Indigenous Peoples they relied upon and then shortly after Confederation enacted the most pernicious piece of legislation in our history, the Indian Act. Then things got worse.
"When Canada was faced with the findings of the TRC, it caused a lot of people to question what this country is, and what it stands for. People now know more about the history of what happened and we are not the paragon of equality and human rights we have been lead to believe we are. In order to get over this existential crises acknowledging Indigenous peoples as founders is an essential next step. It will redefine the country," Mahoney says.
It is also integral to Reconciliation, as noted in the TRC's Calls to Actions (numbers 79 and 93).
"Some argue, 'Well, you've had the apology. You've had compensation. That should be enough.' There are people that would argue that's Reconciliation," says Fontaine, a Residential School Survivor.
"But of course, the commissioners pointed out that Reconciliation is a process that will take some considerable period of time to achieve. Take poverty. We've been struggling with poverty for generations and it should absolutely be tackled as a part of this. But I think, what underpins this all, in my view, is that this is the ultimate form of Reconciliation: Official recognition, in whatever shape of form that takes, of Indigenous peoples as one of the three founding peoples of Canada. That is what I'm focusing attention on."
For too long Canada has told and read and celebrated an incomplete story, Fontaine says. No one likes half-finished stories.
Fontaine and Mahoney want Parliament to complete the story to make Canada whole.
"And the correct and powerful narrative of Canada's origins will become part of the shared story of every Canadian for generations to come," Fontaine said at a previous engagement on this Recognition2Action tour. "It will open up possibilities for genuine and lasting Reconciliation. Finally, it would be a moment for the ages, that all Canadians, including our peoples, could finally celebrate, in the true sense of the word, the founding of Canada. Our country."