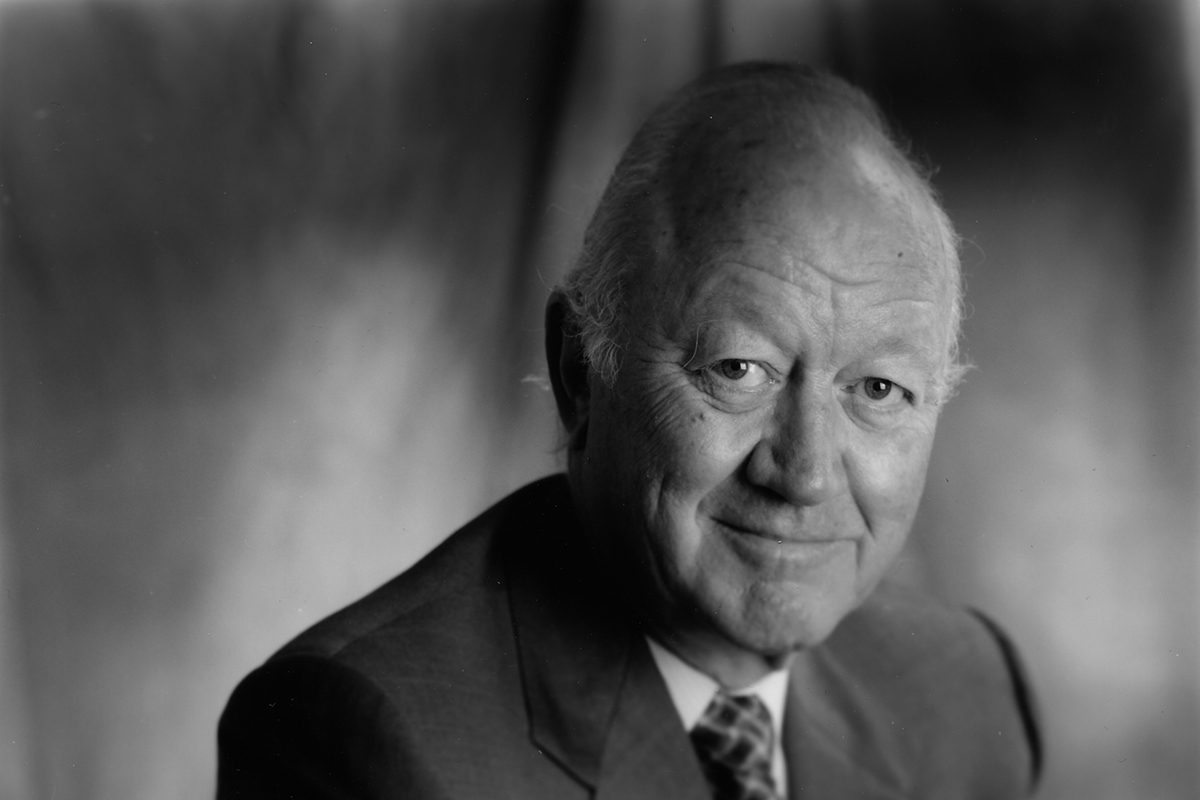 Remembering James Burns: business giant, alumnus, philanthropist
February 14, 2019 —
Alumnus James Burns, one of Canada's most prominent business leaders, died Monday in Winnipeg. He was 89. Burns [BComm/51, LLD/87 (Hon.)] was former president and chair of Great-West Life—one of Canada's largest companies—and president of its parent organization, Power Corporation of Canada.
Aside from his tremendous professional success, Burns—an Officer of the Order of Canada–was an esteemed philanthropist. His generous support of the University of Manitoba reflected his varied interests and passions. Burns established student awards in history, nursing and graduate studies. In 2006, he named the Barbara Burns Food Innovation Laboratory in the Faculty of Agricultural and Food Sciences after his late wife. Students in the I.H. Asper School of Business will remember Burns' notable business career through their studies in the James W. Burns Executive Education Centre.
"Jim Burns was a great friend to the University of Manitoba," said Dr. David Barnard, University of Manitoba President and Vice-Chancellor. "I was privileged to have spent time in personal conversation with him, and his consistent pride in this university, and commitment to helping it do more, and be better, never failed to inspire."
Born and raised in Winnipeg, the son of distinguished surgeon Dr. Charles Burns and Gladys MacKay, the soft-spoken Burns proved a leader at university, where he volunteered as assistant treasurer of the UM Students' Union and advertising manager of the university's telephone directory.
He went on to earn an MBA from Harvard University and returned home to launch his marketing career at Great-West Life, eventually rising to the top ranks. As president of Great-West Life, he managed $1.5 billion in assets and more than 3,200 employees.
While at Great-West Life, Burns conducted media relations on behalf of UM for the annual Learned Societies Conference. He presided over the Alumni Association, providing thousands of dollars each year for scholarships and bursaries, and he convinced his company to sponsor a scholarly symposium that drew thousands to Winnipeg.
In 1979, he became president of Montreal-based Power Corp. and chair of Great-West Life. Burns chaired the Conference Board of Canada and participated on many nationally influential boards including IBM Canada, Investors Group, Power Financial, and the Shaw Festival. He also was a founding member of the Council for Business and the Arts in Canada.
Locally, Burns was a key member of the citizen-driven campaign to save the Winnipeg Jets in 1974. He helped create both the Manitoba Museum and The Forks Skateboard Park and volunteered for more than 15 years with CancerCare Manitoba. He was past president of the South Winnipeg Progressive Conservative Association and worked on the campaign of former Premier Duff Roblin, a close friend.
In addition, the Burns Family Foundation has generously supported the Canadian Museum for Human Rights, the Variety Heritage Adventure Park at the Forks, and the Manitoba Writers' Guild.
Burns was named to the Order of Manitoba and was an honorary colonel of the Queen's Own Cameron Highlanders of Canada, based in Winnipeg.