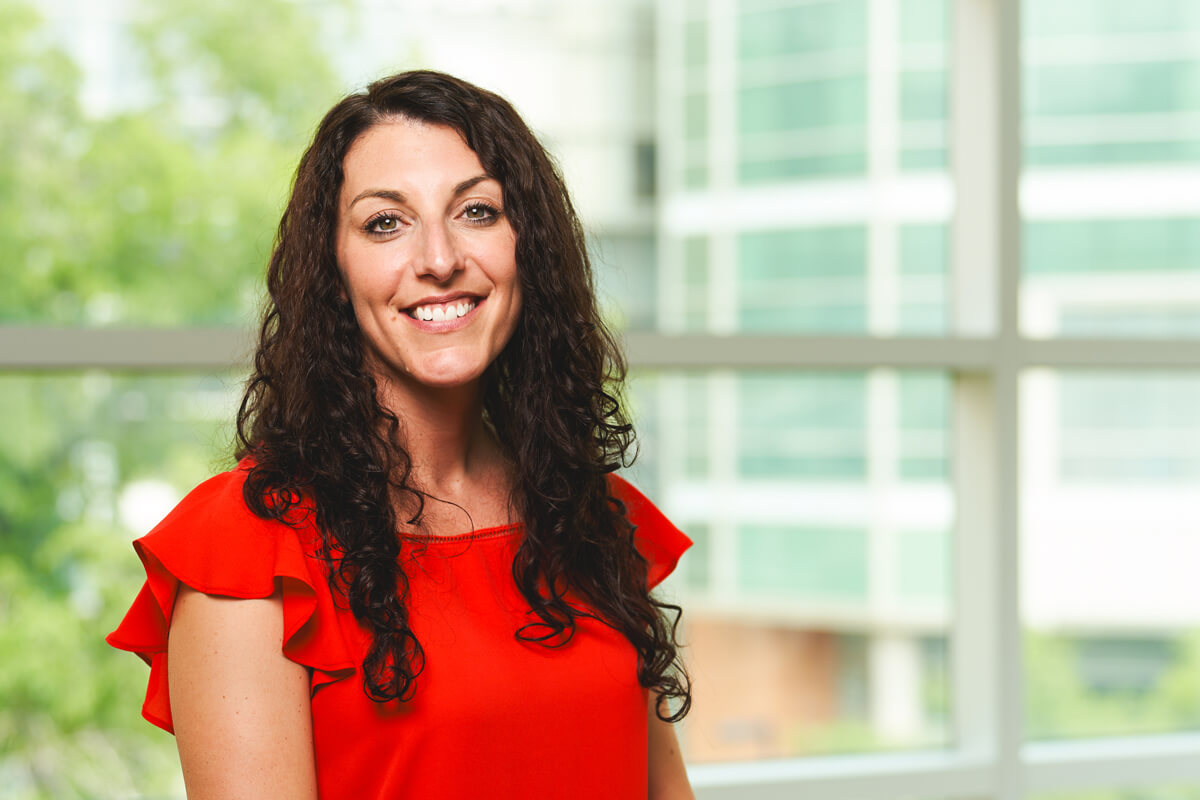 Problem-solving with patients
Emily Hyde named as Vanier Scholar for her cardiac research at UM
August 29, 2023 —
It happens to the best of us: thinking about work when we're off work. In Emily Hyde's case, she was driving to her shift in the cardiac surgery ICU and caught herself thinking about applying findings from a research paper to help her patients.
Thankfully for us, that brief lapse could have life-changing effects: by improving recovery for those who have heart surgery.
Hyde [MN/20] is one of four UM PhD students who have been awarded the Vanier Canada Graduate Scholarship for 2023. Vanier Scholars are considered Canada's top graduate students and receive a scholarship of $150,000 over three years towards their research.
UM Today caught up with Emily Hyde to learn more about her and her research.
WHAT ARE YOU WORKING ON IN APPLIED HEALTH SCIENCES?
Canadians are aging and older people are more likely to need heart surgery than younger people. As a patient gets older, they tend to stay longer in the intensive care unit (ICU), lose weight and muscle, are less steady on their feet, have a harder time driving, and are less likely to go back to their own home. They are also more likely to be confused (which is known as delirium), need to go back to the hospital after going home, are not as mentally quick as they used to be, and may even die. Altogether, this is called post-intensive care syndrome (PICS) and may be caused, at least in part, by a long stay in an ICU.
My research has three objectives. In aim 1, I am doing a scoping review of past research to learn what is currently known about the mental and physical symptoms of PICS following heart surgery. This will give us a starting point of what is known and what we need to improve upon. The next step (aim 2) will work with patients and families who have been through heart surgery and a long stay in the ICU to learn from their experience about why PICS happens and their ideas about how we can prevent it from happening for other people. We are very interested in using ideas that patients and families come up with to find new, real-world solutions to help patients who may be at risk for PICS after heart surgery. For aim 3, we will conduct a randomized controlled trial to determine if the patient-identified solutions reduce the prevalence of PICS following heart surgery. By preventing PICS, we predict that older adult patients will have a quicker recovery and better quality of life after heart surgery.
WHY DID YOU CHOOSE UM TO PURSUE YOUR RESEARCH?
I chose UM and Applied Health Sciences (AHS) because I wanted to work with specific mentors. There are not many nurse clinician scientists in Canada, so learning from Dr. Rakesh Arora, a world-renowned clinician scientist, provides me the opportunity to learn from the best. Dr. Todd Duhamel is my co-advisor and is an exceptional mentor and researcher. He has challenged but support my writing, ability to engage in academic debates and discussion, and ability to begin to plan intervention studies. UM and AHS also provide the opportunity to tailor my doctoral studies and committee to my needs, so I am able to have 2 exceptional nurse academics as part of my committee. Dr. Annette Schultz provides expertise in patient engagement and Dr. Sheila O'Keefe-McCarthy provides expertise in arts-based research methods. They also bring a nursing perspective to my research. UM and AHS have provided me the ability to be supported by diverse and exceptional mentors who are helping me to carve out a space for my future work as a nurse clinician scientist.
WHERE DO YOU SEE YOURSELF IN FIVE TO 10 YEARS?
In 10 years I hope to be working as a nurse clinician scientist in Manitoba. This is not a common role in Canada so I am hoping to join the few nurse clinician scientists and demonstrate the benefits of the role. I hope to be engaging patients and families in cardiac research and generating new knowledge that aligns with their priorities and experiences. I hope to be working with nurses and interdisciplinary healthcare providers in moving research evidence into practice and to mentor nurses and interdisciplinary healthcare providers who are interested in cardiac research and patient engagement.
WHAT DOES IT MEAN TO YOU TO BE THE RECIPIENT OF THE VANIER SCHOLARSHIP?
I think most graduate students feel imposter syndrome at some point in their studies. Receiving a Vanier has helped to reduce my imposter syndrome and validate that I should be doing my PhD. This recognition still feels a bit surreal but I am so appreciative of the opportunities that a Vanier will provide me.