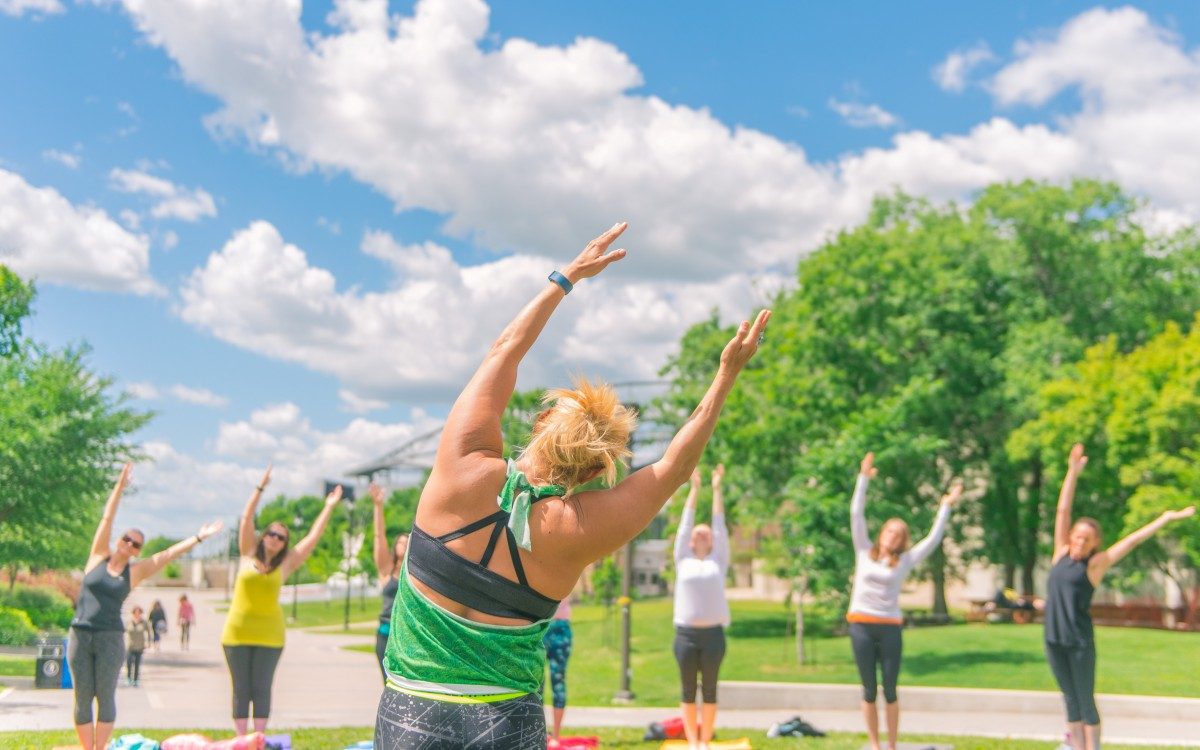 Prioritize your health and wellbeing during Healthy Workplace Month
Try these activities and supports
September 28, 2021 —
October is Healthy Workplace Month in Canada. Here are some ideas to celebrate your wellbeing at work by taking time to relax, learn, laugh and connect with colleagues.
Looking for a fun and friendly competition within your faculty or unit? Organize a wellness BINGO or movement challenge during the month of October. For instructions and more hands-on wellness tools, templates and resources, see the wellness activities and materials page on UM Intranet.
Attend October's THRIVE at UM wellness session
THRIVE, UM's health and wellness series, is back with some fall programming!
October's session focuses on maintaining our wellbeing during the transition back to campus. The session is timed to coincide with Canadian Mental Illness Awareness Week, which takes place from October 3 to 9.
"We are all navigating the changes brought about by the pandemic, the newest of which for many of us is the transition back to working on campus," says Arlana Vadnais, Employee Wellness Specialist.
"In this session, we will learn how to create a plan for intentional wellbeing practices to support and maintain wellness and manage any return-to-campus anxiety. I hope to see you there!"
Return-to-Campus Action Plan for Wellbeing
Date: Thursday, October 7, 2021
Time: 9:30 AM – 11:00 AM
For: All UM employees
Facilitator: Arlana Vadnais
Register by emailing Arlana at arlana [dot] vadnais [at] umanitoba [dot] ca. A link to the session with be provided upon registration.
Wellness toolkit for managers
Managers also have a role to play in supporting a culture of health and wellbeing on campus. The Manager's Toolkit: Employee Wellness provides guidance to managers on ways to support employees throughout the spectrum of well-being; from the maintenance of well-being and prevention of illness and injury, to navigating illness, injury and sick leave, to safe return to work following a sick leave.
Stay active and keep moving
Commit to your physical and mental health by attending one of UM's sport and recreation facilities or programs or break a sweat at home by assessing UM virtual health and fitness classes.
Finding that you're sitting in a lot of Teams meetings? Try organizing a walking meeting on campus or a phone call. You may find a boost in your energy and creativity, and reset your focus.
Employee and Family Assistance Program: accessible 24/7/365
Our Employee and Family Assistance Program has resources and information to help you with financial, family, mental and physical well-being issues, including:
Connecting you with nutrition and fitness professionals.
Mental health, addictions and stress/burnout and also provides free, confidential counselling support.
Creating a will and financial advice, such as budgeting and investing.
Conflict and communication, marriage and divorce, caring for children and other family members and more.
Wellness during COVID-19
The pandemic continues to be challenging for everyone and has made maintaining well-being difficult. Review ways to stay connected, stay informed and focus on your self-care during this unique time.
Other digital ways to promote wellbeing
Looking for ways to support a healthy workplace within your virtual or hybrid team? Try some of these ideas:
Set up a virtual high-five board to support peer-to-peer recognition.
Create a Meet your Co-workers channel in Teams where members of your team share information about themselves and fun FAQs. This can be valuable when onboarding new employees.
Set up virtual wellness walls to post encouraging messages, nutrition tips, fitness activities and other wellness events and resources.
Encourage opportunities for team connection through virtual coffee breaks or lunch hour chats.
Most importantly, make it fun! Organize a virtual Halloween party or costume contest, trivia contest or recipe showdown, to name a few ideas.
Looking for more ways to be a wellness champion at UM? Visit Canada's Healthy Workplace Month's healthy activities page for additional inspiration. Find out more about UM's commitment to mental health and wellbeing by visiting the Success Through Wellness Mental Health Strategy page.