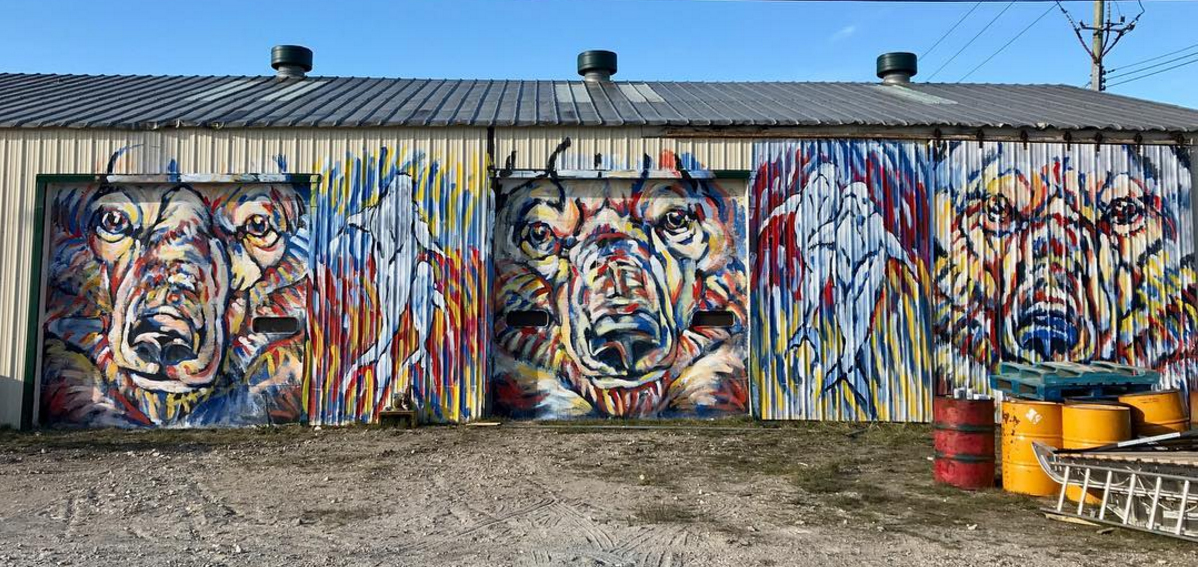 Painting Churchill, international team of artists rejuvenate town
U of M proud to sponsor public art project
June 27, 2017 —
Last week University of Manitoba alumni created large outdoor murals in Churchill, Man., as part of an international movement that draws attention to the beauty and plight of the world's ocean's.
The festival, Sea Walls: Murals for Oceans, was created by the PangeaSeed Foundation in 2014 and it has painted nearly 300 murals in 12 countries. This was the first time the group painted in the Subarctic.
The University of Manitoba co-sponsored this powerful community art festival that invited artists from around the world to create 16 large-scale public murals throughout the town of Churchill in an effort to revitalize the town and support its tourism industry.
The project's goal was to also create art that inspires positive change surrounding ocean environmental issues.
"We want to generate consciousness through the power of art," says Kal Barteski, the festival's director.
U of M alumni Takashi Iwasaki [BFA(Hons)/06], a renowned artist who was featured in the latest issue of UM Today The Magazine, and Kelsey Elaisson [BComm(Hons)/95] participated. Jason Syvixay, a Master of City Planning student, and Lana Bakun [BComm(Hons)/07], also provided communications and logistics support to the festival.
"I painted the Lake Pump House," Iwasaki says. "I didn't have any water to wash my brushes, so I used some of the water from the lake. The inspiration behind the painting is the lake, and the pump house's role in providing water to the area. I'm appreciative of Churchill's hospitality and the response was incredible – people were eager to see some art on their walls."
The murals capture ideas surrounding the ocean, sea ice, and the animals that rely on them. These are familiar scenes to U of M researchers who study Arctic Ocean contaminants, polar bears, beluga whales, lynx, foxes, sea birds and sea ice, to name a few areas.
For decades U of M researchers and scholars have called Churchill home. The university has invested much in the community and soon it will open a globally unique research centre – the Churchill Marine Observatory. Now, the U of M is supporting the community with art.
Sea Walls Churchill artists worked with community members to develop concepts and messages unique to the area with a focus on ocean health and its link to the community.