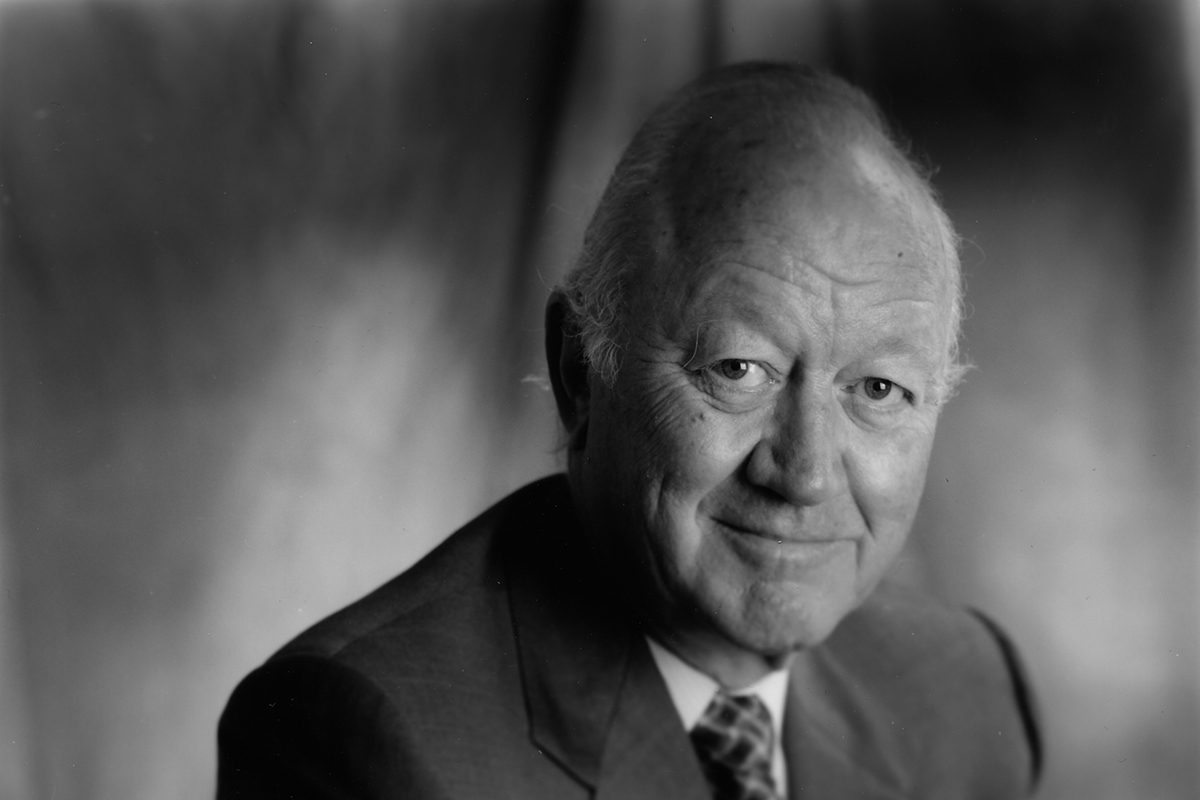 Name unveiled for leadership institute
June 4, 2019 —
The legacy of the late James Burns, one of Canada's most prominent business leaders, has been bolstered by the University of Manitoba, which will name a new leadership institute in his honour.
During a convocation celebration today in which Paul Desmarais, Jr., Chairman and Co-Chief Executive Officer of Power Corporation of Canada, received an honorary degree from the U of M, Mr. Desmarais unveiled the new name: The James W. Burns Leadership Institute.
"In deciding upon the name of this new institution, we reflected on great Manitoban leaders of the past, many of whom had graduated from the University of Manitoba, who made their mark not only in business, but on the lives of others. We wanted to find someone students would want to emulate and we could think of no better person than Jim Burns," says Mr. Desmarais.
"The late Jim Burns was dedicated to his community and to making a positive impact on the well-being of Canadians from coast to coast to coast," says Paul Mahon, U of M alumnus and President and Chief Executive Officer, Great-West Lifeco. "We're proud to honour his legacy through this new institute and look forward to recognizing our future leaders who have studied under his name."
Born and raised in Winnipeg, James Burns [BComm/51, LLD/87 (Hon.)] was former president and chair of Great-West Life, and president of its parent company, Power Corporation of Canada. Aside from his tremendous professional success, Burns—an Officer of the Order of Canada and a member of the Order of Manitoba—was an esteemed philanthropist and community volunteer. He presided over the U of M Alumni Association and established numerous awards that continue to support students today. Burns was also a key member of the citizen-driven campaign to save the Winnipeg Jets in 1974, helped create both the Manitoba Museum, and The Forks Skateboard Park, and he volunteered for more than 15 years with CancerCare Manitoba. Burns passed away earlier this year, on February 11.
"We are honoured to recognize such a generous, community-minded alumnus through the naming of the institute. James Burns's legacy will now be honoured by creating more leaders like him," says Gady Jacoby, Dean and CPA Manitoba Chair in Business Leadership, I.H. Asper School of Business. "Thank you to Power Corporation of Canada, Canada Life, and IG Wealth Management who made this investment in our province's future. This is indeed a truly exciting opportunity not only for Asper, but also for the University of Manitoba and the province."
In May 2017, a commitment from investors of $12 million was announced through the University of Manitoba's Front and Centre campaign to create this new leadership institute, which recently enrolled its first cohort of students.
The James W. Burns Leadership Institute will build on the U of M's proven capacity to produce leaders in every industry. Students from multiple disciplines across the province will have the opportunity to develop the skills they need to lead in any field they choose. This is a unique approach when compared with other leadership institutes across the country, which focus only on business students.
The new institute will enhance the U of M's existing teaching and research by establishing the Canada Life Chair in Leadership Education, the IG Wealth Management Chair in Leadership Research, and the President's Student Leadership Program. The latter is a novel and innovative program open to students from all Manitoban post-secondary institutions.
"This program allows us to continue to elevate our strengths and unlock the potential of young leaders across all disciplines and program areas province-wide," says David Barnard, President and Vice-Chancellor at the U of M. "I am delighted that these talented young students will be part of the legacy of the James W. Burns Leadership Institute."