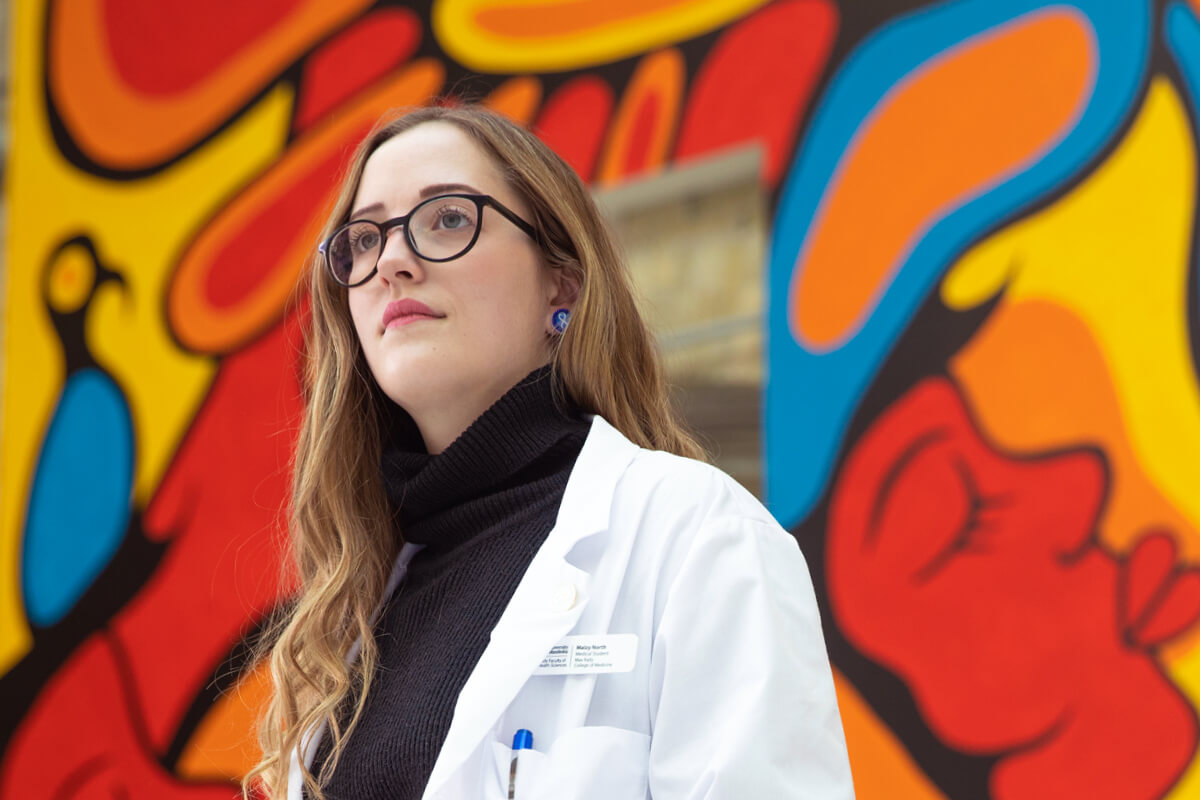 Louis Riel Bursary is helping to fuel Métis student's goal of giving back to her community
First-year medicine student, Maizy North, can't wait to put her Indigenous health teaching into practice
March 24, 2023 —
What first attracted Maizy North to the University of Manitoba was the Indigenous representation and community throughout UM, specifically in the Max Rady College of Medicine. She grew up in a small town south of Winnipeg and says her heart has always been drawn to places where she can find community.
"UM offers a lot of support for Indigenous students like Elders in residence and Indigenous student groups," she says. "Ongomiizwin Education were so supportive to me throughout my application to medicine, and they have created a space for us on campus to build relationships and explore different cultural teachings and health career paths."
As a Métis student, North says she's inspired by Ongomiizwin Health Services, whose mission is to honour relationships, inspire minds and contribute to the health and well-being of First Nations, Métis, and Inuit children, families and communities. After graduation, she plans to return to her rural roots and use her Indigenous health learning to practice medicine in her hometown.
"There are physician shortages in many rural communities and my hometown has been so supportive of my medicine journey, so that will be an exciting full-circle moment for me. I'm also passionate about Indigenous health and mental health specifically, and my experience in the Indigenous stream of medicine at UM will also allow me to branch outside my community."
For the last year of her undergrad degree, North received the Louis Riel Bursary thanks to the support of the Manitoba Métis Federation, which she says has helped her immensely in her first year of medicine. This past year, the Louis Riel Bursary has supported 423 Métis students at UM.
"The MMF is proud to have financially supported so many Red River Métis students through the Louis Riel Bursary and the Post-Secondary Education Support Program. Our students are a big part of our future and we are always thrilled to be a part of their journeys through post-secondary education." Says Minister Joan Ledoux, the Manitoba Métis Federation Education Minister.
"The workload of this faculty is so high that it's not possible for me to work to support myself," she says. "Also, I can no longer commute from my rural community, so living in the city has been an added cost to my education. The Bursary has helped to relieve some of my financial stress, which has had a positive impact on my mental health and allowed me to focus on my studies."
North says receiving the Bursary has also helped her feel supported as a student, and it's brought her even closer to her Métis community.
"I'm so honoured they have placed their trust in me and invested in my future. The financial support I've received now is just a first step in all the ways I will be able to give back to the community after I graduate."
The Louis Riel Bursary is available to qualifying Métis students studying at the University of Manitoba registered in undergraduate or graduate programs as full-time or part-time students. The application for the 2023 Summer term will be available in early May 2023 with a June 1 deadline date. Click here to learn more about Indigenous student awards.
Whether you are supporting health as a human right, advancing reconciliation and promoting Indigenous achievement, climate change research, or transforming the learning experience, you are making the world a better place.
Read more in our Gratitude Report