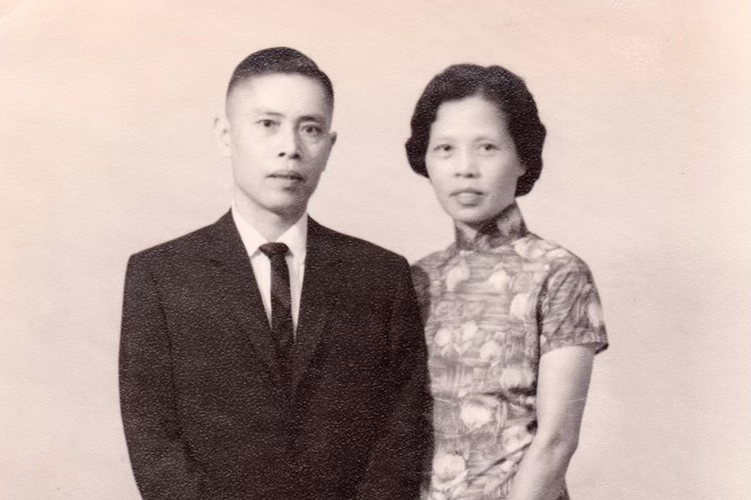 The Kwan Family Bursary – Continuing a Legacy of Giving
November 4, 2022 —
The Kwan family, through a new student bursary, hopes to continue their parents' legacy of generosity and hard work.
The Bursary was created to honour their parents, Mr. and Mrs. Wing Kwun Kwan, whom the award is named after.
Wing Kwun Kwan, whose career started as a tailor's apprentice, would toil away for such long hours he'd even sleep under the table at the shop.
"In those days, the apprentice had to do everything that the Master tailor asked," says Jeremy Kwan. "He modeled hard work for us and taught us that we could have a better life through education. Our father sacrificed a lot to provide the best opportunity for his children to succeed."
Before his death at just 57, Mr. Kwan had secured a university education for each of his five children. The three sons—Andrew, Francis and Jeremy—graduated from the University of Manitoba's Price Faculty of Engineering, Max Rady College of Medicine and Faculty of Science, respectively.
If the standard of perseverance came from their father, the virtue of giving came from their mother. The brothers, along with siblings Florence Ng and Juliana Blain, have countless stories of their mother's kindness, many of which they hadn't heard until after her passing in 2020 at age 107.
One story the family learned was from a friend's daughter, who explained how their mom, when she heard the young girl wasn't doing well in school, took it upon herself to hire her a tutor.
"She mentioned this was the turning point in her education," says Jeremy.
Among the other stories shared: Mrs. Kwan paid for the son of a close relative to study overseas where he could better thrive; and she helped a non-profit organization through an anonymous donation so they would proceed with major repair work.
"My mother showed us through her generosity that by helping others, you help yourself become a better person."
The couple was born in the province of Guangdong, China at the turn of the 20th century, and moved to Hong Kong before the Second World War. Due to economic limitations, neither Mr. nor Mrs. Kwan had the opportunity to finish primary school.
The Mr. and Mrs. Wing Kwun Kwan Bursary, established in 2021, supports undergraduate students in the Faculty of Science.
"They both recognized and stressed the importance of education," says Jeremy. "The bursary is a way to help future generations of students. Our parents' belief in the importance of education had a monumental impact on our family. We hope to have the same impact on future students with this award."
Click here to meet the first recipients of this new bursary in honour of Mr. and Mrs. Wing Kwun Kwan.
Whether you are supporting health as a human right, advancing reconciliation and promoting Indigenous achievement, climate change research, or transforming the learning experience, you are making the world a better place.
Read more in our Gratitude Report