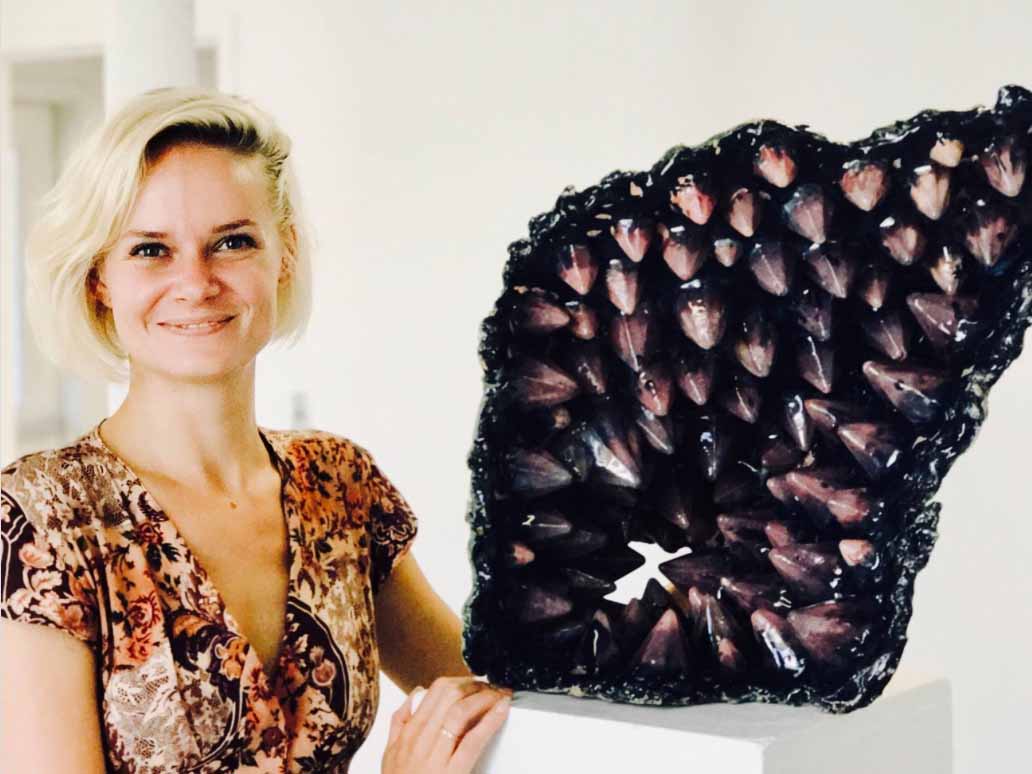 Kaley Jean Van Workum, an artist on the way up
October 18, 2018 —
"I'm really sad it's over," says Kaley Jean Van Workum with regret in her voice. "It's been so great being with others who have shared my passion with art, day in and day out."
She adds: "What a great community, with so many great people!"
Van Workum (BFA/18) is one of 1,512 students graduating this Fall from a program she says has been personally enriching and fulfilling.
"Art is fundamental to who I am," she explains. "I have a need to create."
"I even get grumpy if I don't have an opportunity to create for a while," she warns.
By her own admission, Van Workum is something of a late bloomer. She spent much of her young adult life traveling the world, living in Nevada, Australia, and even a Buddhist commune.
She notes: "I'm a firm believer that your 20s are formative years when you learn what you want to do with your life, making mistakes and trying different things."
She eventually was able to afford going to university by saving her tips from working in restaurants. ("I was a very good waitress.")
Van Workum has experimented in various media during her time at the School of Art. She moved from painting, through sculpture, and on to installation pieces, but seems to have found her cynosure in self-sustaining art and found objects.
One of her pieces that has attracted much attention is a chandelier made from salt and pepper shakers. "That took me more than 120 hours to do," she explains. "Since then, I have received requests to do similar works on commission, and even from local restaurants, so that means my works can be on public display."
Another example of her innovation is a set of ceramic geodes that she designed for one of her art classes.
Van Workum explains: "We were asked to make a ceramic vessel, and at that time I was short a class, so I chose geology. I was struck by the beauty of geodes on display, with crystals growing inside large hollow rocks. I realized that these geodes were 'vessels' too, so I experimented with creating my own."
Having come to university in a roundabout way, she has some advice for budding artists entering university today.
"Slow down," she urges. "Don't rush your art. And accept criticism. Don't be afraid to 'fail up' — make mistakes, learn from them and move on."
Van Workum will now be taking her advice directly to other students, as she is aiming to get her Master's degree so she can teach art in schools.
"It's one more way I can use karma to give back to the world," she notes.