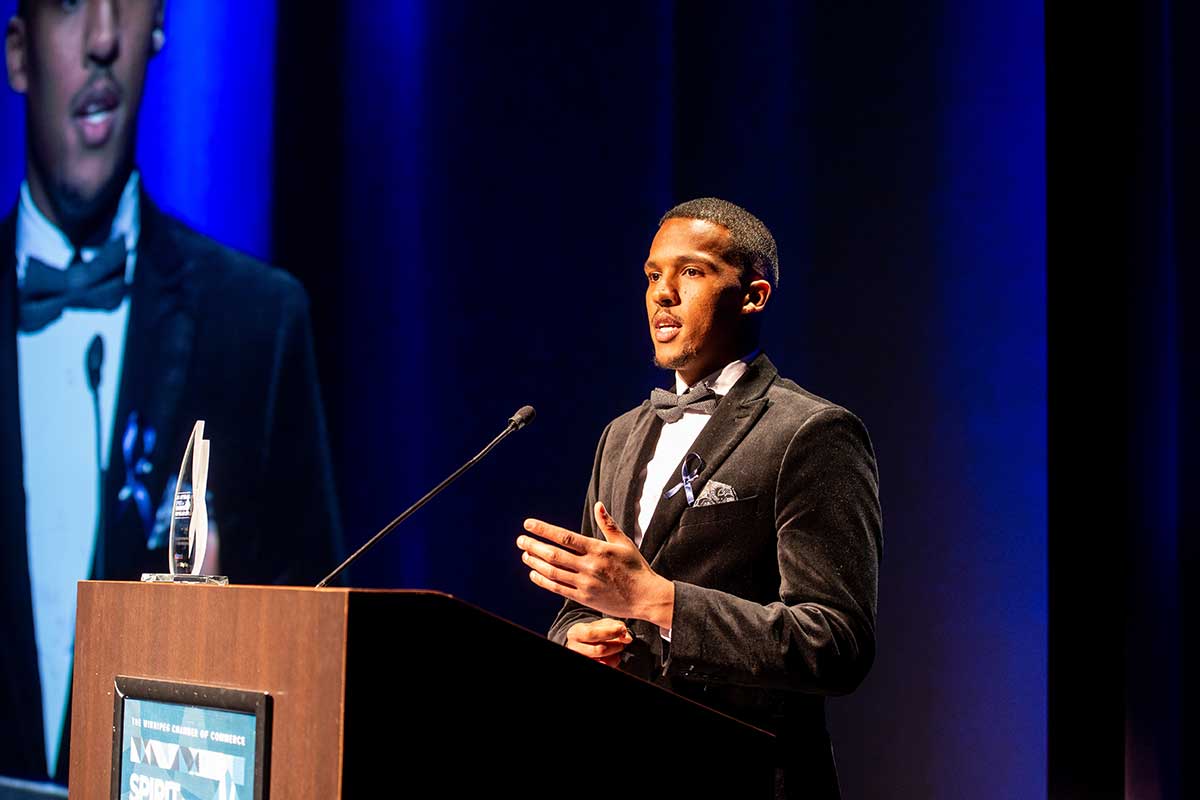 In the spirit of giving back, Asper alumnus finds meaning through mentorship
January 5, 2021 —
A central theme that unites many of us during this time of year are traditions of giving back and focusing on ways to support our community, now more than ever. Ben Chutta [BComm(Hons)/15], International Cinema Sales Manager for Irwin Seating Company, has a unique approach that emphasizes hands-on involvement through mentorship. His commitment to community, is inspired by his own experience at the Asper School of Business and focuses on the generosity of giving time and service.
As a first-generation Canadian whose parents are from Ethiopia, Chutta and his family lived at the Immigrant & Refugee Community Organization of Manitoba before moving into North Kildonan. Growing up in diverse neighbourhoods, he quickly experienced the collective power of community support and connection. Always driven, he demonstrated a natural talent in sales and entrepreneurship, which led him to the Asper School of Business.
Throughout his student experience,Chutta participated in the International Exchange Program, held the position of Director of Events and Logistics with the University of Manitoba Marketing Association (UMMA), received 14 scholarships, and utilized student supports from the Asper Career Development Centre.
"As an Asper student, the people I met and the experiences I've had abroad completely shifted my view of life, culture and possibility." Chutta explains, "The relationships I built played a critical part in my professional journey.I felt empowered by the community around me and confident to do my best work."
As his career successfully evolved, Chutta prioritized giving back to the University of Manitoba by donating to the Front and Centre campaign, participating as a speaker at alumni events, and most recently as a mentor with UM Café: Ten Thousand Coffees; an online networking and mentoring platform supported by RBC Future Launch.
"Your approach to giving back isn't always linear. Becoming a mentor with UM Café is another way to uplift our community in a sustainable way." Chutta states, "The meaningful relationships I've built with students have shaped powerful conversations about self-reflection, integrity, and purpose which will have a lasting affect."
UM Café introduces students, alumni and industry partners to one another through an online network. Mentors and mentees are matched based on career goals, interests and skills and have the ability to schedule when and how often they meet virtually.
Motivated by the direct impact that mentors have had on his own life, Chutta is excited to be that support for someone else.
"Simply having someone you trust to bounce ideas off or discuss challenges with can definitely help you navigate our path and shape your mindset."
A firm believer in paying it forward, Chutta is confident his role as a mentor strengthens the community of support sought out by students. The online mentoring program provides a flexible approach for him to engage with students even through a pandemic.
"The more we give back with our knowledge, relationships and experiences the better supported we can be as a community to ensure we get through these challenging times together."
Community giving can encompass everything from charitable donations and volunteering, to raising funds for a specific cause to mentorship. Becoming a mentor is a valuable opportunity to help our community grow, thrive, and succeed.
To learn more about UM Café: Ten Thousand Coffees:
https://umanitoba.ca/careerservices/um-cafe-ten-thousand-coffees