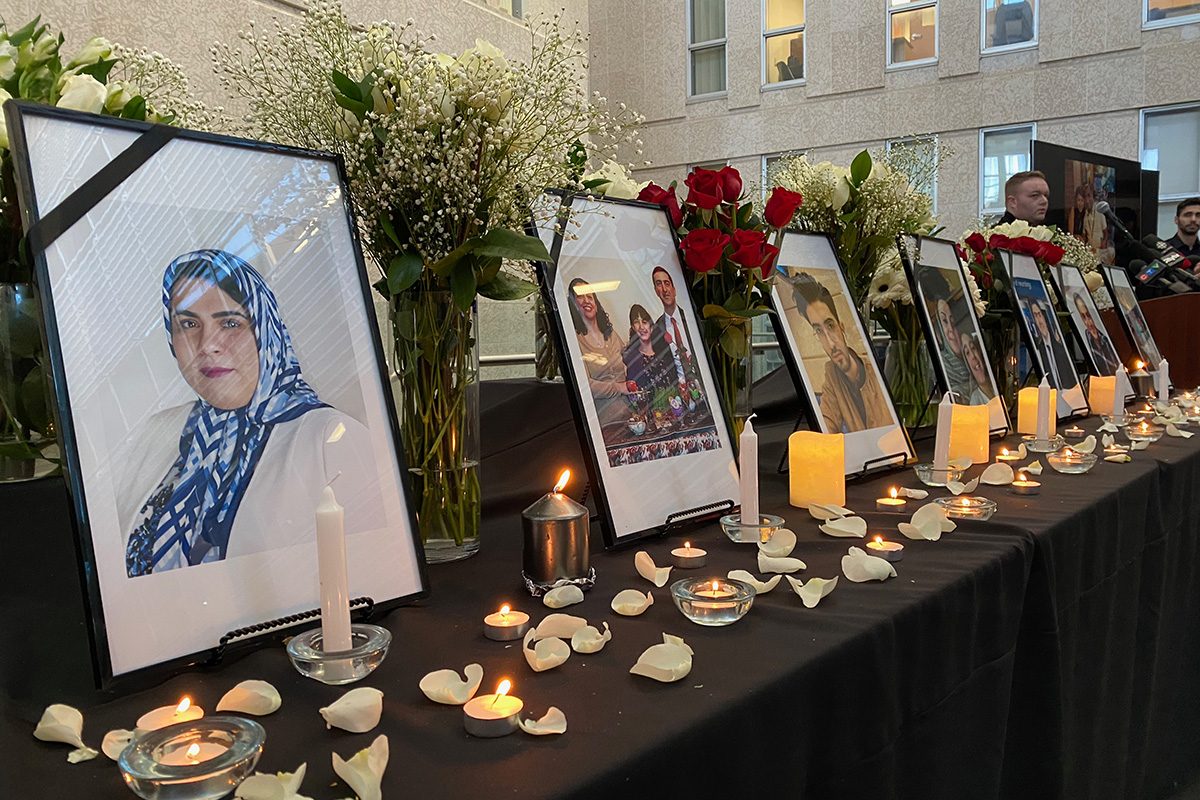 Honouring those lost on Flight PS752
January 6, 2021 —
The devastating loss of Flight PS752 in Tehran one year ago remains a heartrending event for the University of Manitoba community, which continues to mourn the loss of five of its members.
When the plane was shot down on Jan. 8, 2020, in a military strike, all 176 people onboard died, including:
S Pedram Moosavi BaFrooei, MSc/97, PhD/01;
Mojgan Daneshmand, MSc/02;
Forough Khadem, PhD/16;
Amirhossein Ghassemi, current graduate student in Biomedical Engineering; and
Amirhossein Ghorbani Bahabadi, current student with the International College of Manitoba (ICM).
"We collectively mourn all passengers from Canada and around the world and remember the pain of their families, friends, neighbours, classmates and colleagues," says Dr. Michael Benarroch, President and Vice-Chancellor at UM. "Even in our own UM community, the impact of the loss is immense – brilliant and enthusiastic alumni, students, researchers who had already contributed so much and were on the cusp of doing so much more. We lost their inspiring minds and their warm hearts. But thanks to the efforts of so many, their legacies live on."
Indeed, a fellowship has been established as an endowment fund to honour the memory of all the victims of Flight 752 from Manitoba. This fellowship will be awarded annually to a graduate student in a STEM related field at the University of Manitoba.
An endowed scholarship was also established in Dr. Forough Khadem's name to support international female graduate students working in the bio-medical sciences who desire to have an impact on the world. It honours Khadem, who made an important discovery about a deadly parasitic disease called leishmaniasis.
Her fiancé Kourosh Doustshenas and Khadem's family donated $100,000 to honour her memory and celebrate her passion for science and mentorship.
"After the initial shock of losing her, so suddenly, I was determined to keep her legacy alive," Doustshenas said. "It's a terrible loss but we have to make something good out of it, to remember her. That's the motivation for us – to create something in Forough's honour and help others like she would have done."
Supporting female international students in her name is a natural fit. When Khadem first came to Canada to study at UM she confided to her advisor, Dr. Jude Uzonna, that she struggled financially at the beginning of her studies. This new scholarship will help other talented women come from afar to study at the University of Manitoba in pursuit of an education that will help them impact the world.
Engineering alumnus Pedram Mousavi also perished on the flight with his wife and two daughters. Mousavi was a professor at the University of Alberta focused on wireless technology. The school says he leaves behind a legacy of hard work, kindness, teaching and empowerment of people.
Alumnus Mojgan Daneshmand was on the flight with her husband, Pedram Mousavi, and their two daughters. Known for her enthusiasm and an upbeat attitude with an ever-ready smile, she was a brilliant researcher who, in 2016, received the IEEE Antenna and Propagation Society Lot Shafai Distinguished Mid-Career Award for her scientific contribution to the field of microwave communication and sensing technologies, and for being a role model for women in engineering.
Amirhossein Ghassemi was a physician from Iran who was pursuing his master's degree in biomedical engineering and studying the signs of epilepsy when people are sleeping.
"Amir was one of our shining stars," said Zahra Moussavi, director of the biomedical engineering program at the University of Manitoba.
And Amirhossein Bahabadi Ghorbani, who went by Amir Ghorbani, was a science student who had dreams of becoming a doctor. His friends say his generosity was unmatched.
The University of Manitoba Iranian Students' Association will hold a virtual remembrance event on Jan. 8, 2021, from 6-7 p.m. over Zoom to honour all those who were lost in this tragedy. There is also a memorial being held by the Association of Families of Flight PS752 Victims, with programming beginning on Jan. 7 that UM has contributed to.
For those who wish to channel their sadness towards a positive cause, the UM community encourages you to support the funds that have been established in honour of the victims.
The flag at the University of Manitoba will be at half mast on Jan. 8 in recognition of the one-year anniversary of the crash of Flight PS752 and in honour of the memory of the victims.