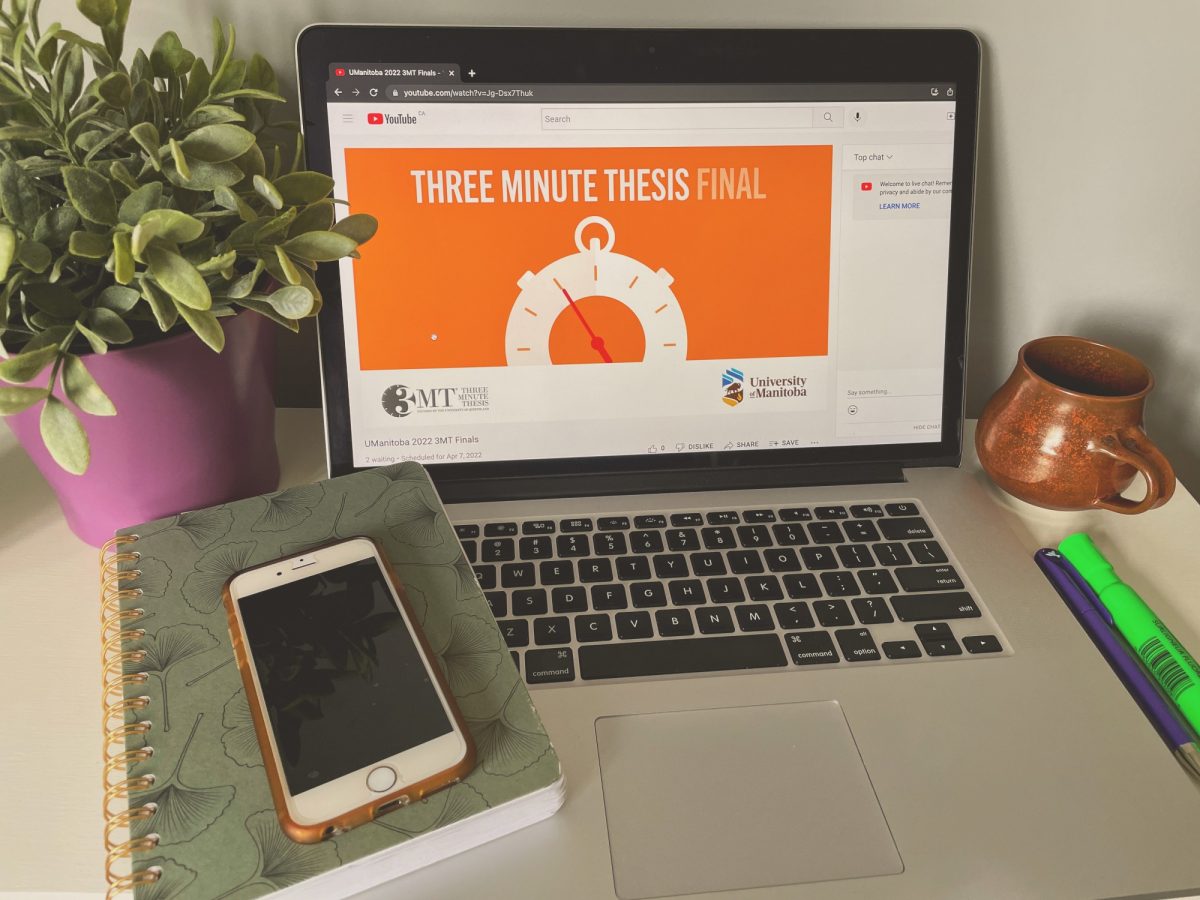 Four reasons you need to watch the 3MT Final
March 30, 2022 —
The tenth annual 3MT competition is happening live on YouTube at 7 p.m. on April 7. Twelve graduate students chosen from three heats held in March will be presenting their thesis research to a panel of judges and a virtual audience. The catch? They have to do it in three minutes or less, using only one slide to explain their work.
Here's why you should tune in to this dynamic competition:
Learn new things
The 3MT presentations are designed to challenge graduate students to take their complex ideas and research and formulate them in such a way that they are easy for audiences and judges to digest without prior education on the subject. From microbiology to physiology to pharmacology, the diverse areas of research represented at this year's 3MT finals offer a smörgåsbord of stimulating topics and fascinating perspectives to satisfy any casual viewer's curiosity.
Get inspiration
Feeling an inspiration block? The 3MT final presentations are bursting with innovative ideas and inspiring work from creative thinkers across the university community. Take advantage of this opportunity to get ideas for your own research, future studies, and more. You never know where your next inspiration will come from!
Support UM students
Every year, the 3MT finalists work tirelessly to put their presentations together and effectively articulate their ideas for a broad audience. Show your support for your UM community by watching some of the university's brightest graduate students explain their passion projects!
Help choose the winner
Being an audience member at the 3MT final also involves participation! Once all the finalists have presented, audience members will have the opportunity to vote for the winner of the People's Choice award. Your vote could be the difference!
CTV News Winnipeg's Colleen Bready [BA(Adv)/03] will host the online competition. Students will be judged on comprehension, engagement, ease of communication by the judging panel which includes the Honorable Jon Reyes, Minister of Advanced Education, Skills and Immigration; Coleen Rajotte [BA(Adv)/89], Artistic Director of the Winnipeg Aboriginal Film Festival and CEO, Vitality Television; and Mark Evans [PhD/88], President & CEO of Conquest Planning Inc.

2022 3MT Final
Thursday, April 7
7:00 – 8:30pm
2022 Three Minute Thesis finalists
Alekhya Lavu – Pharmacy
Thesis: Antiseizure treatments during pregnancy and neonatal birth outcomes.​
Alexander Araujo – Natural Resources Institute
Thesis: Impacts of restoration: assessing if grazing by reintroduced plains bison affects bird abundance and diversity in Banff National Park.​
Chioma Victoria Nwachukwu – Physiology and Pathophysiology
Thesis: Electrical stimulation improves walking and organ function after spinal cord injury: but how?​
Chitra Sivakumar – Biosystems Engineering
Thesis: Non destructive analysis of pulse flours.​
Daniel Schwade Araujo – Applied Health Sciences
Thesis: Examining the associations between different physical fitness phenotypes and cardiovascular risk factors in older females.​
Jhannelle Francis – Microbiology
Thesis: Waterways (or rivers) as vehicles of enteric viruses.​
Kaitlynn Weisgerber – Biological Sciences
Thesis: Investigating spontaneous autopolyploidy in wild and hatchery lake sturgeon.​
Olya Myhalatyuk – Pharmacology and Therapeutics
Thesis: Shining light on microglia responses in Alzheimer's disease.​
Pranav Mishra – Pharmacology and Therapeutics
Thesis: Potential of sex hormone estrogen in prevention of Alzheimer's disease – a sex based study.​
Ryan Ha – Medical Microbiology and Infectious Diseases
Thesis: Development of a new method for studying Legionella infections.​
Shayna Giesbrecht – Microbiology
Thesis: Molecular detection and quantification of the prevalence of sexually transmitted blood-borne infections in Canadian waste water samples.​
Weiang Yan – Physiology and Pathophysiology
Thesis: New immuno-engineered biomaterials to prevent rejection of transplanted hearts.​
Research at the University of Manitoba is partially supported by funding from the Government of Canada Research Support Fund.