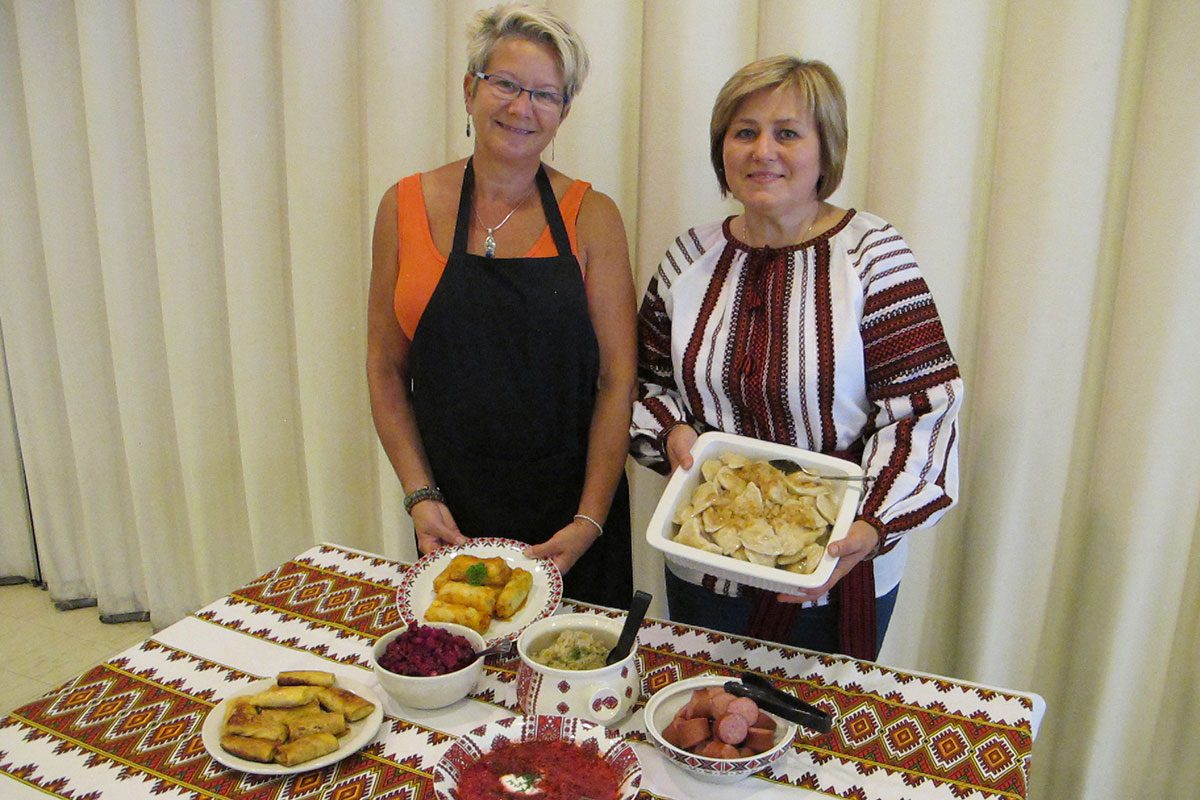 Five reasons why you need to eat Ukrainian food at Homecoming
August 28, 2017 —
Reconnecting, reminiscing and celebrating is enough to make anyone hungry, which means there'll be plenty of people looking for a bite to eat during Homecoming 2017.
There's no reason to start researching places to eat when dining on campus is a great way to catch up over a meal, re-charge after Homecoming activities and see how things have changed at your alma mater.
Look no further than St. Andrew's College. Digging in to their Ukrainian Lunch is a decades-old tradition that you should put on your must-do list during Homecoming week.
Here's why:
1. Authenticity rules
Head cook Halyna Statkevych emigrated from Ukraine more than five years ago and has been making her country's delicacies from scratch at St. Andrew's ever since.
She's got legions of regulars, from staff and faculty to students in residence. For many, who are also from Ukraine, her authentic dishes remind them of home.
Statkevych is set on traditional, which means there will always be sour cream in your borscht since without it, as Statkevych says, "it's "not the real thing." However, she will appease those who aren't onion lovers by putting that customary perogy garnish in a bowl on the side.
2. Empty stomachs are encouraged
Only when you arrive, that is. If you're not full when you leave, you're doing something wrong. This is an all-you-can-eat affair, and the menu is packed full of good eats: perogies, sauerkraut, borscht (beet soup), holopchi (cabbage rolls), kubasa (sausage), nalysnyky (filled crepes), and pickles.
3. The price is right
All of this is a steal at $12.95 per person. Such a small bill means you'll have funds left over to attend other exciting Homecoming activities such as the Bisons Football Game or Brown & Gold Brunch.
4. It'll feel like a family affair

You don't need to be Ukrainian or part of the College to attend, but when you do, you'll feel like you're one of the family. This popular Homecoming lunch draws in alumni, faculty, current students, and families helping new students move into the College's residences.
With the communal tables, church-basement decor and Ukrainian hospitality, linguistics student Oryanna Maximiuk says "everybody feels close. You're not in an environment where you're rushed through a cafeteria line. It's very home-style, like a sit-down dinner with the family. You can sit, enjoy, and chat with everyone."
5. You'll get cultured
With so many Ukrainians in the room, you're bound to pick up a few new words to impress your friends. Greet your tablemates with "dobryj den" (hello) and "jak spravy" (how are you?).
Ask others around you what else they think should be on the table, and you'll get an education on other dishes from Ukraine such as pyrizhky (tiny stuffed buns filled with cabbage, beef, or cottage cheese).
St. Andrew's College's Ukrainian Lunch is Friday, Sept. 15 from 11:30 a.m. – 1:30 p.m. in the College's cafeteria.
Homecoming 2017 is a chance for alumni, students, and the U of M community to reconnect, reminisce, and celebrate. From Sept. 11-17, you can take part in more than 20 faculty, college, and reunion events.