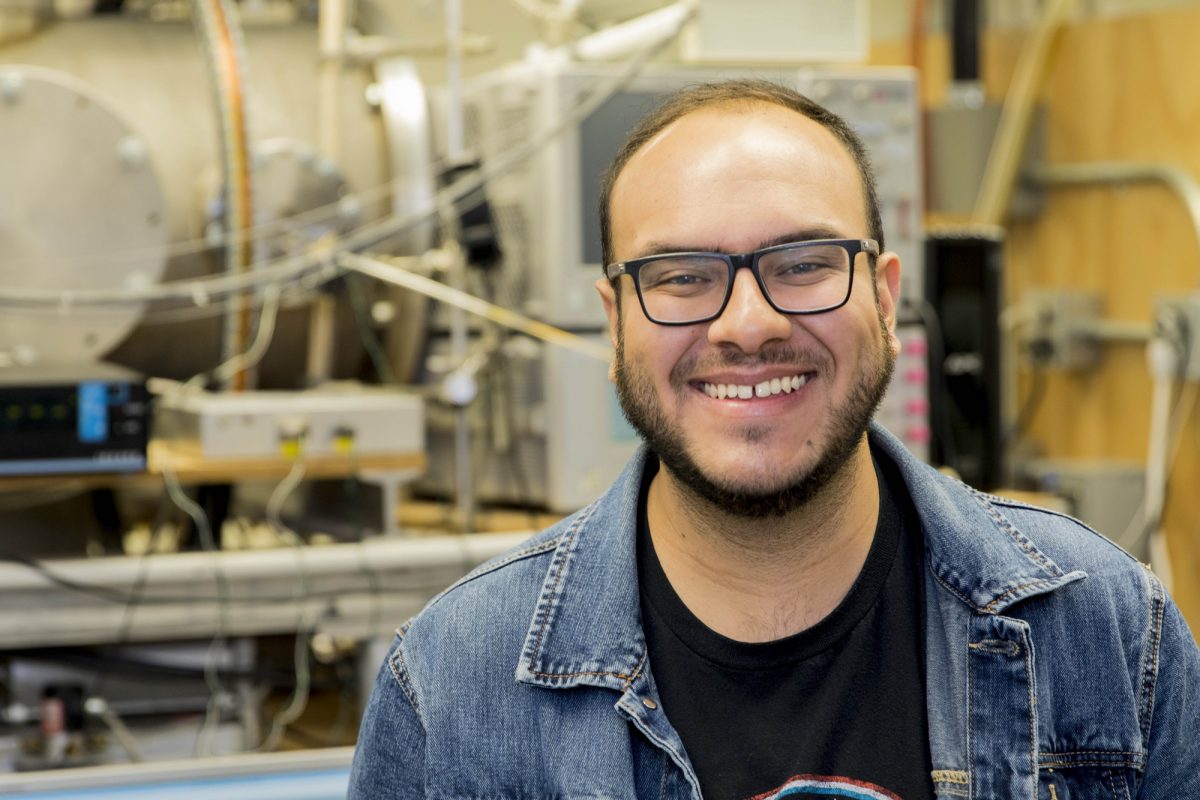 Finding joy in molecules
October 25, 2022 —
The structure of a molecule and the way its atoms are configured inside it can change depending on its local environment and also affect the way it behaves and interacts with other molecules. Chemists and physicists are working to probe molecular structure to better understand their nature and composition.
Weslley Silva, whose UM doctoral dissertation in chemistry involved using rotational spectroscopy to examine molecules, explains: "In the same way that human beings can respond to different environmental and biological stresses, molecules can adopt different shapes and perform different functions depending on their surroundings."
For his doctoral research, Silva studied a series of molecules using a specialized technique called microwave spectroscopy to examine the rotation of the molecules for the first time in a laboratory setting. Computational methods are advanced enough to predict accurate spectra or many molecular trends, but his research provides experimental data that can be used by theoreticians to test and improve models of structure.
He notes: "I think the most exciting part of my research is related to the study of the molecules with large amplitude motions. This was a totally novel topic for me and it gave me the opportunity to learn new software and collaborate with internationally recognized experts in the field."
In his thesis work, Silva also wanted to determine if the presence of water caused a significant change in the molecular geometries.
He says: "I observed that even a single water molecule changes significantly the geometry preferences of seemingly small systems. This information is useful to understand their first steps of solvation and processes involving these and similar molecules."
While the research may seem abstract to the uninitiated, Silva says that chemical studies can lead to insights into the nature of our universe. In fact, he says his projects are of personal interest and even bring him joy as he helps to provide insights into the makeup of compounds.
The application of Silva's work extends to the depths of outer space, where molecules in gas clouds and other astronomical features are identified based on their rotational "fingerprints" found on Earth and compared with signatures in the interstellar medium.
Silva's international collaborations have already opened the door to postdoctoral studies in Germany, involving the extension what he learned at UM to research the spectroscopy of more complex structures such as positively and negatively charged ions.
At the Institute of Physics of the University of Cologne, Silva has been appointed an Alexander von Humboldt Fellow where he will investigate the rotational and vibrational spectrum of molecular ions of astrochemical interest.
He notes: "These are molecules that might also be found in space and by studying their rotational and vibrational spectra in the lab, we could support their first identification between the stars."
University of Manitoba Distinguished Dissertation Awards are given to graduating doctoral students who have been nominated by their faculty/college/school for a dissertation that represents a ground-breaking piece of original work. Each year, one award is offered in each of the following categories: applied sciences, health sciences, humanities, natural sciences, and social sciences. Awardees receive a $3,000 prize.