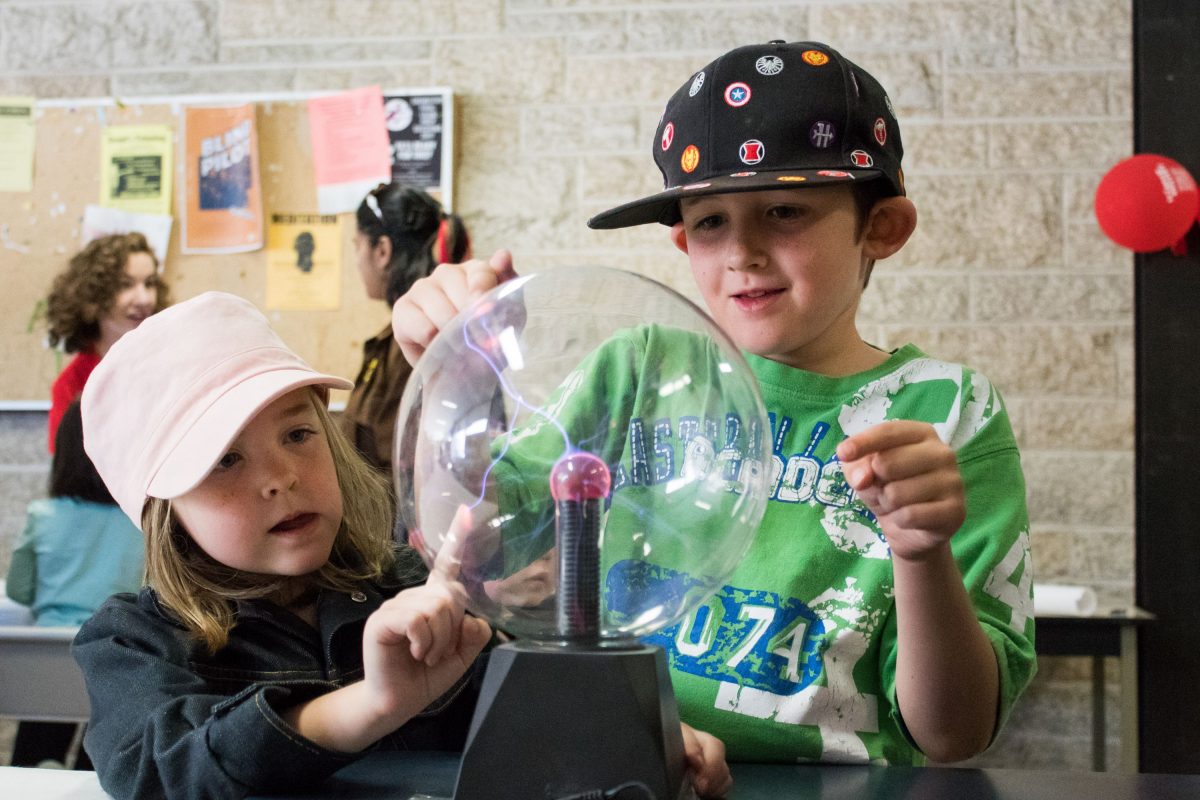 Festival of scientific delights
Science Rendezvous returns to in-person format this month
May 1, 2023 —
Robot code mazes, slime and oobleck runs – oh my!
The largest celebration of science and engineering in Canada – Science Rendezvous – will be making its epic return to the UM Fort Garry Campus May 13. It will be the first time the event has been held in person since 2019. Join us at UM's Fort Garry campus from 11 a.m. to 4 p.m.!
Started in Toronto in 2008, Science Rendezvous is a festival that brings science, technology, engineering, art, and math (STEAM) research and innovation out of the lab and onto the street in a festive and engaging style. The festival features stage shows, robotics, virtual reality, large-scale experiments and demonstrations designed to educate and delight the minds of curious individuals of all ages.
Featuring over 40 unique interactive science booths with hands-on experiments, make-and-take projects and demonstrations, this year's festival is guaranteed to stimulate the mind and excite the senses.
Representatives from UM's science, engineering, agricultural science, health sciences, and earth science faculties will all be participating in this event. Kids, schools, and parents will be invited to campus to explore the many booths and participate in interactive science activities.
This event is a fun opportunity to connect with other science lovers, share your passion and knowledge and possibly even gain some new practical skills.
"This is an incredible festival that is about more than just science," says Ayush Kumar, Associate Dean, Faculty of Science. "Science Rendezvous is a celebration of innovation, creativity, curiosity and discovery – bringing mind-blowing concepts from science, technology, engineering and math to life in an epic, engaging and entertaining fashion."
"This event brings arts and science together, as participants are invited to explore everything from robotics to insects, aviation to electricity, giant bubbles to acid-base painting. If you haven't attended this event before, young or old, this is an opportunity you won't want to miss!"
Science Rendezvous leadership volunteer Anita Oghenetejiri Elohor Ayam, who has been volunteering for the Faculty of Science since 2019, says she is eagerly waiting to explore all the many booths at the festival, but there is a particular booth that she has her eye on.
"I think [the booth] is called a 'slime vendor' or something," says Oghenetejiri Elohor Ayam. "Apparently, when you step on the slime, if you stay on it for too long, your feet get cleaned. But if you don't stay on it long enough, your feet get dirty. How is that even possible?"
"I'm honestly waiting for the festival so I can ask them questions about the slime, because it's mind-blowing and I want to know how it works. I'll be putting on my sneakers for that day alone just so that I can get my feet dirty and try it out."
In addition to the many activities and booths listed, this event will also feature live science shows, outdoor entertainment, and will be flanked by some of the cities' best food trucks, for all the hungry science lovers in attendance.
Participants are not required to register for this event, and free parking will be available at most spots around campus.
For more information visit UM's Science Rendezvous page.
Science booths and activities that will be present at this year's festival include:
Mousetrap – Robot Code Maze
Oak Hammock Marsh – Critter Dipping
Royal Aviation Museum – Take flight!
Electrical Museum of Manitoba – "Current" Curiosity
Let's Talk Science
UMSATS
Math Mania
DNA Extraction
Genetic Traits
Density of soda
Acid-base painting
Science mural
Chromatography flowers
Canada Parks and Wilderness Society – Keeping Manitoba wild.
Magellan – Magellan Rocket Shop
Human computer interaction lab
How we see
Fort Whyte Alive – Wacky Weather
Science of Sound
Microbial world
Hidden math in card games
DNA workshop
Cyanotypes
CSI : Critter Scene Investigation
Chromatography flowers
Oobleck run
Giant bubble