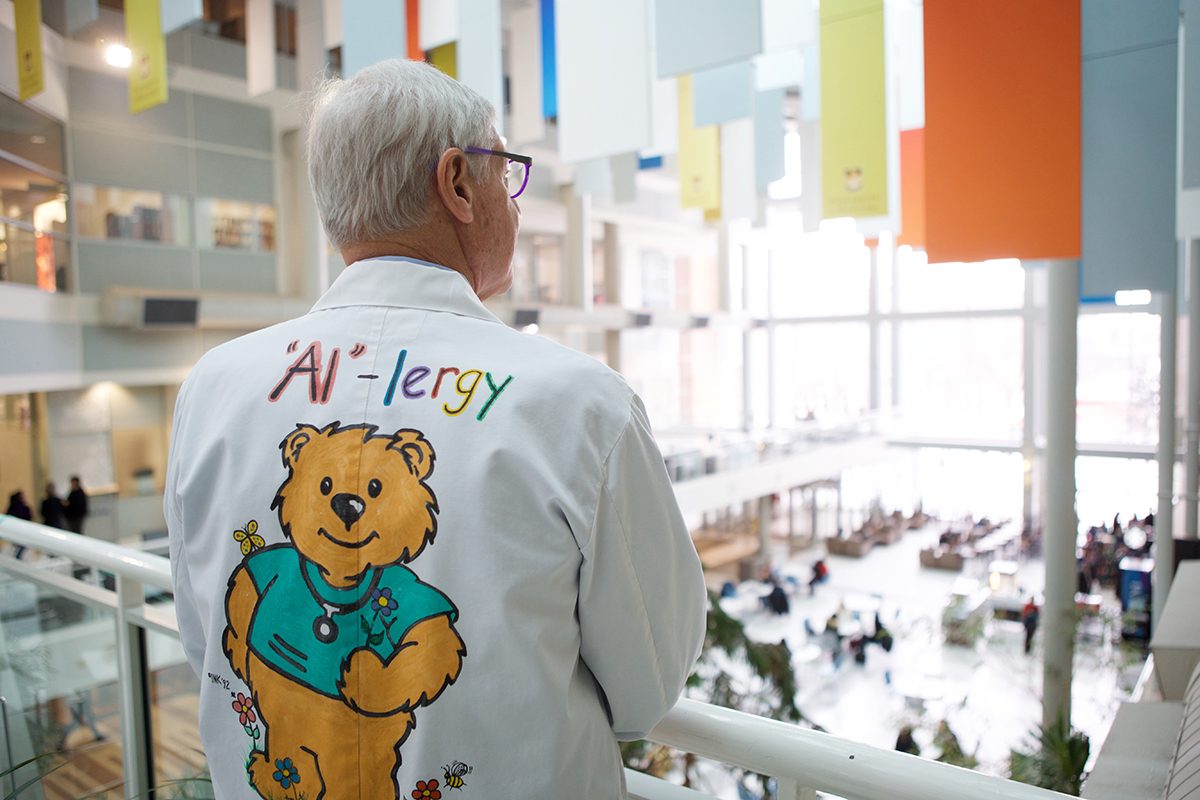 Clinician scientists: critical for the evolution of healthcare
April 30, 2019 —
Healthcare has entered a phase of major disruption associated with increasing focus on the internet and social media, electronic medical records, machine learning and artificial intelligence. Clinicians now have to deal with genomics and Big Data and the development of multiple new therapeutic 'biologics.' Never has there been as large a gap between 'what we know' and how medicine is practiced.
"It is increasingly critical to have clinicians directly connected with patients in order to help craft the most appropriate research questions and studies and to ensure that knowledge translated from the research effectively becomes mobilized to the best care for the individual patient and family," says Dr. Allan Becker [MD/69], the recipient of the 2018 Dr. John M. Bowman Memorial Winnipeg Rh Institute Foundation Award.
"The clinician-scientist is critical in ensuring an effective cycle from health assessment to improved healthcare," says Becker, a professor of pediatrics and child health in the Rady Faculty of Health Sciences and scientist at the Children's Hospital Research Institute of Manitoba.
A recognized international leader in pediatric allergy and asthma research, care and education, Becker's primary research interest is the origins of allergy and asthma in early life. He credits the influence of Dr. Jack Bowman, for whom the Rh award is named, in his approach to his own research and practice.
"Jack Bowman was the consummate clinician-scientist and I feel incredibly fortunate to have benefited from exposure to his approach to patient care and research," says Becker. "I have had the pleasure and the luxury to work with exemplary clinicians, scientists and clinician-scientists. Those individuals were critical in helping me address the core question that has driven my research over the years: "What is it about our environment that has driven the epidemic of allergy and asthma over the past few decades?"
Becker was presented with the award at the annual Rh Awards Ceremony, Lecture and Reception on April 29, 2019. At the same event, awards were presented to recipients of the 2018 Terry G. Falconer Memorial Rh Institute Foundation Emerging Researcher Awards.
To learn more about this awards program visit http://umanitoba.ca/Rhawards/
The 2018 recipients are:
APPLIED SCIENCES
Qiuyan Yuan (civil engineering) focuses on the sustainable treatment of municipal solid waste through developing innovative resource recovery methods. She has produced valuable enzymes from food waste, water filtration media from crushed glass, biodegradable material from textile waste, and activated carbon from agricultural waste. Her research helps to divert waste from landfill and ease the burden on the environment, and promotes economic benefit for the waste treatment industry by generating revenue through the production of valuable products.
Emma McGeough (animal science) focuses her research on areas related to forage-based livestock production including overwintering strategies for extending the grazing season for beef cattle in Canada. Her studies centres on ruminant nutrition and mitigation of greenhouse gases from livestock, specifically enteric methane, through manipulation of cattle diets. She is also involved in life-cycle assessment and carbon foot printing of beef and dairy production under Canadian conditions.
CREATIVE WORKS
Daniel McCafferty (School of Art) is an interdisciplinary graphic designer, whose work uses print, video, publishing, collaboration, data, mapping and code, to explore relationships between communication and systems of power. He is currently researching the role of the press on the process of early colonization. Daniel is a Media Artist in Residence at Video Pool where he is exploring code-based generative video essays.
HEALTH SCIENCES
Meghan Azad (pediatrics and child health; Children's Hospital Research Institute of Manitoba) holds a Canada Research Chair in Developmental Origins of Chronic Disease. Her award-winning research program is focused on the role of infant nutrition and gut microbiota in the development of asthma, allergies and obesity.Her team is also examining perceptions of breastfeeding on social media, and developing methods to improve societal support for breastfeeding through school-based education programs.
INTERDISCIPLINARY
Changmin Jiang (supply chain management). His major research area is transportation and logistics, an interdisciplinary field between economics/management and industrial engineering. This research involves various issues and aspects in the transportation sectors, particularly the economic and policy analysis. His studies include competition and cooperation between the aviation and the rail sectors, airline strategic alliance, network-regional airlines relationships and airport pricing.
NATURAL SCIENCES
Chengbo Yang (animal science) currently conducts research in the area of gut health and nutrient utilization relevant to non-ruminants. His research interests include investigating: molecular and cellular mechanisms of gut chemosensing in gut growth and health, roles of feed ingredients and bioactive compounds on modulation of molecular interactions between pathogens and host, identification of antibiotic alternatives, and biotechnological and nutritional strategies to improve nutrient utilization efficiency for sustainable animal production.
SOCIAL SCIENCES
Johnson Li (psychology) is a quantitative researcher who focuses on proposing and developing applied statistical models in social sciences research. He is developing new measurement and statistical models for use by researchers, teachers, and psychologists, which will have implications for theory and practice in psychology and education. His statistical interests include, but are not limited to, educational measurement techniques, structural equation modelling, effect size estimations, probability-based statistics, and reliability and validity assessments.
Research at the University of Manitoba is partially supported by funding from the Government of Canada Research Support Fund.