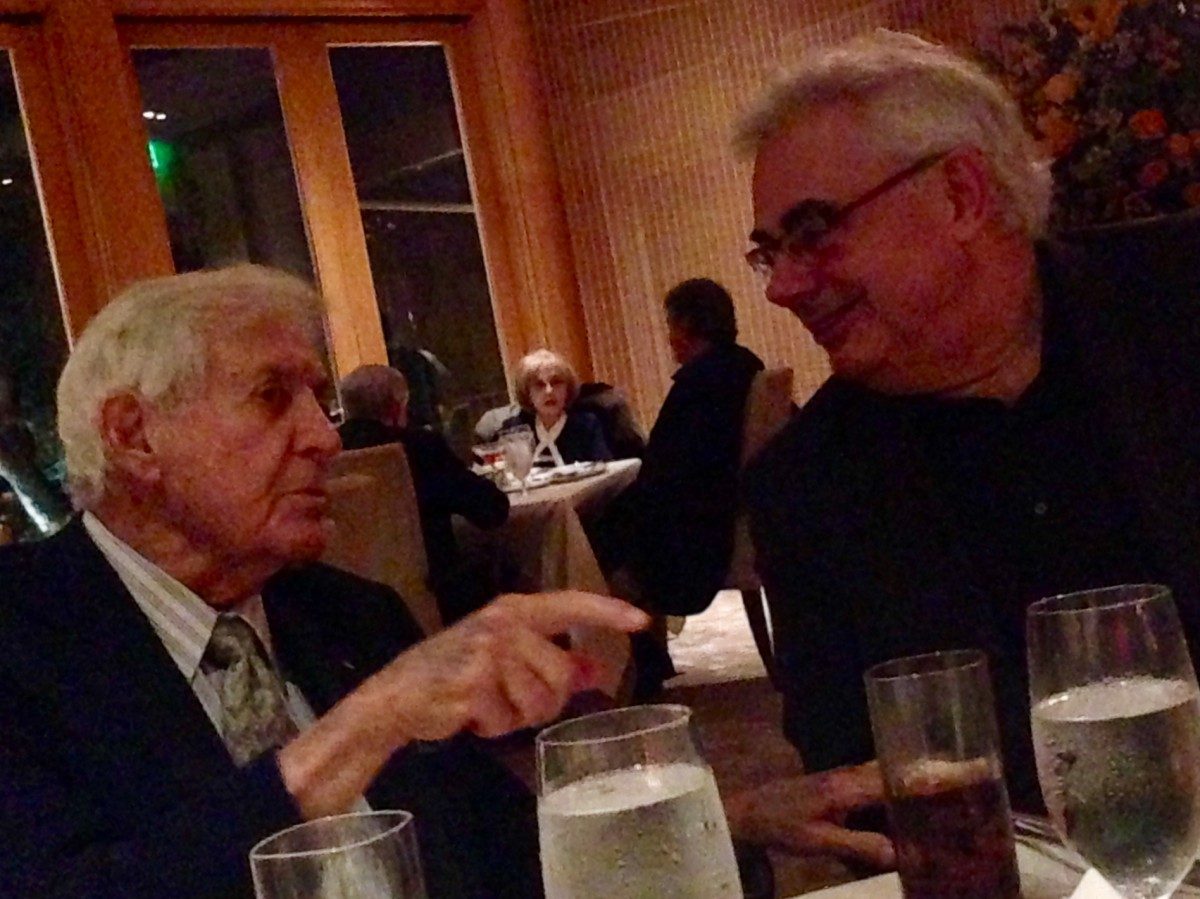 Celebrated alum, philanthropist and television personality Monty Hall, dies at home in California
President Barnard remembers his "deep humanity"
September 30, 2017 —
University of Manitoba alumnus and honorary degree recipient Monty Hall [BSc/46; LLD /87], a remarkable philanthropist and humanitarian, who revolutionized daytime television as host of the legendary game show Let's Make a Deal, died today at age 96 at his home in Beverly Hills, California.
"Many of us will remember Monty Hall's humour and creativity as a television game show host. Those of us privileged to know him recognize those traits as manifestations of his deep humanity that was also demonstrated in his friendships, and in his humanitarianism and fundraising. All of us in the UM community can be proud to be associated with the institution where he studied," said David Barnard, President and Vice-Chancellor.
The honorary degree he received from the U of M in 1987, conferring upon him the title of Dr., cited his charitable and philanthropic career on behalf of the disabled, the diseased and the underprivileged, as well as his outstanding television career. In 1988 he was awarded the Order of Canada for his humanitarian work around the world.
"Monty and I had lunch in April and he was as curious as ever about his alma mater," recalls John Kearsey, Vice-President (External). "He read UM Today: The Magazine front to back. He reminded me how important it is for young students to have financial support. He loved this place. He loved the University of Manitoba."
Dr. Hall was born and raised in Winnipeg's North End and had the opportunity to attend the U of M thanks to financial support.
Dr. Hall often fondly recalled his own experience as the recipient of a benefactor's wisdom and generosity. As his daughter Sharon Hall recalls; "He took a job scrubbing steps to try to pay for his college and a man took pity on him and told him he would pay for his college if he did three things: retain an A average, keep the man's name anonymous, and promise to pay it forward."
Dr. Hall graduated in 1946 with a Bachelor of Science in chemistry and zoology. He was senior stick of science in 1944 and served as president of the University of Manitoba Students' Union in 1945.
Following graduation, Dr. Hall moved to Toronto to pursue an acting career and in 1955 went to New York to get into radio. He even dabbled in sports reporting as radio analyst for the New York Rangers of the National Hockey League during its 1959–60 season. He became nationally known through his long-running radio show Who Am I? Dr. Hall is perhaps best known as host, developer and producer of the game show Let's Make a Deal which began on television in 1963 and is still on the air in a revised format today.
During his successful and prominent career Dr. Hall hosted TV shows, appeared as a guest on numerous others and was a headline performer in Las Vegas. His contributions to show business were honored repeatedly by his colleagues. He received his Star on Hollywood's "Walk of Fame" in 1973 and received a star on Canada's "Walk of Fame" in 2002. He received a Lifetime Achievement Award at the 2013 Daytime Emmy Awards.
Beyond his celebrity status, Dr. Hall was known for his charitable and philanthropic work on behalf of the disabled, the afflicted and the underprivileged. In Winnipeg he was instrumental in establishing the Winnipeg Branch of Variety Club, the world's largest children's charity. The number of Winnipeg causes and events for which Dr. Hall has "come home," or otherwise lent his support to, is almost without limit, such as direct involvement with the St. John's High School reunions, the Misericordia Foundation fund drive and the Chamber of Commerce Business Show.
Despite his advanced age, Dr. Hall continued to make appearances in support of his causes and charities across North America. He served as International President of Variety Clubs, and on the Boards of a staggering number of hospitals and appeals. In total, he raised close to $300 million and as a celebrity fund raiser he was preceded only by Jerry Lewis and Bob Hope. As a result, he received a breathtaking collection of awards and honours. In recognition of his work, there is a Monty Hall Room for Pediatric Oncology Therapy at Johns Hopkins Centre in Baltimore. Hospital wings and wards are named for him in Philadelphia and at the UCLA Medical Centre. A special tribute came in 1983 when he received the prestigious Variety Club International Humanitarian Award, an honour bestowed on such outstanding world leaders as Eleanor Roosevelt, Winston Churchill and Princess Anne, for her work in South Africa.
Dr. Hall married Marilyn Plottel in 1947, who predeceased him this past June. Together, he and Marilyn had three children, all of whom are in the entertainment industry, including Canadian actress Joanna Gleason.