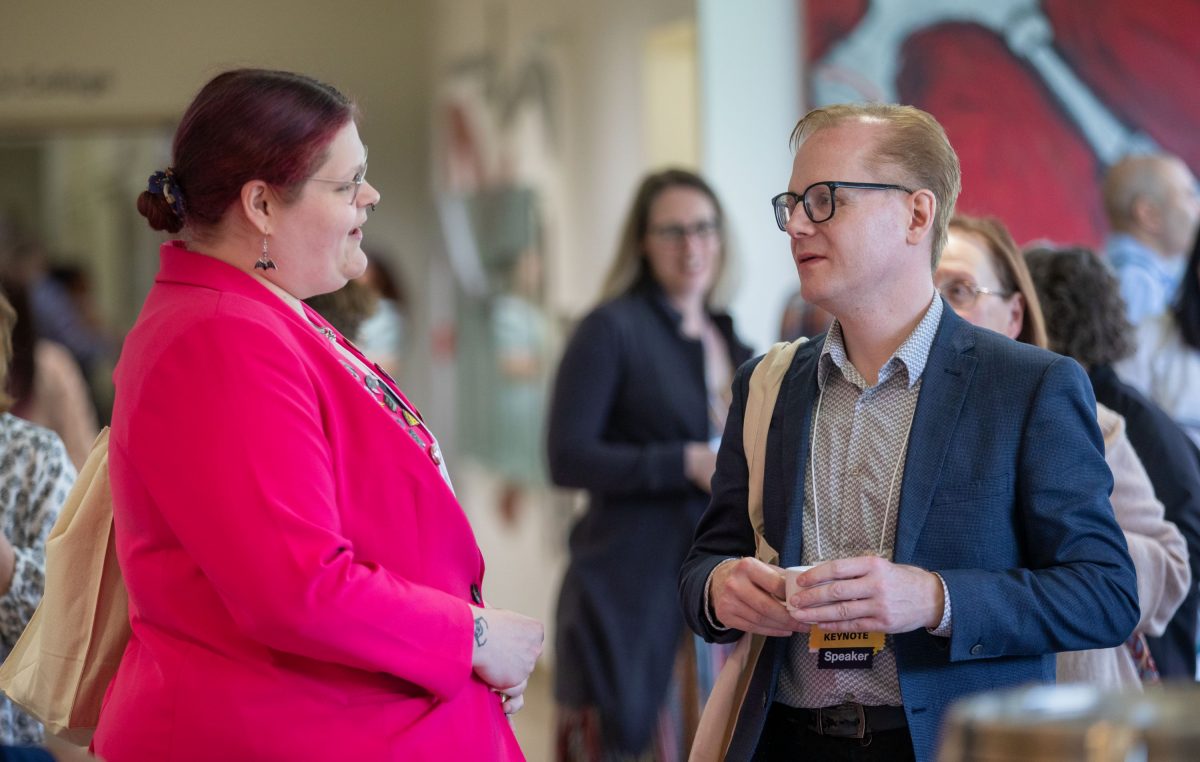 Canadian Symposium on Academic Integrity addresses emerging issues
Event helps further UM's commitment to promote academic integrity values and prevent academic misconduct
June 26, 2023 —
How can educators encourage the value of honesty in their classrooms? Why and when do students engage in academic misconduct? And how worried should we be about ChatGPT?
These topics and more were addressed at the third biannual Canadian Symposium on Academic Integrity, hosted by The Centre for the Advancement of Teaching and Learning on June 1 and 2, 2023.
The two-day event featured a mix of original research, professional development activities and panel discussions. Attendees came away with ideas and tools to promote academic integrity and help them transform student behaviours to include honesty, trust, responsibility, fairness and respect.
"At the University of Manitoba, we believe strongly that academic integrity is everyone's responsibility," said Brenda M. Stoesz, conference chair. "This event provided an amazing array of current topics and thoughtful discussion, supporting our commitment to promote academic integrity in all of our teaching and learning environments."
All conference presentations were peer-reviewed, and their abstracts will appear in the next issue of the Canadian Perspectives on Academic Integrity.
Featured speakers helped shape the two-day conversation
Keynote and special guest presentations by researchers Thomas Lancaster (Imperial College of London, UK), Phillip Dawson (Deakin University, Australia), and Sarah Elaine Eaton (University of Calgary), each spoke about emerging issues in academic integrity such as artificial intelligence and assessment security. They encouraged attendees to support students' learning and development, adapt their views about and practices in teaching to keep up with latest developments in technology, and to incorporate evidence-based teaching practices.
Examining the connection between student stress and cheating
Although artificial intelligence was a hot topic, several presentations examined the relationship between student wellbeing and academic misconduct. Chris Helsby and Jared Steuernol (Studiosity) shared preliminary results from their 2023 Canadian Student Wellbeing Study, which provided insights into student stress levels and student thoughts on cheating. In their professional development session, Lisa Vogt (Red River College Polytechnic) and Cory Scurr (Conestoga College) discussed ways in which institutions can use a systems thinking approach to identify gaps in student supports, policy education and assessment design.
Comedian Andrew Phung provided star power
The symposium's fireside chat featured comedy actor Andrew Phung, star of Kim's Convenience and Run the Burbs, in conversation with Canadian journalist Marjorie Dowhos of CBC Radio One. Phung shared his personal views of integrity and related that to his life as a child of immigrant parents. When asked if he had different approaches to integrity in the different parts of his life, Phung admitted that his life was often "chaos" with "nine things going on at once." So, the only way he could feel that he was working with integrity was to always treat people with kindness, whether they were on set or his friends and family.
Phung chatted and posed for photos with many delighted students in attendance and commented on the joy of meeting them at the symposium and in UMSU prior to the event. He got a chuckle from the audience when he admitted to having feelings like those of many older adults on campus: thinking he was young and then realizing he wasn't after coming into contact with actual young people.
Looking to the future
In the Future of Academic Integrity Session, moderated by Sarah Elaine Eaton (University of Calgary), Martine Peters (Université du Québec en Outaouais), Tod Denham (Thompson Rivers University), and Josh Seeland (Assiniboine Community College), session participants shared their views about the need to elevate academic integrity and address violations.
Participants agreed on the need to support the development of critical thinking skills and evidence-based decision making in teaching. They advocated for examining the use of artificial intelligence in teaching and learning and the ethics of international student recruitment, evaluating existing academic integrity policies and increasing funding to increase educators' teaching skill sets to better support students, integrate academic and research integrity, and more.
Attendee feedback
About 125 registrants from 40 post-secondary institutions attended the conference from Manitoba, Canada, Australia and the United Kingdom. Many commented on the positive energy and excitement of the symposium. Attendees also noted the high level of professionalism and dedication of the volunteers, the attention to detail for the conference decor and registration packets, and the tastiness of the food at lunch and nutrition breaks.
A UM team effort
The symposium was generously supported by various UM units, including Faculty of Arts (via Faculty of Arts Dean's Office Funding), Student Affairs, Faculty of Science, Faculty of Engineering, and the Vice Provost (Teaching and Learning) and by the many vendors who support the promotion of academic integrity in higher education in Canada and around the world. Staff with the help of many volunteers from within and outside of the University of Manitoba ensured an incredibly successful event.
Learn more
To learn how to bring integrity into your classroom, visit The Centre for Advancement of Teaching and Learning's Academic Integrity pages or email thecentrecontactus [at] umanitoba [dot] ca.