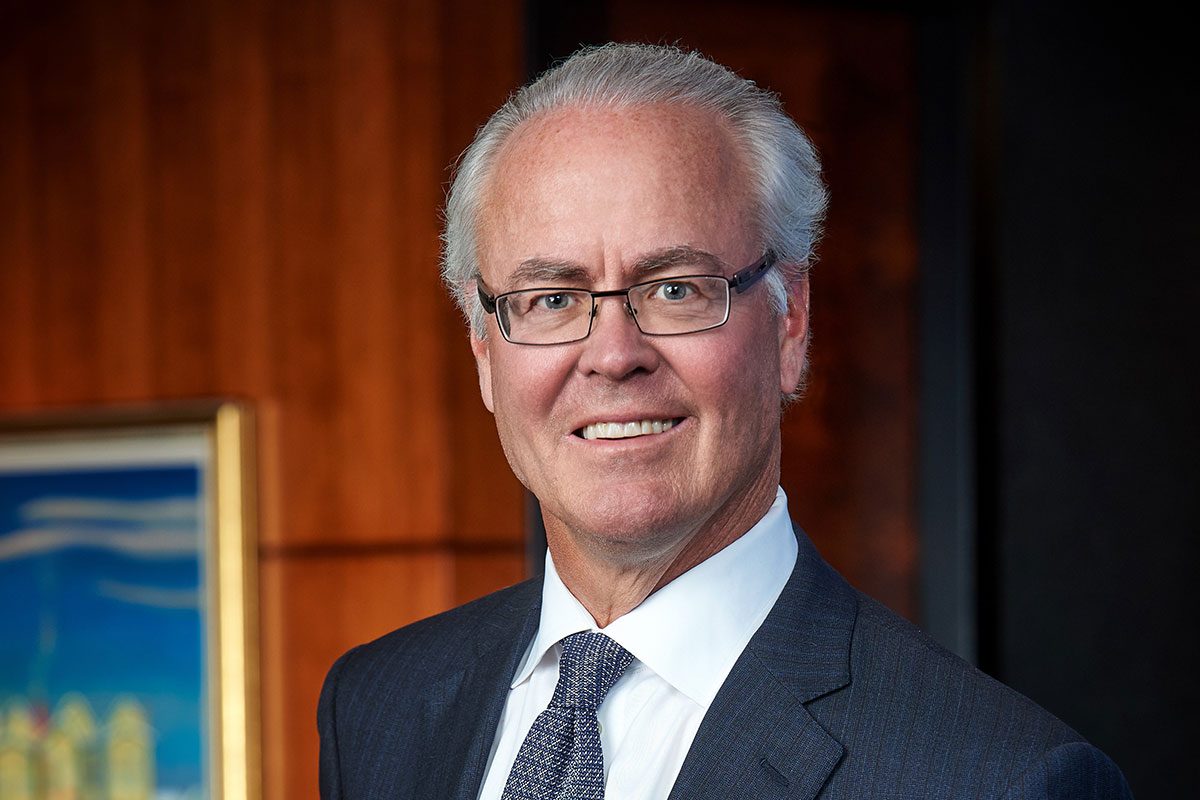 Business and community leader Hartley T. Richardson announced as 2019 IDEA recipient
September 6, 2018 —
For only the third time in its 36-year history, a Manitoba entrepreneur will be the recipient of the University of Manitoba's International Distinguished Entrepreneur Award (IDEA).
Last night, during the Bachelor of Commerce First Year welcome dinner at the University of Manitoba, Winnipeg business and community leader Hartley T. Richardson was announced as the recipient of the 2019 International Distinguished Entrepreneur Award. He is the third Manitoban to receive this award, alongside Israel Asper and Albert Cohen, who forged their successes while living here in Manitoba.
"We are honoured to be presenting Hartley Richardson with IDEA, as he is a living testament of what IDEA honours every year." says Arni Thorsteinson, Chair of the IDEA Committee and President of Shelter Canadian Properties Limited. "His philanthropic nature, unparalleled leadership and dedication to the Manitoban and Canadian business and service industries, sets an example to all of us."
Hartley Richardson attended the University of Manitoba and received his Bachelor of Commerce (Hons.) in 1977. He is the seventh family President of James Richardson & Sons, Limited, one of Canada's largest private, family-owned corporations. Founded in 1857 and headquartered in Winnipeg, the Firm has expanded and developed into an international multi-enterprise with current operations and interests in agri-business and food processing, oil and gas exploration and marketing, real estate, insurance and financial services.
Hartley Richardson received an honorary Doctor of Laws from both the University of Manitoba in 2004 and the University of Winnipeg in 2012. He was appointed to the Order of Manitoba in 2008, and also appointed a Member of the Order of Canada in 2007, promoted to an Officer within the Order of Canada in 2013.
Mr. Richardson currently serves as Chair of the Assiniboine Park Conservancy and Co-Chair of the TransCanada Trail Foundation. He is Past-Chairman of both the Business Council of Canada and Business Council of Manitoba.
"Through his leadership in business, service to the community and philanthropy, Hartley Richardson has demonstrated his commitment to the people of Manitoba and Canada and to their social, cultural and economic well-being," says University of Manitoba President and Vice-Chancellor Dr. David Barnard.
Since 1984, the University of Manitoba and its Associates of the Asper School of Business have presented the International Distinguished Entrepreneur Award to outstanding entrepreneurs who have made an exemplary contribution to global economic life.
Hartley Richardson joins past distinguished IDEA recipients including Sir Richard Branson, Stu Clark, Paul Desmarais Sr., David Foster, A. Linda Hasenfratz, Akio Morita, Ross Perot, Heather Reisman & Gerald Schwartz, Dame Anita Roddick, David Thomson, Prem Watsa, and this year's recipient, Arianna Huffington.
"We proudly partner with the University of Manitoba Business School Foundation and the Asper School of Business year after year because of the extraordinary role they play in inspiring excellence," shared Kim Ulmer, RBC Regional President. "As a natural extension of our collaboration, we support the IDEA Gala each year because it honours role models who choose to lead an extraordinary life of service. We are delighted to acknowledge next year's honouree, Winnipeg's own Hartley Richardson, an ambassador for our province who exemplifies a tremendous entrepreneurial and giving spirit through his many business and charitable endeavours."
Dr. Gady Jacoby, Dean and CPA Manitoba Chair in Business Leadership, Asper School of Business, noted: "We are delighted and honoured to add to Mr. Richardson's already long list of accolades. His endeavours in philanthropy and in the business community in Canada make him a very worthy recipient of this award."
"I am deeply honoured to have been acknowledged as the 2019 IDEA recipient," expressed Hartley Richardson. "As a proud University of Manitoba alum, being recognized by my alma mater and joining the prestigious group of past IDEA recipients, represents a high water mark in my career."
Hartley Richardson will be presented with the award at the 2019 IDEA dinner on May 23, 2019, in Winnipeg at the RBC Convention Centre.