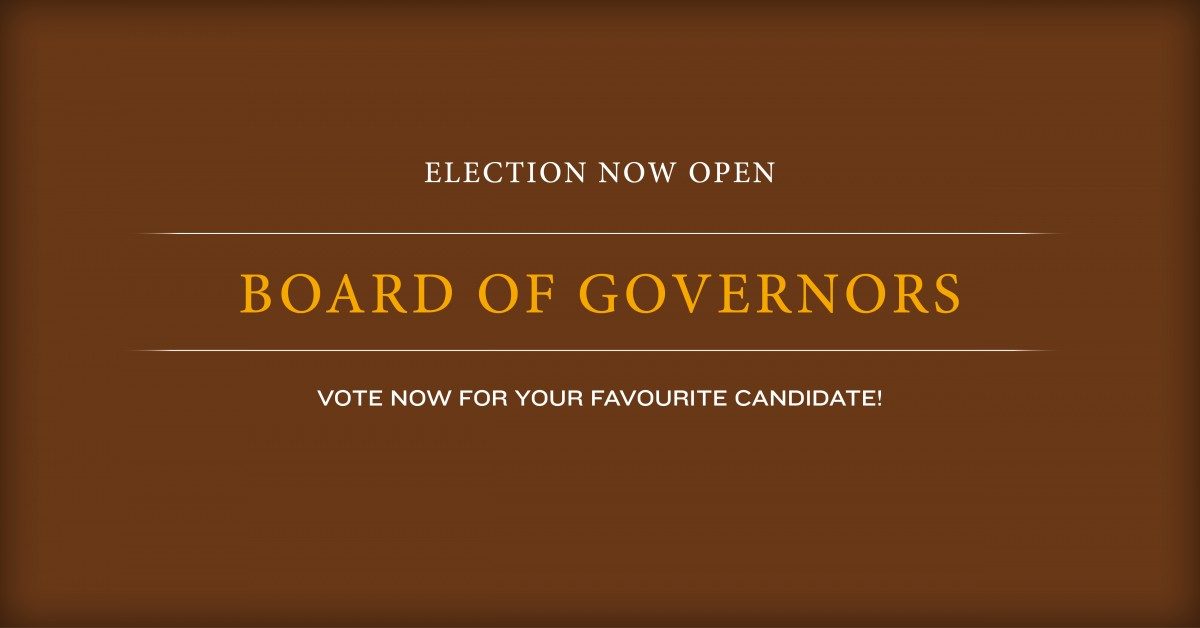 Board of Governors alumni election now open
Voting open until May 22
March 20, 2017 —
The University of Manitoba's Board of Governors is responsible for overseeing the administrative and business affairs of the U of M, serving as the corporate governing body of the university. Its duties include approving the annual budget and appointing and monitoring the performance of the President and Vice-Chancellor.
U of M alumni elect fellow graduates to serve on three of the 23 University of Manitoba Board of Governors positions. Alumni elected to serve on the Board of Governors may do so for a maximum of three consecutive three-year terms. One of these term positions is ending.
Five candidates have been nominated to fill the vacant U of M alumni representative position on the Board of Governors. As such, votes from U of M alumni are now being accepted.
Ballots are available on the Alumni network of UM Today. Each ballot must clearly indicate your U of M degree and year as well as the candidate being voted for. Ballots can be submitted in the following ways:
Online at: https://www.research.net/r/UMBOG6
By email to: alumni [at] umanitoba [dot] ca. Voters must print a copy of the ballot, complete it by hand, and scan the completed ballot to send by email. Only one vote is allowed per email. If two or more votes are included within the same email, they will all be considered spoiled.
By mail to: Board of Governors Election, Alumni Relations, Unit 200-137 Innovation Drive, Winnipeg, Manitoba, R3T 6B6
By fax to: 204-474-7531
In person at: The Alumni Relations office (Unit 200-137 Innovation Drive). Open Monday to Friday, 8:30 a.m. to 4:30 p.m.
2017 BOG Election Candidate Bios
Samuel Davidson [BComm(Hons)/15]
Samuel Davidson is an emerging professional and proud Asper School alumnus. He worked at the University of Manitoba in Bison Sports and as a Residence Life Coordinator; he also volunteered with the Commerce Students' Association and the Resident Students' Association Council, the latter as a Resident Advisor. Having spent six years as a student and employee, Samuel says he understands how student engagement in and out of the classroom is integral for the growth and development of prospective alumni. Winnipeg is a tight-knit community and, in his words, "one of the keys to succeeding in this wonderful city is to network and connect with a diverse group of individuals, many of whom are alumni of the University of Manitoba." As someone who has connected with a variety of alumni and has found support throughout his university years, Samuel wishes to represent alumni with a fresh perspective. Samuel believes that students need to take advantage of the knowledge and skills that our alumni have to offer, and he hopes to accelerate the connections between our students and alumni.
Marcelo Dubiel [BSc(ME)/11]
Marcelo Dubiel is the lead engineer at Exigence Technologies Inc., a technology start-up company based at the University of Manitoba. He has worked in Manitoba since graduating from UM with a degree in mechanical engineering. Marcelo has a passion for engineering and the sciences, and motivation to build the right solutions for society's problems. He says developing local technology and nurturing Manitoba-based engineering companies is important to expanding the provincial economy and building a base of incredible professionals in Manitoba. Marcelo believes engineering and technology companies should have support to develop and grow, following the example of the brewery boom in Winnipeg. Having seen many of his close classmates leave the province for opportunities abroad, Marcelo wishes to show that Manitoba produces some of the world's best professionals, who don't have to leave in order to be part of great technology and business. Marcelo is driven to rally the community together to build the economy and develop disruptive technology.
Jerome Knysh [BSc(IE)/84, ExtEd/87, MBA/90]
Jerome Knysh is a professional engineer, certified management consultant, and LEED-accredited professional with more than 25 years of progressive management experience in transforming organizations, growing profits, and bringing about positive change. Since 2001, he has served as general manager of Builders Furniture Ltd. in Winnipeg, where he has developed expertise in operations, finance, human resources, engineering, team-building, and project management. Jerome says he thrives on challenge, instills trust and confidence, possesses integrity, and demonstrates initiative in businesses held by both trade and private equity owners. Jerome graduated from the University of Manitoba with a Bachelor of Science in Industrial Engineering and a Master of Business Administration. He served as acting chair and member of the advisory committee for the Wood Products Manufacturing Technology Program at Red River College and is now a director and vice-president of the University of Manitoba Alumni Association. Born and raised in Winnipeg, he is married and has two daughters.
James Mansfield [MSc/90]
James R. Mansfield is a scientist with more than 25 years of experience in imaging system design and biomedical research. Raised in Winnipeg, with degrees from both local universities, he spent seven years as a research scientist at the National Research Council's Institute for Biodiagnostics in Winnipeg, followed by 16 years in the Boston area as a product manager and applications scientist. He now works for Andor Technology, a world leader in scientific cameras and instrumentation, and resides in Winnipeg. His research helped develop the first spectral imaging systems for mapping out skin oxygenation levels, as well as imaging methods for the phenotyping of multiple subsets of immune cells in-situ in clinical biopsy sections—a revolutionary step forward in solid-tumor immuno-oncology. While working in industry, James has managed several academic-industry partnerships and works with many academics. He is an associate editor of the American Journal of Nuclear Medicine and Molecular Imaging, holds six patents, has more than 50 publications and has served as an invited speaker, session chair, and organizer at a wide range of international conferences.
Derek Neufeld [BSc(ME)/11]
Derek graduated from the University of Manitoba in 2011, where, in addition to acquiring a degree in mechanical engineering, he filled several roles with the University of Manitoba Engineering Society, including Senior Stick. To promote hands-on learning about electric vehicle technologies and fabrication methods, Derek helped start the Formula Hybrid team in 2008 as part of the UM's Society of Automotive Engineers (student chapter). Following university, Derek lived in Calgary for several years where he explored his passion for hiking, snowboarding, and many other outdoor activities in the Rocky Mountains, while working for a small start-up company developing hydrokinetic turbine technologies for geographically remote communities. Since returning to Winnipeg in 2016, Derek has successfully started his own consulting company, developing technologies to promote autonomous living and independent energy production.