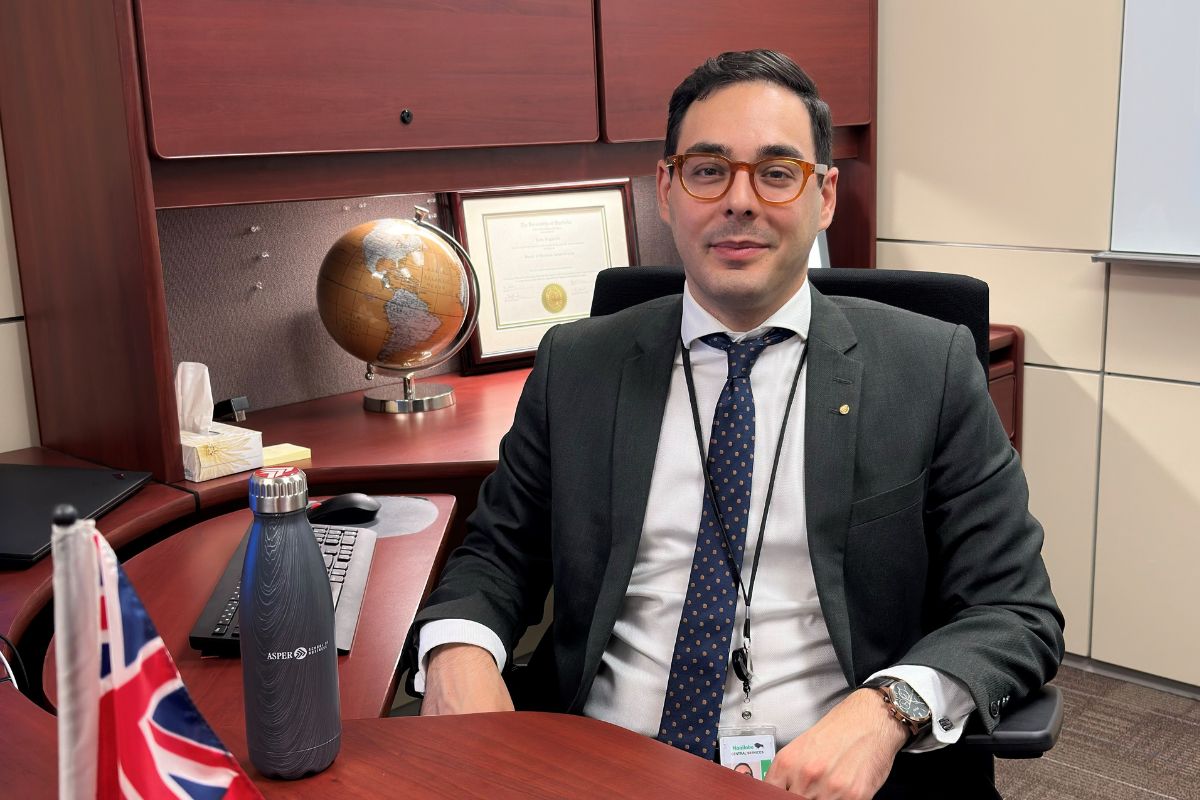 Asper MBA alum a champion of public service, community connection
Paris Fragkoulis advances within the Government of Manitoba, delivering value, accountability and transparency
September 27, 2023 —
Paris Fragkoulis [MBA/16] describes the moment just before COVID-19 vaccines were about to become available, and he was called to lead the planning work stream of the COVID-19 Vaccine Implementation Task Force set up by the Government of Manitoba.
"When I got that call, it was an outstanding opportunity for me to give something back to the country that welcomed me so warmly. It was, with no exaggeration, the greatest challenge I had ever undertaken," says Fragkoulis.
At the time, he had been handling a different portfolio, taking part in designing the majority of pandemic financial relief programs for individuals and businesses in Manitoba.
He recently advanced to the role of assistant deputy minister, procurement and supply chain, with the Government of Manitoba. Fragkoulis' impressive professional progress is due at least in part to his thoughtful and passionate approach to public service.
"For me, public service is about delivering value within constraints, and it encompasses a higher degree of accountability and transparency to the public, and rightfully so," he says.
He also credits his time in the Asper MBA program for preparing him to take on new challenges with an emphasis on community.
"Completing the Asper MBA has been a catalyst in being able to deliver value in my roles," says Fragkoulis. "My passion for service was also fostered by the program because it emphasizes the need for organizations, public and private sector, to be enablers of positive change in the community and for their stakeholders."
Fragkoulis came to Manitoba from Greece to pursue his MBA in 2014. His passion for public service is informed by his experience as a newcomer to Canada, seeing each career opportunity as another chance to give back to the community.
"As a public servant and an immigrant, I am very grateful for the opportunities I've had in Canada," he says. "The essence of public service is to create a positive impact in the community of which you are a part, and my roles have always allowed me to do this."
For Fragkoulis, his ability to serve the community is tied to his ability to immerse himself in it, and as a newcomer this approach was particularly helpful. He describes how arriving in Canada gave him a chance to learn constantly in order to connect with the world and people around him.
"As a newcomer, you have the opportunity to learn new things every single day just by interacting with people. We're surrounded by so many details, and those details paint a picture," says Fragkoulis. "They tell a story about the people who created them, about the culture, about how things work, and if you really pay attention to those details, no matter where you are, you will get a very good sense of who is around you and how people around you think."
He took this perspective with him throughout the MBA program, recognizing how it fostered diversity and helped him create deeper connections.
"The Asper MBA is not just a program where students go to class and listen to a lecture; it is really about deep and profound engagement between the students and the instructors and learning from each other. Each student brings a unique perspective.

"It is a platform to show your talent, show your skills and exchange ideas, where a lot of people are trying to 'make it' in different ways. You have Canadian students who want to advance their career. You have international students who are in a new country, a new program—some want to stay in Canada, and some want to return to their countries. But everyone is trying to succeed and that was a great support network for me."
There are many ways in which Fragkoulis has 'made it' with his MBA. Not only is he thriving professionally, but he is also benefitting from connections made years ago in the program—from fostering friendships formed between classes that have extended far beyond graduation, to meeting other Asper alumni serving at the Government of Manitoba and working closely with the Asper Co-op program.
No matter his next role, Paris Fragkoulis remains dedicated to serving the community, leading with integrity and taking in the details to build stronger connections and create positive impact.