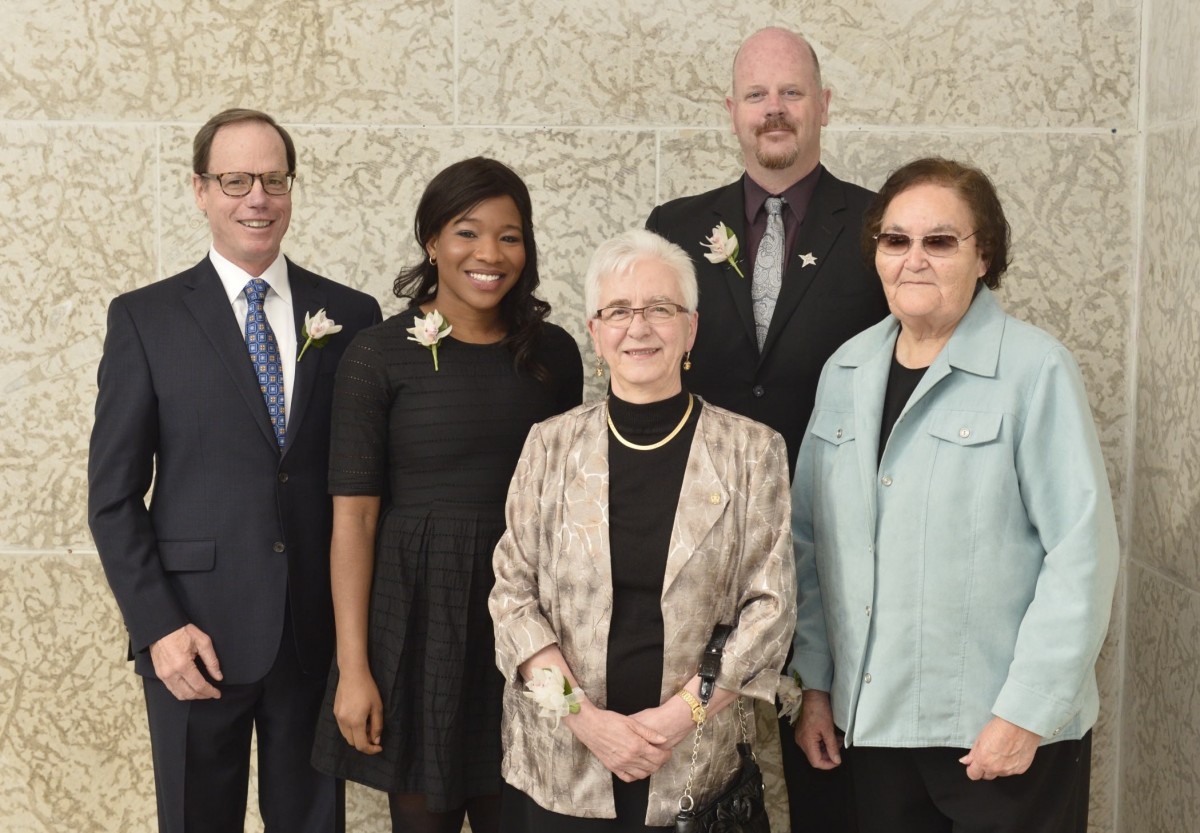 Alumni shine at Celebration of Excellence
May 12, 2015 —
With the recitation of a poem that invoked the night's themes of leadership, wonder and praise, David Barnard, President and Vice-Chancellor of the University of Manitoba, opened the Distinguished Alumni Awards Celebration of Excellence to a sold-out crowd at the Winnipeg Art Gallery Auditorium.
More than 300 people attended the celebration on May 12, 2015, to honour five outstanding individuals who have been making a tangible and meaningful difference in our world and local community through their dedication, passion and perseverance, guided by truths and principles gained through training and education at the University of Manitoba. Among those attending the event were His Worship Mayor Brian Bowman and Manitoba Lieutenant-Governor-Designate Janice Filmon, who presented awards to DAA recipients.
The 2015 Distinguished Alumni Award recipients were:
In keeping with the night's theme of honouring those whose dedication and passion benefited so many in our community, the evening began with a dedication to the late Dr. Patricia Martens, Distinguished Professor in the College of Medicine, senior scientist and former director at the Manitoba Centre for Health Policy, distinguished member of our alumni community and leader, mentor and a beloved friend to many colleagues and students.
The Distinguished Alumni Awards Celebration of Excellence recognized an impressive array of alumni achievements from the design of the award (by jeweller and alumna Hilary Druxman) to the entertainment. The night featured inspiring music by performers such as: Winnipeg music icon Ron Paley with Desautels Faculty of Music alumni Neil Watson, Glenn Radley and Sean Burke accompanying the children of West Broadway Youth Outreach; U of M student Jason Buchanan with Aaron Shorr and Cole Moreau performing Prairie Town; fourth-year Desautels Faculty of Music student Justin Odwak; and Colleen Furlan of the Desautels Faculty of Music, who is currently in rehearsal for Rainbow Stage this summer.
"The self-sacrifice and dedication displayed by our alumni who are honoured tonight are inspirational," said Barnard. "These individuals are representative of the remarkable talents and passion of so many of our graduates and community leaders, who make a difference in people's lives in Manitoba and around the world."
"Alumni of the University of Manitoba have been instrumental in virtually every advancement in this province. They have used their University of Manitoba education and experience to carve their own paths toward achievement, impacting their communities and the world around them," noted John Kearsey, Vice-President (External). "The excitement of everyone in the auditorium is something that is tangible and seeing these inspiring award recipients makes our hearts beat with pride."
Kearsey: 'seeing these inspiring award recipients makes our hearts beat with pride.'
"Our province and community thrive on the service of volunteers. University of Manitoba alumni participate on boards, connect with students through career and mentorship programs, and have a genuine love for their alma mater and want to help nurture its success," said Jeff Lieberman, president of the Alumni Association of the U of M. "It is right that we should take time to honour these exceptional individuals tonight."
Highlights from the Celebration
Click each recipient to read more about their portion of the evening.
To close the evening, Colleen Furlan of the Desautels Faculty of Music sang a beautiful rendition of Defying Gravity from the musical Wicked.
A reception in the Winnipeg Art Gallery foyer followed the program.