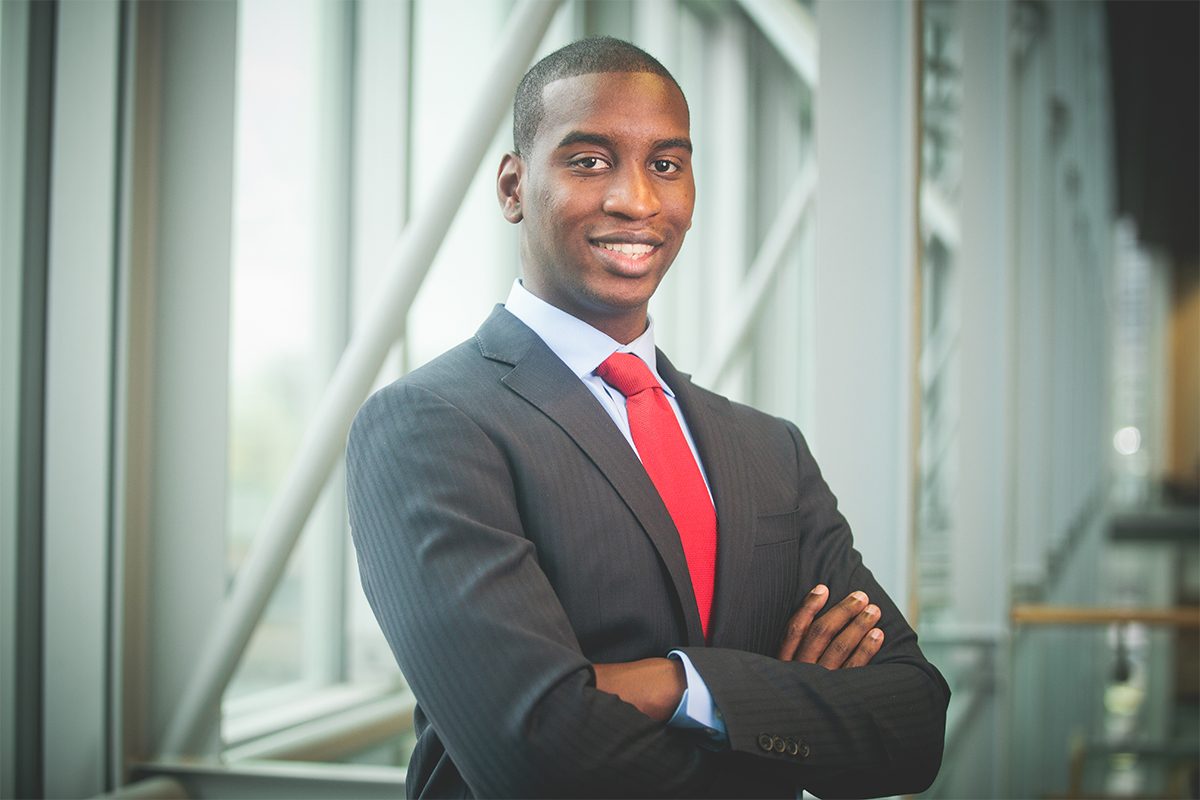 Alumni POV: Black leaders today
February 19, 2019 —
Every Black History Month (BHM) I go through an odd rollercoaster of self-examination. I am always humbled when asked to share my insights on leadership, education, or any other topical issues because I have never been comfortable being referred to as a black leader.
Admittedly, it is hard for me to accept that leadership does not need to be defined in the grandest of forms by being the "first black… (insert profession)". Social media and popular culture have conditioned us to think that if we are not the first or best at something, then it is hardly news.
My rollercoaster involves me transitioning from thinking my contributions are enough by doing my best in my personal/professional life and show up to community events. My guilt kicks in when I encounter recently immigrated young black people who are trying to find their way. This is always followed by a guilty feeling: "I should be doing more".
I remember listening to a young woman speak during the 2018 Black History Month who was stating that it wasn't until she came to Canada that she was told that she needed to identify as a black woman and a minority. As an immigrant, she had never entertained the idea that her skin colour now needed to become a part of her personal and public identity. She said she was so confused that she began to look to popular culture to help her figure out how be a "North American Black Woman".
This stuck with me, because as the child of immigrants, Canada is the only home I've ever known. While we live in a tolerant mosaic of a country, I learned from a very young age, for better or for worse, that the first thing people see when they look at me is my skin colour. My identity will always be couched with the colour of my skin. I don't say this with anger, but rather with sadness for people that grew up viewing their skin colour as only one facet of their identity, who are now being told in their new home, that this is no longer the case.
What also stuck with me was a conversation I had with a colleague of mine who had immigrated to Canada from Mexico roughly 15 years ago. We spoke about how neither of us were wealthy or had any particularly unique insight to share, but we were both called upon at times in our respective communities to take on leadership roles.
It was at that moment that he and I began to discuss our privilege. Because of our education, communication skills and network, the world was no longer looking at us the way we thought it was. Also, whether we liked it or not, society was actively drawing a distinction between us and other members of our communities.
What we uncovered, was that as we built our careers, that we now had access to things like bank financing, as well as investment and business opportunities that were not available to previous generations or new immigrants in our communities.
These were meaningful insights for me because it forced me to re-examine my personal situation and really reflect on the challenges that others were experiencing that I may have not realized were no longer challenges for me.
These issues are compounded because we do not know how to define Canadian black culture. The U.S. dictates much of our culture by flooding us with their sports, news and pop culture. Unfortunately, this drives many of us to sometimes take ownership for a struggle that is not our own. Like the U.S., Canada has challenges in the black community around crime, low graduation rates, under-employment, and being profiled by police. However, the extent of the political, racial and economic divide in the U.S. is far more severe than anything we experience in Canada.
These outside influences can at times make us feel that we are further behind than we actually are, or that we have more obstacles ahead than actually exist. By disassociating ourselves, at least partially, from the outside narrative of what it means to be black, our community can reflect on the things we do have and the progress we have made.
Our journey as leaders is a continuous one with no real end point. We can start by walking with our community and letting them know that it doesn't matter what the world is telling you, that you are free to define yourself as you see fit and to build any life you want.
Most importantly, to acknowledge that the community has many more leaders than ever, that are more than equipped to share stories and insights and to help us all move forward. This means prioritizing sharing and celebrating our successes, and not our struggles.
Maurice Alexander [BA/05, MA/08] is a Treasury Board Analyst in the Department of Finance for the Government of Manitoba. He is also a sessional instructor (Government-Business Relations; Public Administration) at the University of Winnipeg. His research at the U of M focused on globalization and the impacts ideologies have on social, political and economic institutions.