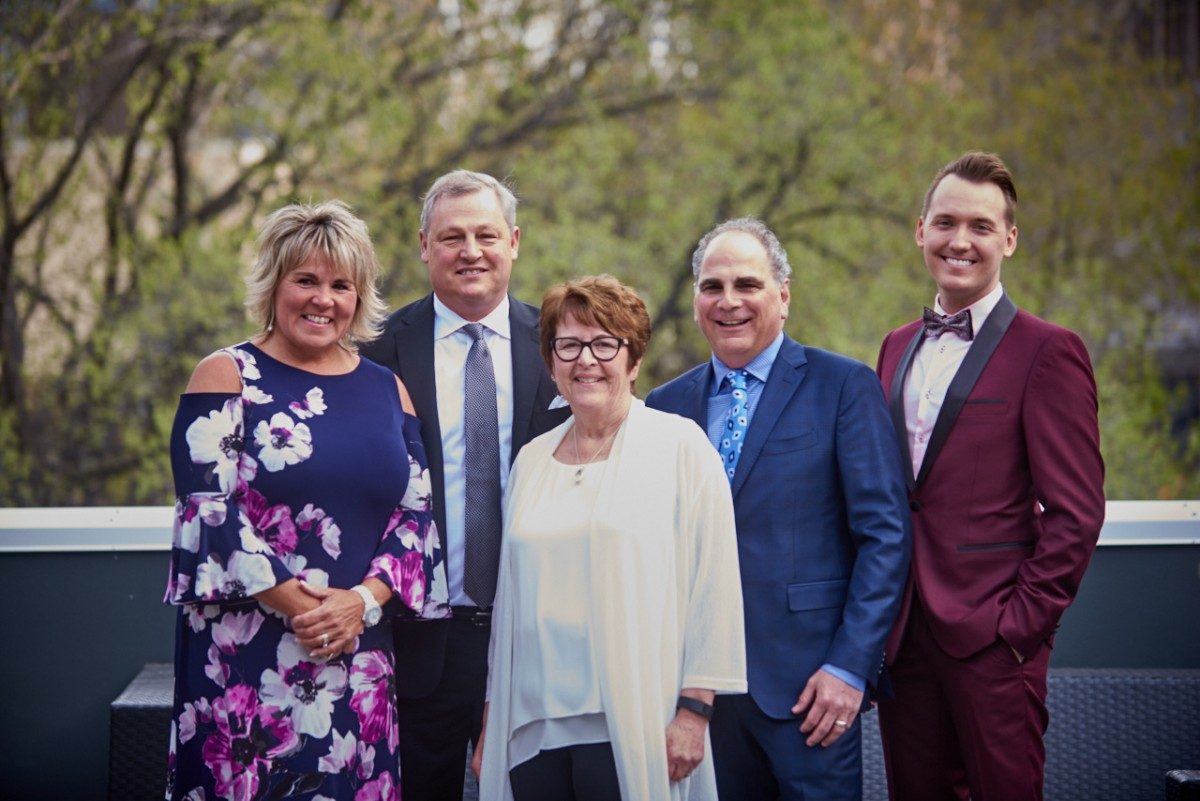 Alumni achievements of 2018
December 20, 2018 —
University of Manitoba alumni show their exceptional talents and abilities throughout their lives. In 2018, graduates from several faculties were recognized for their dedication, hard work and professional success. Here are some of their stories.
Defining moments celebrated at 2018 Distinguished Alumni Awards Celebration of Excellence
The celebration in May brought together more than 350 enthusiastic supporters of the University of Manitoba for an inspiring evening of music, tributes, and videos in acknowledgment of five outstanding individuals: Jan Lederman, Dr. Shayne Reitmeier, Tina Jones, Dr. Lorrie Kirshenbaum and Paul Soubry.
The Distinguished Alumni Awards recognize graduates who have achieved outstanding accomplishments in their professional and personal lives, and who have been inspirations to fellow alumni, current students and the community, both close to home and around the globe. Read more.
Alumni and friends nearly sweep the board at Manitoba Philanthropy Awards
The Manitoba Chapter of the Association of Fundraising Professionals announced this year's recipients of the Manitoba Philanthropy Awards, with University of Manitoba alumni and friends named in five out of the six categories.
Tanjit Nagra [BA/18], Gregg [BComm(Hons)/76, CA/79, LLD(Hon)/18] and Mary Hanson [BA(Hons)/76], Joan Blight [BA/75], and Tannis Richardson [BScHEc/48, LLD(Hon)/12] were honoured at the annual National Philanthropy Award Luncheon in Winnipeg on Nov. 15. Qualico, a prominent supporter of the U of M – notably through the Qualico Bridge to Success Program–received the award for Outstanding Large Philanthropic Organization. Read more.
Business and community leader Hartley T. Richardson announced as 2019 IDEA recipient
For only the third time in its 36-year history, a Manitoba entrepreneur will be the recipient of the University of Manitoba's International Distinguished Entrepreneur Award (IDEA).
During the Bachelor of Commerce First Year welcome dinner in September at the U of M, Winnipeg business and community leader Hartley T. Richardson was announced as the recipient of the 2019 International Distinguished Entrepreneur Award. He is the third Manitoban to receive this award, alongside Israel Asper and Albert Cohen, who forged their successes while living here in Manitoba. Read more.
35 years of doing 'something useful'; for U of M, for the world
The Asper Foundation is behind some of the most world-renowned human rights projects, including the Canadian Museum for Human Rights. Here at the University of Manitoba, the Asper family has collectively contributed over $17.5 million which continues to directly impact students, staff and faculty in nine faculties and all three colleges.
Most prominent, perhaps, is the I.H. Asper School of Business which continually ranks among the best in Canada and includes the Asper Chair in International Business and Trade Law and the Stu Clark Centre for Entrepreneurship (formerly the Asper Centre for Entrepreneurship). Music and the arts are also closely linked to the Aspers. Last fall, Gail [BA/81, LLB/84, LLD/08] and husband Michael unveiled the Gail Asper Performing Arts Hall in the newly renovated Taché Arts Complex. Read more.
A star-studded finish to Homecoming 2018
University of Manitoba alumni who returned to their alma mater in September for Homecoming were welcomed back with new events and old classics that showcased the immense talent of the U of M alumni community.
Alumni had the opportunity to reconnect and reminisce at the Brown & Gold Brunch, celebrating Marilyn & Monty Hall. It also kicked off the official opening of the Marilyn & Monty Hall Retrospective Exhibit that showcased the breadth of achievements and philanthropy of these two late Hollywood legends and Emmy-award winning television stars. Read more.
Order of Manitoba honours UM alumni, faculty, researchers and president
Some of the University of Manitoba's most respected alumni, faculty members, researchers and administration were invested into the Order of Manitoba in July at the Manitoba Legislative Building.
Seven individuals from the U of M received the Order of Manitoba, the province's highest honour, including Distinguished Professor Cheryl Rickman-Greenberg, Dr. Sarah Israels [M.D./1979], William Loewen [C.A./1954], Dr. Grant N. Pierce [Ph.D./1983], Jacqueline Blay [M.A./1987, Cert.Trad.2003], Bernice Marmel [B.A./1949, M.Ed./1986] and U of M President David Barnard. Read more.
Trailblazing doctor wins 2019 Indspire Award
As one of the first female Indigenous physicians to graduate from the U of M's Max Rady College of Medicine, Dr. Marlyn Cook [MD/87], is used to paving her own way.
"I've incorporated traditional healing methods with Western medicine in my practice; when I first started talking about this in the early 90s, you could hear a pin drop in the room."
In October, the Cree woman from Misipawistik Cree Nation and physician with Ongomiizwin – Health Services was named a recipient of the national 2019 Indspire Award for her career working on reserve lands and advocacy work to reshape medicine in First Nations communities. Read more.
Rock-solid performance wows judges at 3MT
A student who saw firsthand the destructive power of earthquakes upon poorly designed buildings in his native Iran gave a rock-solid performance at the Three-Minute Thesis competition in March, wowing judges and touching the hearts of the audience. Shervin Khalili Ghomi, a U of M doctoral student in civil engineering, won the competition with his thesis on creating a path to earthquake-resistant buildings.
Ghomi hopes to help build safer and more efficient structures through constantly seeking a better design through state-of-the-art research. Read more.
The power of 400
In November, more than 400 students, alumni and members of the U of M community gathered to hear from panelists Nahlah Ayed [BSc(Hons)/92, MA/02, LLD(Hon)/08], Laura Michalchyshyn [BA/89] and Brenda Gunn [BA(Adv)/02] on global citizenship and empowering the individual to take action at the Visionary Conversations event, hosted by President Barnard. Read more.
Pioneer of dental implants gifts $7.5 million
The College of Dentistry received the largest gift in its history in May, from Dr. Gerald and Mrs. Reesa Niznick. Recognized as the originator of modern implant dentistry, Dr. Niznick [DMD/66, LLD (Hon)/02] announced a historic $7.5 million donation towards his alma mater through the Front and Centre campaign. In recognition of the transformative gift, the University of Manitoba has renamed the college the Dr. Gerald Niznick College of Dentistry. Read more.
U of M prof named one of Canada's most powerful women
For bolstering Indigenous medical education and health care delivery in Northern Manitoba, Dr. Marcia Anderson from the Rady Faculty of Health Sciences was named in November as one of Canada's Most Powerful Women in 2018 by Women's Executive Network (WXN).
Dr. Anderson, a Cree-Saulteaux women with roots in Norway House Cree Nation and Peguis First Nation, is the Executive Director of Indigenous Academic Affairs in the Ongomiizwin Indigenous Institute of Health and Healing at the U of M. Read more.