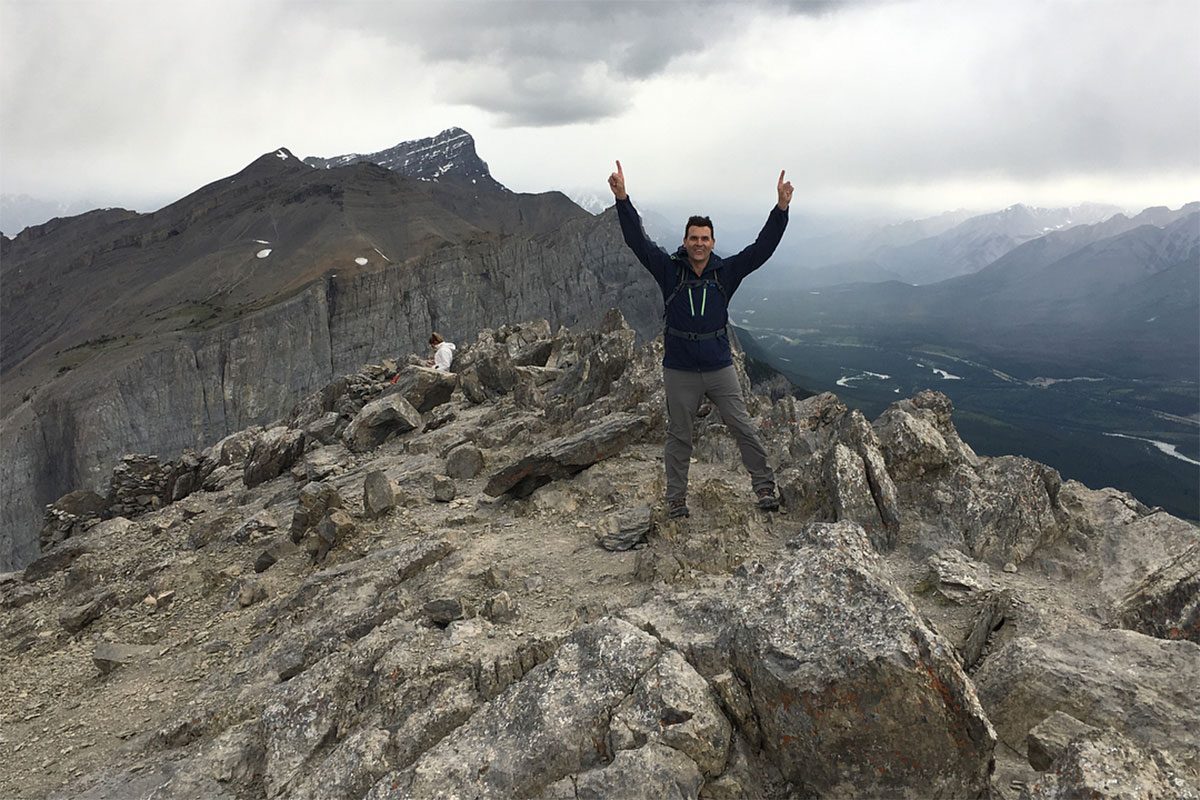 Alumni Abroad: Reaching peak nature
July 13, 2018 —
Richard Dupuis has one of the most beautiful commutes in Canada: the evergreen-lined TransCanada between Canmore and Lake Louise.
Surrounded by snow-capped Rockies and catching the occasional glimpse of bears (with frequent sightings of elk), Dupuis [BSc/02] makes this picturesque drive every day as Visitor Experience Manager for the Lake Louise, Yoho, Kootenay Field Unit.
It's one of many roles he's held over a 20-year career with Parks Canada, taking care (as he describes his responsibilities) of Canadian treasures.
In anticipation of Canada's Parks Day on July 21, we're featuring alumni like Dupuis who live and work in our nation's parks, historical sites and special places; alumni who get to call these Canadian treasures their "office".
UM Today spoke to Dupuis from his office overlooking the tallest mountain in Lake Louise: Mount Temple.
UM TODAY: WHAT DO YOU DO, AS A VISITOR EXPERIENCE MANAGER?
DUPUIS: Visitor experience in national parks is basically the public-facing staff who you see in uniform serving Canadians and visitors from abroad in all of our locations. That includes campgrounds, gates, visitor centres, call centres, and some of the shuttles we've been running here in Lake Louise.
It's a big team. It kind of sounds like I'm out there greeting people but I'm not, I have a team of just over 200 people who work for the Visitor Experience team in Lake Louise, Yoho, and Kootenay. I do my job by making sure the teams have the tools and resources to serve visitors. I also work with my colleagues in other functions to make sure the front of house is in good shape and visitors respect the environment when they come to the parks
HOW DO YOU DEFINE A GOOD VISITOR EXPERIENCE?
It's kind of difficult to define because every experience is unique. Everybody comes with their own values and perceptions of things. One of the things we learn at Parks Canada is to really understand visitors and the science behind their behaviours. Why they choose to come to parks and how we get them to care about these places so much that they want to protect them for future generations.
As staff in Parks Canada, we're pretty much all passionate about the outdoors and comfortable outdoors but when you look at the general public as a whole – it is often not the case.
LOTS OF HIKING IN FLIP-FLOPS, THAT SORT OF THING?
We see that all the time here in the Lake Louise area. Flip-flops or regular street footwear are appropriate for a leisurely stroll along the Lake Louise lakeshore, but proper hiking footwear is advised for any hikes in the area.
The phenomenon of Instagram and sharing photos on social media is something that we're definitely seeing increasing, too. People want to get to certain locations but they're maybe not as prepared as they should be. The beauty is really attractive, "We gotta go there!" but they don't know what tools they need to get there. Sometimes it's not the right footwear or not enough water, or not knowing how far the actual hike is and being well prepared. That's one of our main messages for people: plan ahead. Some of these places are beautiful, but be ready for it.
HAVE YOU ALWAYS BEEN SOMEONE WHO LIKES TO BE OUTDOORS EXPLORING NATURE?
Yes, I love the outdoors and I get that from my father. I grew up in St. Pierre Jolys, just south of Winnipeg and almost every weekend in the spring and summer my dad would take us fishing to Nopiming and various places in the backcountry. That's where I got my love for the outdoors.
SO IT WAS NATURAL TO GO INTO ENVIRONMENTAL SCIENCE, BUT WHY PARKS IN PARTICULAR?
The first course I took at the U of M was Environmental Science 101 with Gordon Goldsborough. Just seeing his passion for two things: the environment (taking care of it and being conscious of everything you do) and his passion for history. Parks Canada doesn't just protect nature but also our cultural heritage and he really represented that. In my every day work I often think of how he approached things.
I'm lucky enough to take care of Canadian treasures for Canadians. That's how I see my job. Canadians own these places, or have them in trust, and I'm entrusted to make sure they'll be here forever.
ARE THERE CERTAIN THINGS YOU FOCUS ON?
Visiting and connecting to a place is very important to people. If you visit a place, you're way more likely to want to protect that place. If I just say "do you want to protect such-and-such National Park?" you're like "Well, I have no idea what that is, I have no connection to it." But if you've been there, you understand this is worth protecting and you become an ambassador and an advocate for those special places.
The other thing I'm interested in is how we work with Indigenous peoples and present their stories in our various places. I'm a Métis from just south of Winnipeg; it's something I'm very proud of. At Parks Canada, we are leaders in developing important relationships with our Indigenous partners to better protect and present our heritage places.
YOU MUST SEE A LOT OF BEAUTIFUL PLACES ON THE JOB – WHAT'S ONE OF THEM?
Last year we started our daily traffic program. There's a lot of congestion in Lake Louise, so we have traffic flaggers plus a shuttle. The key thing that we didn't have was a dedicated channel for them to communicate. I was fortunate enough to go on top of Mount Hector in a helicopter to help install the antennae for the new radio channel.
The helicopter dropped me and the radio tech off and then it went away so it was just us and the quiet … besides the cordless drill drilling the antennae into the side of the building. Mount Hector in Banff National Park overlooks the whole Lake Louise area and the Icefields Parkway and it's just amazing. That was my job and I was like "really, I'm getting paid to do this?!"
HOW ABOUT THE PEOPLE WHO VISIT THE PARKS, WHAT KINDS OF EXPERIENCES HAVE YOU BEEN ABLE TO GIVE THEM?
My favourite was when I worked as a Park Interpreter and I was guiding a group on the Boreal Trail in Riding Mountain National Park. The father was in a wheelchair – it was a wheelchair accessible hike but it had grown in and the grass was getting long so I helped push the gentleman so he could access the trail. We got to the far bridge and we saw a moose eating in the marsh not too far away from us. It was amazing to be able to have him out there on the trail, but seeing him and his family enjoy that moment will stay with me forever.
JULY 21ST IS CANADA'S PARKS DAY. WHAT WOULD YOU SAY TO CANADIANS TO ENCOURAGE THEM TO EXPLORE OUR PARKS?
Explore your backyard. As a Canadian, it's everybody's place to enjoy and get closer to their heritage. From history to nature, the more you know about it, the better position as a society we will be to protect these places for generations.