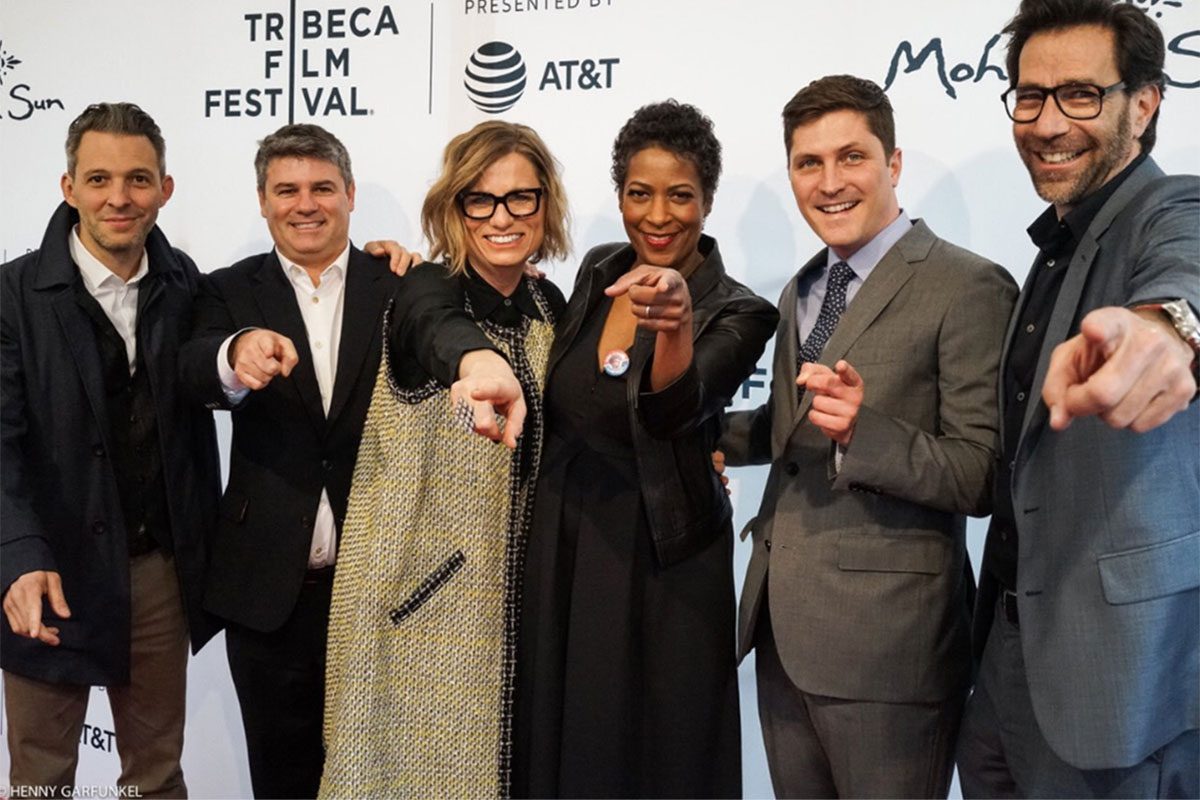 Alumni Abroad: Filming the winds of change
May 30, 2018 —
You can find Laura Michalchyshyn in the company of some of the biggest names in show business: Isabella Rossellini (she commissioned all her films); Guy Maddin (she produced Waiting For Twilight); and Robert Redford (with whom she co-owns Sundance Productions), just to name a few.
She has star power, undoubtedly, and uses it, as a media executive and television producer, to push for social change.
While the Cannes Film Festival made headlines last week for putting the spotlight on gender equality, Michalchyshyn [BA/89] has spent her 25-year career championing for women and other underrepresented talent in the film industry.
"As a producer I ask who are the lead and supporting roles," she recently told a panel at IFF Panama on gender parity. "If women are attached to minor roles or demeaning roles without substance, I throw it in the trash."
UM Today caught up with Michalchyshyn at home in New York to talk about the part she plays in driving change within the film industry.
UM TODAY: HOW DID YOU GET INVOLVED WITH FILM IN THE FIRST PLACE?

MICHALCHYSHYN: My first big job was launching a women's film and video festival in Winnipeg called RE:VISIONS through the Winnipeg Film Group. It was true even then that women's films were hardly being seen, but we showed Orlando, this amazing Sally Potter film with Tilda Swinton, and people were buzzing. That really gave me a taste of "oh I love programming". I loved being a curator; I loved working with artists and filmmakers; I loved organizing people and their work.

It was a great foray into working for the Women's Television Network (WTN), my first programming job when I was 25. Within a year I was given a pretty senior level of responsibility for programming a network which I'd never done! Kind of winging it! I did that for seven years.
I got to produce a series of short films for women called Shameless Shorts. It was a half hour weekly of curated shorts from all over the world – animation, documentary, scripted, sometimes a little bit of experimental. Programming that series introduced me to a lot of inspiring female filmmakers, producers, writers and directors.

SO RIGHT OFF THE BAT, YOU WERE PROMOTING WOMEN IN FILM. HAS THAT ALWAYS BEEN AN INTEREST OF YOURS?
It has. I'm a lifelong feminist; I've always been interested in the women's art movement, the film movement, and I'm very involved in progressive art advocacy and action in the sense of advocating for talent that just needs some support. That's why you'll see a lot of my projects have women as producers, writers, directors, at least in some capacity.
I grew up in a very progressive liberal household and we have many socially-oriented family members on the Michalchyshyn side – one's a theologian. Although there is a bit of a joke in my family that I'm the one in the private sector who's going to make money and build the house everyone is going to retire in in the south of France … while everyone else is working in civil and social justice type positions!
BUT YOU'RE USING YOUR POSITION TO CREATE CONTENT THAT INSPIRES SOCIAL CHANGE – THAT'S WHAT YOUR NETFLIX SERIES, BOBBY KENNEDY FOR PRESIDENT, IS ABOUT, RIGHT?
There's this story that's intriguing about Robert Kennedy. The Kennedys are a very special family in history, obviously; in America, beloved, and the most studied. But there has never been an exploration of Robert Kennedy's political life and his transformation into social justice and civil rights. This documentary follows his transformation and what could have been – imagine if he had not been tragically killed. I believe that he would have won the nomination and gone on to win the presidency. We might have a very different political situation today, had that happened.
This project helped open my eyes to the importance of being involved; democracy is not a spectator sport. I became a U.S. citizen. It was motivated by trying to vote in the 2016 election, which I did, and then also by this work I was doing.
BOBBY KENNEDY IS ALSO IMPORTANT FOR ANOTHER REASON: THE NUMBER OF WOMEN INVOLVED IN MAKING IT. CAN YOU TALK ABOUT YOUR QUEST TO MAKE YOUR DIRECTORS, WRITERS AND TALENT LIST 50/50?
I really believe in this and I have for a long time. I love working with progressive men, don't get me wrong, but I'm a big supporter of the inclusion rider. You need it in every position and all departments like camera and grip. It's hard work to bring women into these positions because traditionally it's very male but it's really important.
In my business we're creating master lists we can share with other producers. It's a very collaborative exercise. So if I'm looking for a grip, or a lighting person – I ask for the list of women in New York, or L.A., wherever. Dawn Porter and I did that on Bobby Kennedy. We would just consciously say "OK, women. Let's look at the list." We got very, very, strong women in key creative positions like story editors, DoP, producers, and camera. Sometimes you just have to reach a little further and do a little more work.

THIS 50/50 PRINCIPLE HAS EXTENDED TO YOU, THE EXECUTIVE PRODUCER, AS WELL. FOR YOUR NEW CBC SERIES, CRAWFORD, YOU WENT 50/50 WITH CREATOR MIKE CLATTENBURG. CAN YOU DESCRIBE HOW THAT CAME ABOUT AND THE REACTION?
It was kind of breakthrough. I think everyone was shocked because Mike's the creator, showrunner, director, producer and I'm the EP. There was no negotiation, no back-room-agent-managing, we would just sit down and go: "whatever you make, I make". We share everything – decision-making, transparency – and I think, if you talk to him, it's been a refreshing experience because we are very equal. You don't exert energy on the negative side, which is battling and negotiating, but energy on the positive, which is creating.
I don't think it's that crazy but in the producing world, there are codes and silos and often producers don't reveal stuff with directors and vice-versa. People were surprised, especially the lawyers, managers and agents who are used to lots of negotiating. All I would have to say is: "Mike and I are 50/50 – go talk to him" And he would say "yep, we're 50/50". It's unconventional, but he's been a great partner. We had a blast and fingers crossed Crawford does well!