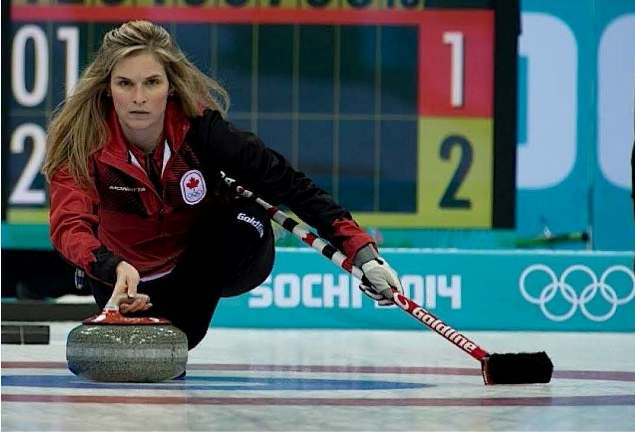 Alumna Jennifer Jones takes Olympic gold!
February 19, 2014 —
After a record 9-0 round robin, the Jennifer Jones' rink has done it! The gold medal match against Sweden had its tense moments, but in the end, it was Jones' calm and focus that took it home.
The announcer called the game, describing Jones as going "from curling great to curling legend."
She's always been focused, as her sister (under)stated in an interview on CBC Radio 1 after the win in the semi-finals against Great Britain. From her early "infatuation" with  curling as a child to her other career as Senior Legal Advisor at National Bank Financial, Canada's skip Jennifer Jones is known for her ability to keep calm and carry on despite intense pressure.
And there's been pressure. The alumna (BA/96, LLB/99) and curling star just achieved a first at the 2014 Sochi Olympics, leading her rink through a record-setting 9-0 round robin. "Her Winnipeg rink became the first team in Olympic women's curling history to go unbeaten in the round robin," as the official Canadian Olympics site put it. It's a sweet victory after failing to make the 2006 and 2010 Games.
"The big moment is what sport is all about," she told Maclean's after the historic win. "The adrenalin rush, I love that feeling in your stomach."
The laser-focused stare of @TeamJJonesCurl could stop a Shea Weber slap shot in mid-flight. #CBCOlympics pic.twitter.com/ESJktBCknZ

— atec7 (@atec7) February 19, 2014
Kaitlyn Lawes, Team Canada third, also has a U of M connection: she curled for the U of M's Recreation Services curling club.
For more Olympics stories, click here.