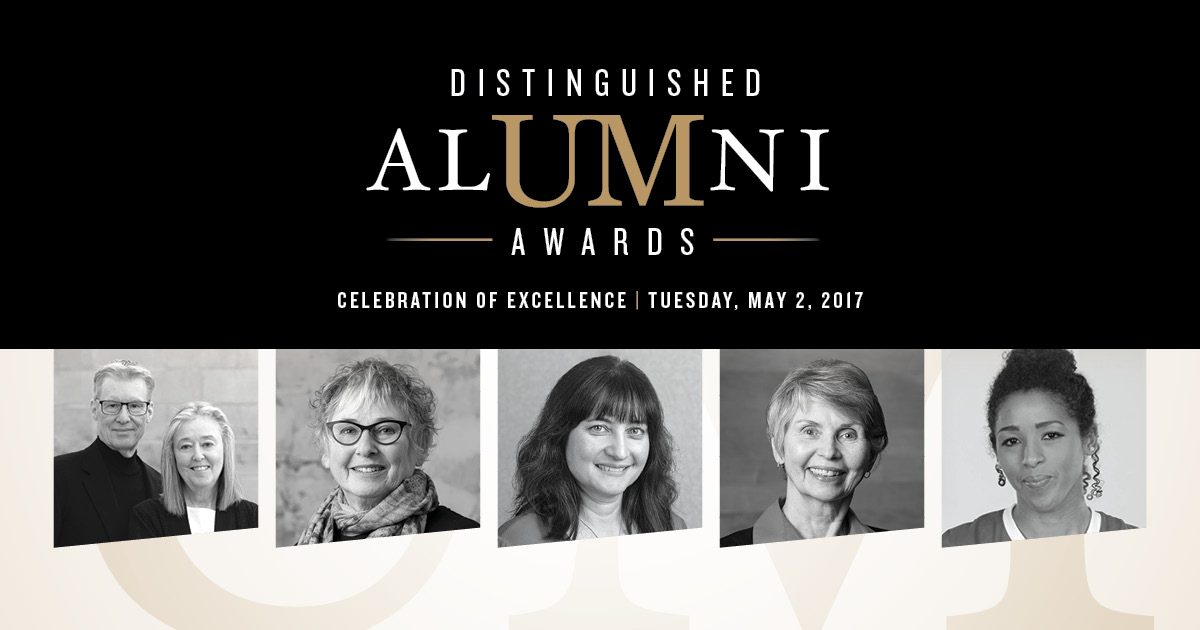 Advocates, Designers, Providers, Artists and a 'Destroyer' among recipients of 2017 Distinguished Alumni Awards
April 28, 2017 —
Recipients of the 2017 University of Manitoba Distinguished Alumni Awards are transforming and improving our world. This year's honorees help people overcome obstacles, facilitate change, and touch the hearts and souls of those in need. In short, they are helping to make the world a better place and make a real difference in the lives of others.
Since 1959 the Distinguished Alumni Awards have recognized graduates who have achieved outstanding accomplishments in their professional and personal lives, and who have been an inspiration to other alumni, current students and the community, both close to home and around the world.
"I would be hard-pressed to name an area of advancement and innovation where graduates of the University of Manitoba have not made a real and tangible difference," says David Barnard, President and Vice-Chancellor at the University of Manitoba. "Our alumni have promoted or created real and positive change in our world, for the benefit of many people around the globe."
The 2017 Distinguished Alumni Award recipients are:
"I am in awe of the accomplishments of these six distinguished alumni," says John Kearsey, Vice-President (External). "So many have looked to them for guidance, new ideas and a voice for the underrepresented in society. I am personally inspired by their actions and leadership."
The awards will be presented at the Distinguished Alumni Awards Celebration of Excellence on May 2, 2017. The exciting evening will feature stirring performances by students, alumni and faculty, followed by a gala reception. Tickets are $75 and are available at: umanitoba.ca/distinguishedalumni
Kim Metcalfe, President of the Alumni Association, notes: "These six individuals represent some of the best and brightest of our alumni. As president of the Alumni Association board, I am proud that they carry the banner of the University of Manitoba into areas where the need is great for their talents and expertise, improving the lives of people and reshaping communities."
Help us celebrate the achievements of our 2017 Distinguished Alumni at this year's Celebration of Excellence. Get your tickets here.
Past recipients of the Distinguished Alumni Award include: outstanding business entrepreneur Israel Asper; Nobel Prize recipient Scott Cairns; celebrated Canadian artist Ivan Eyre; dedicated philanthropist Monty Hall; and Lieutenant-Governor Janice Filmon.
---
Related Stories
The 2017 Distinguished Alumni Award Recipients for Lifetime Achievement are John and Patricia Patkau
The 2017 Distinguished Alumni Award Recipient for Professional Achievement is Reva Stone
The 2017 Distinguished Alumni Award Recipient for Community Service is Lesley Sacouman
The 2017 Distinguished Alumni Award Recipient for Service to the University of Manitoba is Isabella Wiebe
The 2017 Distinguished Alumni Award recipient for Outstanding Young Alumni is Desiree Scott