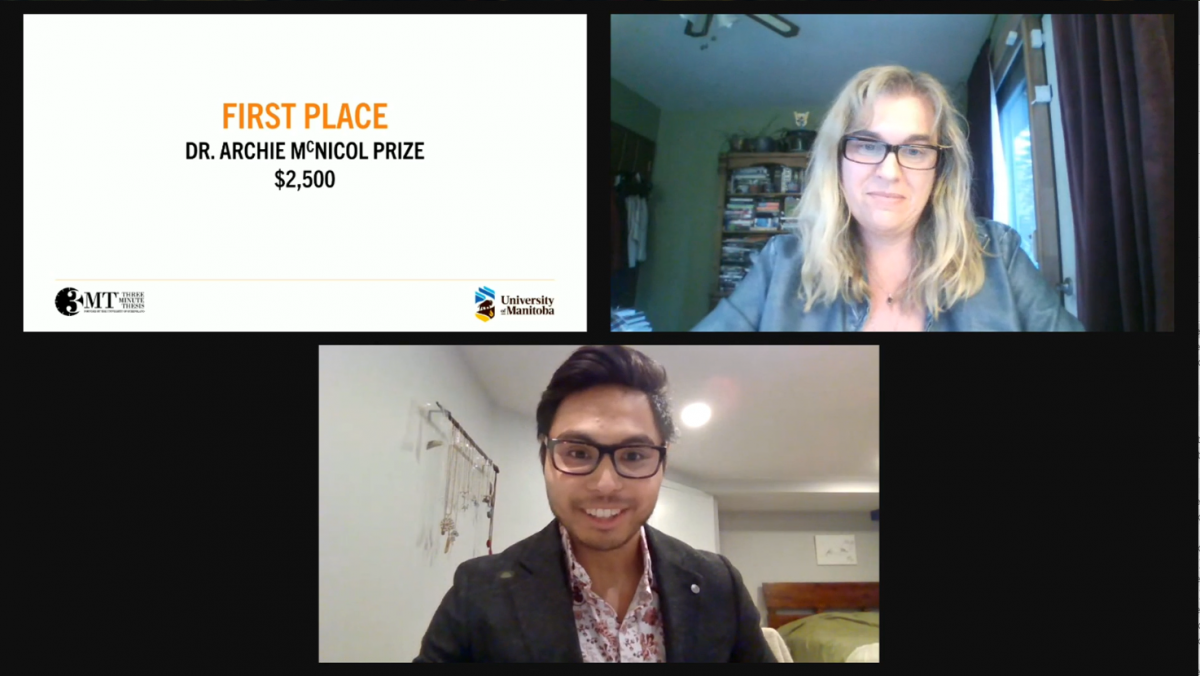 3MT winner cites passion for research as driving force in competition
April 22, 2021 —
A graduate student who is an aspiring physician won first place and the Dr. Archie McNicol Prize at the University of Manitoba Three Minute Thesis finals on April 21, 2021.
Viewed by both a live virtual audience and a prestigious panel of judges, Nolan De Leon, a master's student in physiology and pathophysiology, explained his thesis on using circular RNA for the prognosis and diagnosis of congenital anomalies.
More than 325 people watched online.
De Leon, who is working under his advisor Dr. Richard Keijzer, will receive $2,500 for first place.
On being announced as the winner, De Leon said: "I am absolutely humbled and grateful to have been able to present my research alongside so many ambitious and promising students. To have been selected for the finals was an honour in itself."
He added: "I think something that was really great (about 3MT) was the fact that even though it kind of feels like the pandemic brought the world to a grinding halt, it was really inspiring to see the resilience in all of the other students who are continuing to work and push themselves to advance their knowledge and understanding of the things that they are passionate about. There really was so much talent, professionalism, and excitement seen at the competition today and it was a beautiful reminder that even in the toughest times, we can still work together to learn, grow, and make an impact through our love of research."
With presentations covering multiple disciplines, De Leon competed against 11 other master's and doctoral students.
The panel of judges from the broader Winnipeg community viewing all the finalists' presentations streamed live were: Raj Patel, Chair of the Winnipeg Chamber of Commerce; Tracey Maconachie, Deputy Minster, Economic Development and Jobs; and Doug Collier, former SVP/Chief Commercial Officer and President International, La-Z-Boy, and member of the University of Manitoba's Alumni Council. They watched all the presentations online and assessed the presenters on comprehension, engagement, and communication style.
Danah Alhattab captured the University of Manitoba Retirees Association Prize for Second Place ($1,250) for her work on understanding the role of scleraxis in perivascular fibrosis. A doctoral student, Alhattab wants to eventually run her own lab in the quest to develop better therapeutic approaches for patients. She explained: "It's really hard to speak about the molecular part of your project; all the sophisticated stuff that we do in the lab and how to translate it to a lay audience, telling them how it's significant and important."
She added: "When I was developing my presentation, I tried to imagine how this basic science would be translated to future hospitals and patients, and the impact it would have."
Third place winner Sristi Mundhada received the Third Place Prize ($750) for her research on safe storage for flaxseed. A food technologist, she is concerned with keeping food safe for consumers.
Mundhada noted: "What I love about the Three Minute Thesis competition is that when I was working on my script I relived the moment when I decided this is what I wanted to do in my life and this is what I am so passionate about. It gave me the chance to love my project all over again and that was awesome."
The online audience voted master's student Sonu Varghese as People's Choice for his enthusiastic presentation about exercise to prevent cardio toxicity in women with breast cancer. His passion is in lifestyle interventions that can improve health outcomes.
Varghese said: "My favourite part about 3MT is learning about all the different research being done around the university in all the different faculties. I find that being in science you are usually surrounded by presentations and abstracts that are within the physiology and pathophysiology field, so you never really hear about great work like Sristi's on flax storage or other speakers who gave enticing talks about conservation and water quality. I think that's my favourite part of 3MT—hearing about different topics from different faculties in a concise, quick manner in a way that is engaging and leaves you wanting more."
Also watching online was UM President and Vice-Chancellor Dr. Michael Benarroch, who expressed his pride at seeing the diversity and broad range of creativity displayed by the student competitors.
He said: "Students competing today are developing these crucial skills that will serve them well in their careers going forward. I congratulate and thank each and every one of them for having the passion and belief in their work to progress from the initial application through the heats to make it here today."
Dr. Kelley Main, acting dean of the Faculty of Graduate Studies, who presented the awards to the winners, said: "I give my congratulations to all of our competitors and winners. Everyone did a wonderful job presenting their research and engaging with their virtual audience. It was so rewarding to see such a large number of people watching our graduate students compete."
De Leon, Alhattab and Varghese from the Max Rady College of Medicine, Rady Faculty of Health Sciences, while Mundhada is from the Faculty of Agricultural and Food Sciences.
A list of all the finalists and their research topics can be found here.
Following his win, De Leon will go on to the Western Regional Three Minute Thesis competition that will be held May 13, 2021.
De Leon said: "I think the most profound part of having won is knowing that I have been trusted to represent the dedication, ambition, and excitement of all the graduate students of The University of Manitoba, in the Western Regional finals. I was overjoyed to know that people believe in my research, my work, and I guess most importantly, in me. I'm really happy I could bring this win home for my supervisors Dr. Richard Keijzer and Dr. Andrew Tse and my whole team (MiRacla Lab)."
Three Minute Thesis 3MT® is an annual competition where challengers have three minutes to explain their research and its importance or relevance, using only a single static image or slide to illustrate their topic. At the University of Manitoba, 3MT® is part of an overall strategy to highlight our graduate students, promote research at the University of Manitoba, and connect with the community.
Research at the University of Manitoba is partially supported by funding from the Government of Canada Research Support Fund.