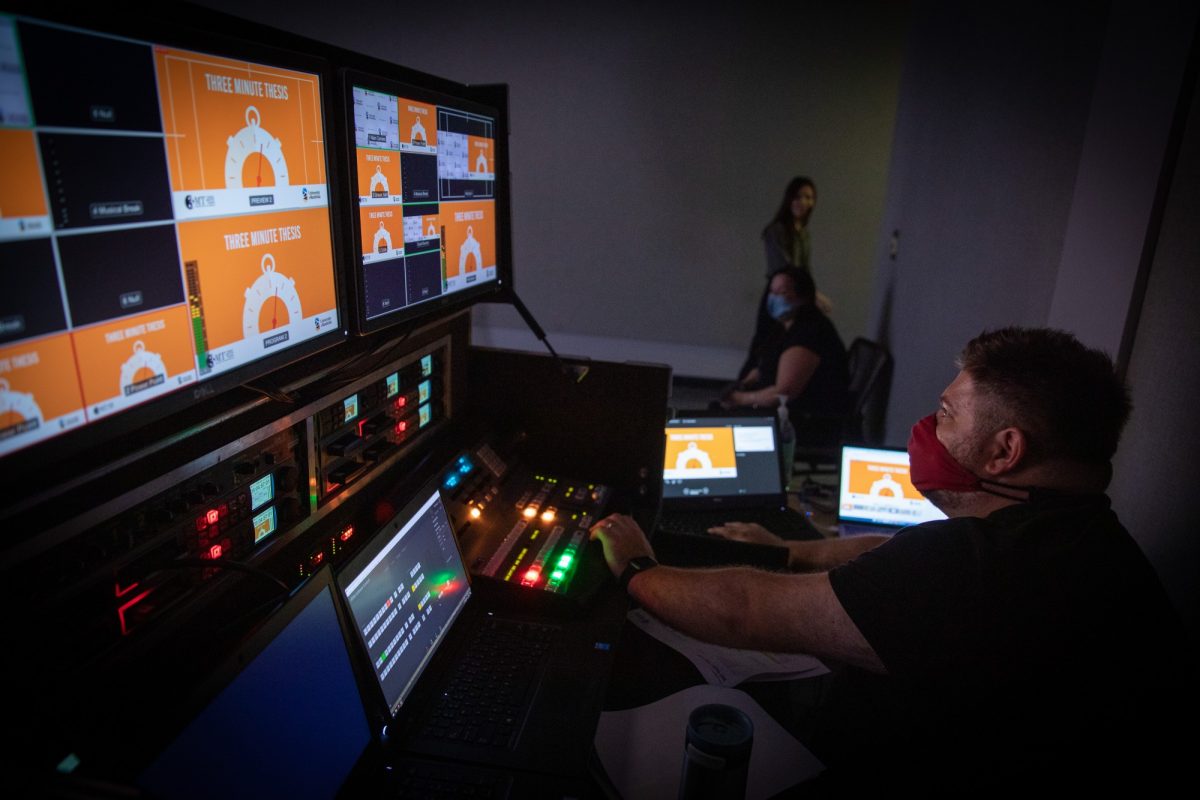 3MT finals on April 21
April 13, 2021 —
Mark your calendars – the Three Minute Thesis (3MT®) final competition is coming up.
The ninth annual 3MT competition is happening live on YouTube at 7 p.m. on April 21. Twelve graduate students chosen from three heats held in March will be presenting their thesis research in just three minutes to a panel of judges and a virtual audience.
The master's and doctoral students are competing for the Dr. Archie McNicol Prize for First Place ($2,500), the UM Retirees Association Prize for Second Place ($1,250) and Third Place ($750). The online audience will vote for the People's Choice award (UM Bookstore gift certificate). The winner of this event will advance to the Western Canada regional online competition on May 13 and have the chance to be featured in a non-competitive showcase of 3MT videos from graduate students across Canada.
"I am so proud of all our graduate students who have been part of this competition so far and the hard work they have put into communicating their research to a community audience. The finals will be an exciting event that showcases a dozen deserving students who are engaged in cutting edge research," says Kelley Main, Acting Dean, Faculty of Graduate Studies.
Richard Cloutier from 680 CJOB is the event emcee, and the judges include Raj Patel, Chair of the Winnipeg Chamber of Commerce; Tracey Maconachie, Deputy Minster, Economic Development and Training; and Doug Collier, former SVP/Chief Commercial Officer and President International, La-Z-Boy, and member of the University of Manitoba's Alumni Council.
3MT is an annual competition where challengers have just three minutes to present their research and its importance in plain language, using only a single slide to illustrate their topic. The competitors are judged on comprehension, engagement, ease of communication all while providing an understanding of the background and significance of their research.
Everyone is invited to attend the online event, virtually cheer on the finalists and vote for People's Choice.
Wednesday, April 21
7-8:30 pm
Watch live online.
The 12 finalists are:
Cameron Eekhoudt
Dept: Physiology and Pathophysiology
Supervisor: Dr. Davinder Jassal
Thesis title: Can flaxseed protect the hearts of women with breast cancer
Jhannelle Francis
Dept: Microbiology
Supervisor: Dr. Miguel I Uyaguari-Diaz
Thesis Title: The identification of human enteric viruses present in urban water bodies of Manitoba
Kwene Appah
Dept: Sociology and Criminology
Supervisor: Dr. Lori Wilkinson
Thesis Title: Nationalism and integration policy: A comparative cross-national examination
Nolan De Leon
Dept: Physiology and Pathophysiology
Supervisor: Dr. Richard Keijzer
Thesis Title: Assessment of circular ribonucleic acid expression profiles in biofluids for the prognosis and diagnosis of congenital anomalies
Noushin Ahmadpour
Dept: Pharmacy
Supervisor: Dr. Jillian Stobart
Thesis Title: Decoding the true language of the brain
Sristi Mundhada
Dept: Biosystems Engineering
Supervisor: Drs. Jitendra Paliwal and Chyngyz Erkinbaev
Thesis Title: Safe storage for flaxseed (Linum usitatissimum)
Veronica Coppolaro
Dept: Geography
Supervisor: Drs. David Barber and Marianne Marcoux
Thesis Title: Passive acoustic monitoring of marine mammals in the Canadian Arctic: Implications of a changing Arctic for their populations and habitat use
Danah Alhattab
Dept: Physiology and Pathophysiology
Supervisor: Dr. Michael Czubryt
Thesis Title: Role of scleraxis in perivascular fibrosis
Odile Huynh
Dept: Pharmacology and Therapeutics
Supervisor: Dr. Sachin Katyal
Thesis Title: Cannabis: A potential therapy for breast cancer
Vimala Bharathi S K
Dept: Biosystems Engineering
Supervisor: Dr. Digvir S. Jayas
Thesis Title: Understanding the insect movement pattern inside a grain bin
Chris Voth
Dept: Kinesiology and Recreation Management
Supervisor: Dr. Kyoung June Yi
Thesis Title: Shining a light on the unseen athletes
Sonu Varghese
Dept: Physiology and Pathophysiology
Supervisor: Dr. Davinder Jassal
Thesis Title: EXercise to prevent AnthraCycline-based Cardio-Toxicity (EXACT 2.0) in women with breast cancer