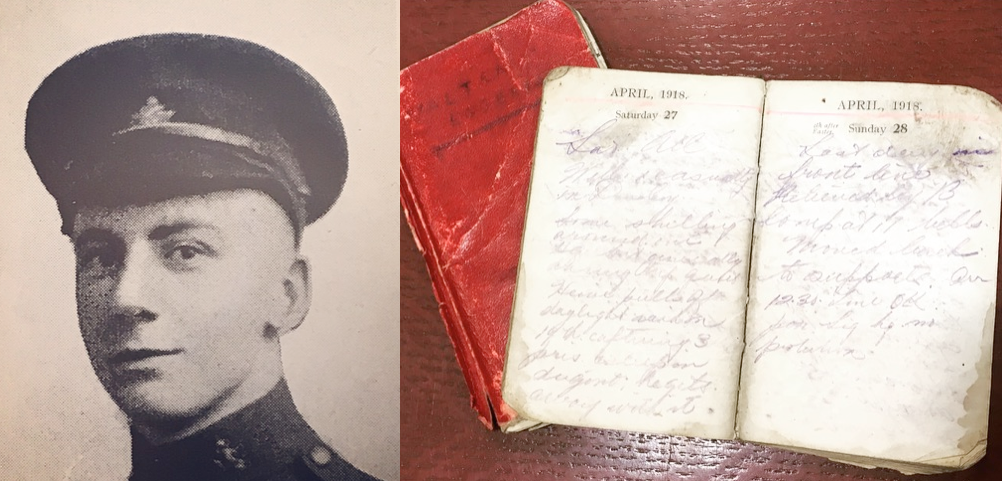 Words of war: The First World War diaries of Walter Eggertson
November 8, 2017 —
"…there happened something I will never forget as long as I live" (Walter Eggertson, May 25, 1917)
One hundred years later, the events of May 25, 1917 – never forgotten by Private Walter Eggertson – endure in his diaries, recently donated to the University of Manitoba Archives & Special Collections. The entry, which goes on to detail the appearance of seventeen "little devils" (German airplanes) dropping bombs over Folkestone, England, is the first recorded account of Eggertson's First World War experiences. From 1917 to 1918, he chronicled many more of these experiences in England and France in two diaries.
As an uncensored first person account of the war, the diaries offer a candid perspective on the war and the transcription ensures their contents will be preserved for posterity, lest we forget.
Over a century later, these remnants of Eggertson's service are fading, quite literally.
The ink and pencil marks are paling, as the diaries become more fragile. To ensure these memories are not forgotten, a transcription of both diaries is now available online. In addition to increasing accessibility to the diaries' contents, the transcription improves their searchability as a keyword searchable document which includes annotations to provide greater clarity and context. These annotations include clarification of obscure abbreviations and, in instances where Eggertson refers to the death of a comrade, links to the Commonwealth War Graves Commission website, where readers can learn more about the fallen soldiers.
Two diaries in his pocket
Eggertson first enlisted in the war in 1916, interrupting his studies at Wesley College, where he was expected to graduate with a Bachelor of Arts degree from the University of Manitoba in 1918. Over the course of his service, he served with the 223rd Battalion, was transferred to the 27th Battalion, and rose to the rank of Sergeant. In March 1919, Sgt. Eggertson was wounded and discharged, returning to Winnipeg with two diaries in his pocket.
Excerpts from these diaries provide glimpses into Eggertson's training, combat, travels and friendships over the course of a year and a half of service overseas:
June 8, 1917
"Visited Scottish Museum & St. Giles Cathedral. Would require about 4 days to see these places properly. Met Jean. […] Very favorably impressed with Edinburgh & its hospitable people."
November 30, 1917
"Left Eng. for France early in morning. 2/3 of troops sea sick, a very small boat & rough voyage. I barely escaped same fate. Arrived in Boulogne & from there to Camp in trucks."
May 2, 1918
"(Fritz) shelled very heavily at night both by explosives & gas. On duty with mask on for a total of 3 hrs. Under heaviest shell fire yet while actually on duty."
May 29, 1918
"Skeleton order inspection at 8.30 to 9. Carry on with specialists training after. Same syllabus for remaining days at horse lines. Afternoons lecture from 2-3, map reading etc."
Archives & Special Collections would like to thank Christine Bone, University of Manitoba Cataloguing Librarian, for her transcription and assistance with this project.