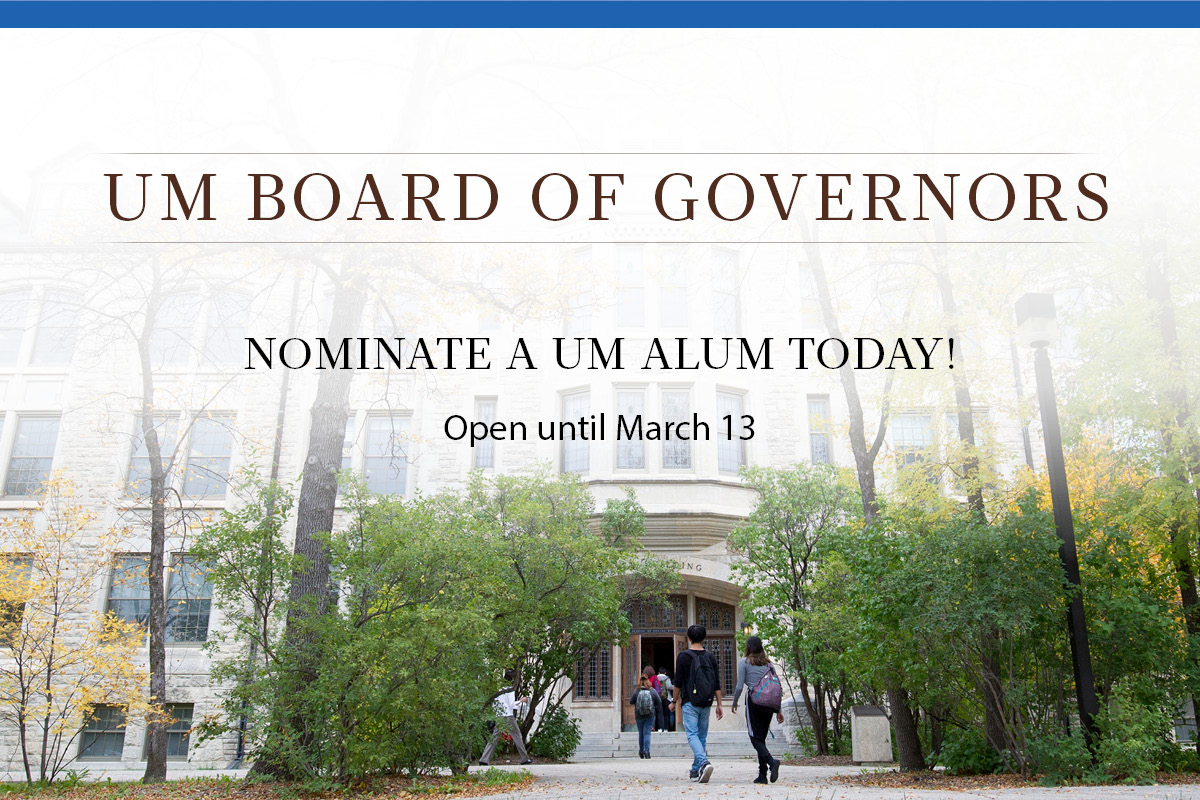 Who will be the next alumni representative on the Board of Governors?
Nominations open now until March 13
February 9, 2023 —
Nominations for the next alumni representative on the Board of Governors are now open. Who will be nominated this year? This is an open election with no incumbent running this year, alumni are encouraged to consider nominating themselves or someone they know. Our alumni are our greatest ambassadors and have insight we can't find elsewhere, which makes this nomination process both exciting and important. The alumni representative on the Board of Governors will provide insight on what our past graduates want for the lives of students, staff, faculty and the community at large and make an impact on UM's future!
The Board of Governors is responsible for overseeing the administrative and business affairs of the University. The Board oversees the University's colleges, schools, institutes, faculties and departments and looks at what lectureships, bursaries, fellowships and prizes are available. The Board works together to appoint presidents, vice-presidents, deans, directors and more, directly making a large impact on the University's work and its future. These are only a few key powers that the Board may exercise, and we encourage anyone interested to learn more.

All alumni interested in being nominated should have experience in some or all of the following:
Previous experience as a board member of a large organization

Evidence of continued connection to the University of Manitoba since graduation

Experience in real estate and capital development

Expertise in finance, investments, audits and risk management

A desire to ensure diversity, inclusion and equity among Board of Governors representatives
Do you want your voice heard or know someone who can make an impact? Submit your name or nominate a fellow UM graduate for the chance to serve as a voice for alumni in UM governance on the Board of Governors.
Nominate today and help define UM's future.
Nominations close at 11:59 p.m. CDT on March 13, 2023. For more details on the process and election timeline, visit the alumni Board of Governors website.