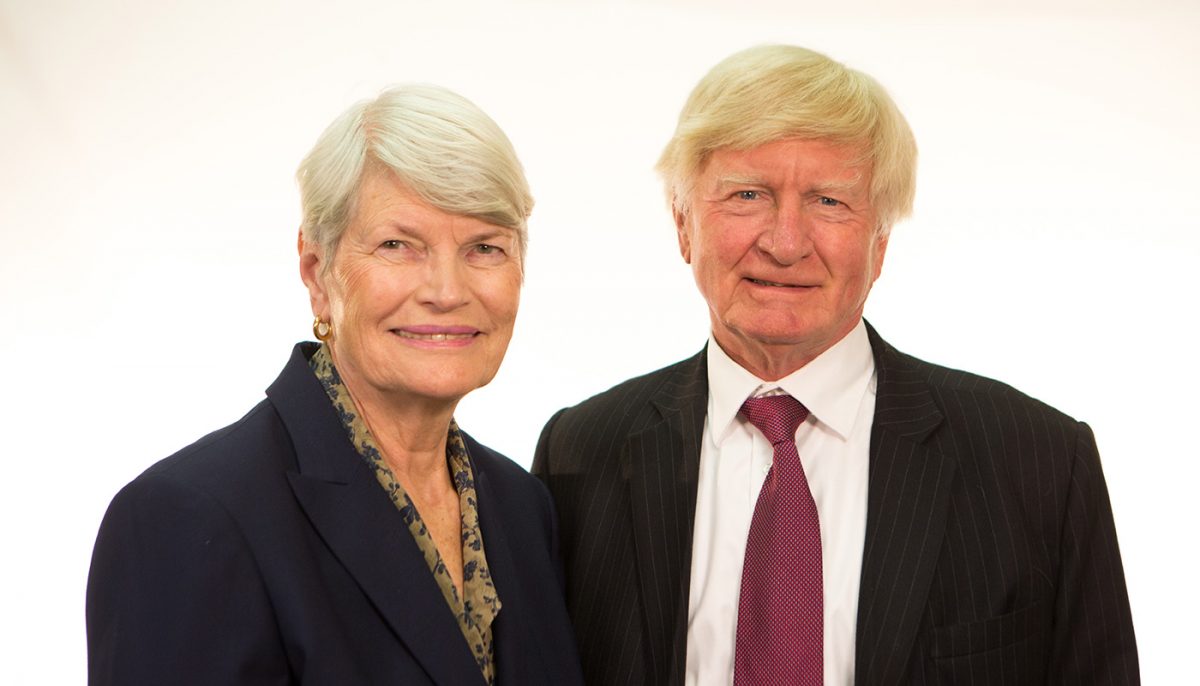 Walter and Maria Schroeder's passion for education creates opportunities for UM students
November 14, 2023 —
Walter Schroeder [BComm/64, BComm(Hons.)/68] grew up in the second-poorest postal code in Winnipeg. After his family emigrated from Ukraine, his father worked as a janitor and his mother became a cleaner to make ends meet.
His wife, Maria [BA/65] also immigrated to Winnipeg with her mother and three sisters after her father was killed in the Second World War. To help their mother, each sister took turns leaving school to work for short periods. During one of her leaves, Maria recollects a particular event that changed her future when the principal of her school, Dr. Morgan, knocked on the family's door.
"It was 1955, and I was heading into Grade 11. Dr. Morgan came over to our house to convince my mother that I was exceptionally bright and had tremendous potential. He believed I should continue to pursue my education," says Maria. "So, they came to an agreement, and I was able to continue in school. Dr. Morgan, out of his own pocket, offered a gift of $150, which at that time was a lot of money, to help support the family."
After completing their post-secondary studies at UM, Walter and Maria moved to Toronto where they built the Dominion Bond Rating Service (DBRS), which became the fourth-largest bond-rating agency in the world. When they sold their business in 2014, the Schroeders decided to devote themselves and their resources to helping others. To this day, even though decades have passed, the kindness that Dr. Morgan showed Maria continues to inspire them. And their passion for education as a way out of poverty has brought their focus back to the city where they grew up.
"Winnipeg is where our heart is, and we truly believe in education over poverty," says Walter. "We believe that our own lives are proof. The education we received provided the foundation that enabled us to succeed."
Walter and Maria are now paying forward Dr. Morgan's generous act, in a big way. In the last five years, the Schroeders have been creating a wave of change within schools throughout the city to create better outcomes for students in high school and in post-secondary studies.
In 2018, they created the Schroeder Foundation Scholarships at UM for students from three high schools, St. John's High School, Sisler High School and their former high school, Daniel McIntyre Collegiate Institute. Their program is unique and prestigious. It offers students full tuition and is renewable for up to four years for a total scholarship award of $30,000. New students selected for the program attend a three-week summer school, with stipends provided, that helps prepare them for the transition to university. For students that require residence accommodations, the program covers that, too. Additionally, tutoring and mentorship are offered from an educator assigned to Schroeder students. Walter and Maria hope their program can help students, and Indigenous students in particular, pursue their education in a well-supported environment.
Since founding their program, the Schroeders have committed an incredible $3.3 million to UM and their vision for it is growing. The number of new students selected each year has grown from 10 to 23. This year, between past graduates, new and renewing students, there have been 83 students who have received the Schroeder Scholarship.
For Walter and Maria, they want to remove any barrier, big or small, that might stand in the way of a student's success. In taking a tour of a school once, they noticed teachers supplying food for the students out of their own limited funding, inspiring them to start a food program that has since expanded to other schools. They see the places where they can make a difference and jump right into solving the problem.
"We simply want to go all in and create something that is meaningful and has impact. We've never been interested in a temporary fix. In the case of Manitoba, Winnipeg specifically, it's about making sure that students are taken care of and that they're given every opportunity to succeed," they said.
For their tireless dedication to philanthropy, Walter and Maria are being recognized with the Outstanding Philanthropist Award at the Association of Fundraising Professionals 2023 Manitoba Philanthropy Awards. However, the real reward for them is not in the accolades or the recognition, but in seeing a student succeed.
"We get a lot of satisfaction in doing good for others, and we hope this gift will leave a generational impact. At the end of the day if all you've got is money, you've led a meaningless life," they said. 
Whether you are supporting health as a human right, advancing reconciliation and promoting Indigenous achievement, climate change research, or transforming the learning experience, you are making the world a better place.
Read more in our Gratitude Report