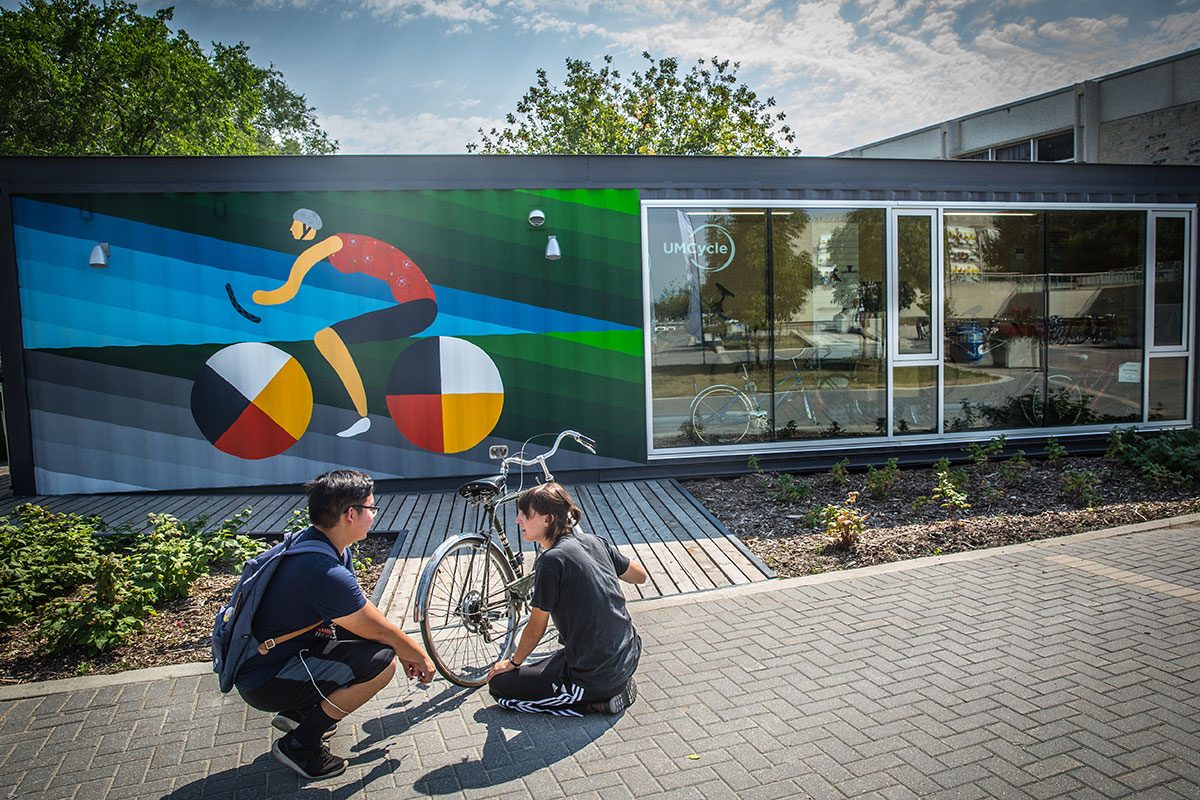 UMCycle's Bike Kiosk grand opening
September 1, 2017 —
Located at the intersection of the Curry Place Pedway and Sidney Smith Street on the University of Manitoba's Fort Garry campus, the UMCycle Bike Kiosk and Cycle Plaza serves as a unique campus landmark, and our own link on The Great Trail (formerly the Trans Canada Trail).
"The Cycle Plaza and Bike Kiosk have formed an active transportation hub, which the University of Manitoba supports in the 2017-2022 Sustainable Transportation Strategy," says Andrew Konowalchuk Associate Vice-President (Administration). "Having a bike kiosk on campus allows our students, staff, faculty and community members to have access to sufficient services to make active transportation easier, more convenient and more enjoyable every day."
The refurbished shipping container is a full-service bike shop that welcomes everyone and is operated by the University of Manitoba Students' Union (UMSU). "We're very excited to offer a bike repair service to students on campus and to the community," says UMSU President, Tanjit Nagra. "Being on a commuter campus can be challenging, that is why we are very excited to offer a service for students and staff that bike to campus."
UMCycle Manager, Anna Weier, describes the importance of the kiosk: "We are making sure that people have rideable bikes! Almost every day we get students, staff and faculty coming in with repairs that would keep them from riding if we weren't here to help them. We also just started our supported community stand time on Thursdays from 1:30 p.m. – 4 p.m. People can come and work on their bikes with the help of volunteer mechanics, so they learn something and it's free! We have had a lot of students and members of the larger community coming by for the community stand time."
The UMCycle Bike Kiosk was the first project at the U of M to incorporate the Indigenous Planning and Design Principles:
Commit to Relationships and Listening
Demonstrate Culturally Relevant Design
Respect Mother Earth
Foster a Sense of Belonging and Community
Embrace a 'Seven Generations' View
The principles are rooted in the concept of interdependence, where the various components of campus planning and design are not isolated entities, but interdependent and interconnected. Effective planning must recognize that all components of a place – such as the land, water, transportation networks, buildings, infrastructure, open spaces, and the people that inhabit it – are linked in complex ways. Each one affects the other, and they must be viewed holistically.
A key component of the bike kiosk is the mural on the side of the building, which was created by artists and U of M alumni, Dee Barsy and Kenneth Lavallee, and curated by Jenny Western. The artists will be at the UMCycle opening celebration, which will be highlighted in the U of M's Homecoming community events, to speak about their work.
_________________
Join us for the opening celebration:
Sept. 14, 2017
11:00 a.m.
At the UMCycle bike kiosk, Curry Place Pedway & Sidney Smith Street (Cycle Plaza)
This is a free event and everyone is welcome. A light snack and refreshments will be served.
The event will feature remarks from those involved in the creation of UMCyle, including U of M, UMSU, Government of Canada and City of Winnipeg representatives; as well as artists Kenneth Lavallee and Dee Barsy.
_________________
UMCycle specializes in convenient and affordable adjustments and overhauls of all systems of the bike; and sale and installation of new and used parts and accessories. The Cycle Plaza features a community-use tool kit which can be borrowed from the kiosk, a pergola which offers a shaded area for bike repairs, an outdoor repair stand for anyone to use, bicycle lockers, bike racks and plenty of space to meet up with other cyclists.
"The U of M is serious about active transportation, and a visible intervention like the bike kiosk affirms that commitment. The architecture of the kiosk and pergola provide a nice sense of grounding to this plaza. I'd like to acknowledge the roles that Public City Architecture, U of M Campus Planning Office, U of M Office of Sustainability, UMSU, and the U of M Faculty of Architecture played in the design process," says Andrew Lovatt, project manager, U of M Architectural & Engineering Services and Faculty of Architecture alumnus.
The Bike Kiosk was made possible by generous funding from the Western Diversification Fund (Canada 150), City of Winnipeg, University of Manitoba Student Union, University of Manitoba Parking Services and the University of Manitoba Office of Sustainability.
To find out more about UMCycle workshops and events follow them on Instagram, Twitter or Facebook @UMCycle.