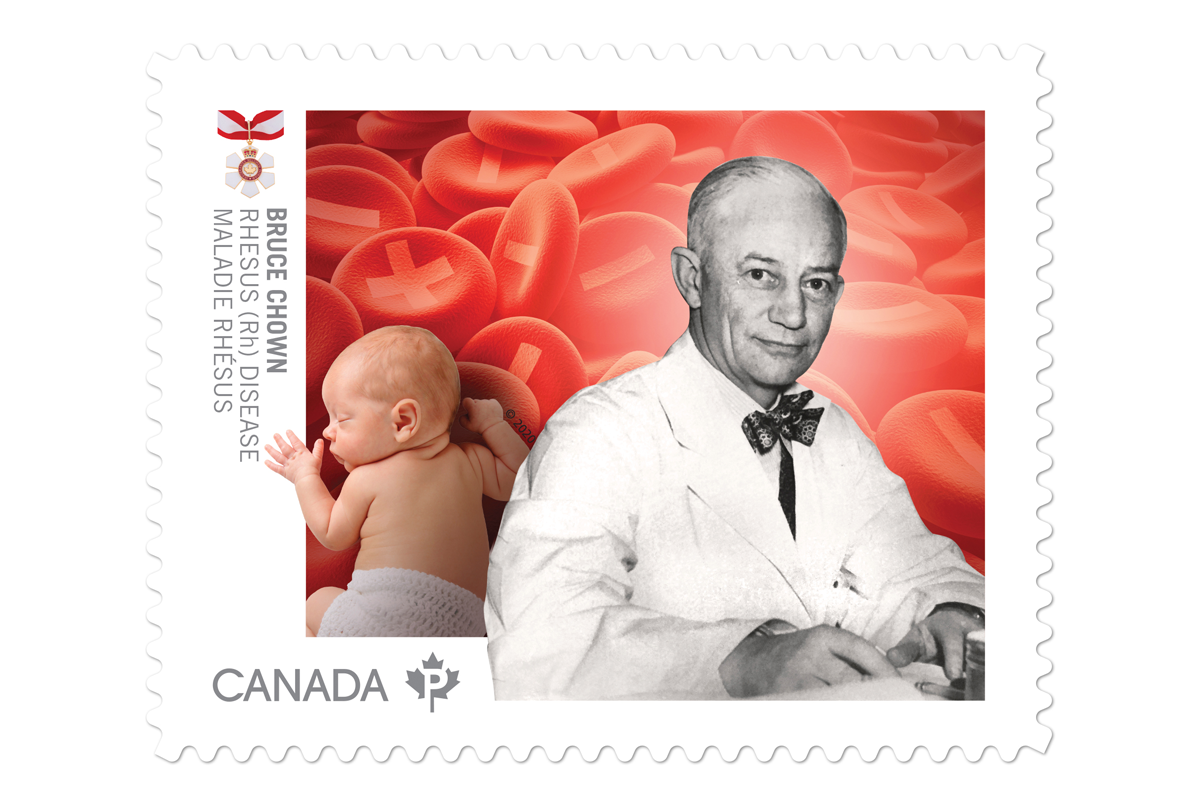 UM Today editors pick their top stories of 2020
December 22, 2020 —
Considering the disruption the COVID-19 pandemic has caused, UM students, staff, faculty and alumni have accomplished some incredible things over the last 12 months. Through the darkness we saw everything from alumni leading us through the pandemic – to an engineering student collaborating with an international celebrity – to how the shutdown affected urban animal populations. We were also able to reflect on how similar the past is to the present. It's an understatement to say 2020 has been eventful. With over 1,500 stories published on UM Today in 2020, picking all the standouts was impossible. However, here are some stories that caught the attention of the UM Today editors.
New stamp honours health pioneer Dr. Bruce Chown
University of Manitoba alumnus Henry Bruce Chown [MD/22] was one of six groundbreaking physicians and researchers celebrated across the country in September with the unveiling of a set of commemorative Canada Post stamps.
The renowned researcher and a former UM professor is internationally recognized for leading the way in eliminating the once-deadly rhesus (Rh) disease, a condition that may occur when the Rh blood types of a pregnant woman and her fetus are incompatible. The disease was once a major cause of newborn deaths.
UM engineering student Faouzia sings duet with John Legend
UM engineering student Faouzia, who hails from Carman, Manitoba, has released a single in collaboration with music superstar John Legend. The duet, Minefields, was released on Nov. 5 and has nearly 1.5 million views on YouTube.
Revealed: The cultural landscape of Fort Garry campus
The lands and riverbank landscape on which the University of Manitoba Fort Garry campus is situated have a rich history of culture and use going back well before the construction of the first Manitoba Agricultural College buildings in 1911.
A new report released by the campus planning office within the Associate Vice-President (Administration) portfolio explores the pre-colonial history of the lands, and will be used as a tool to help inform the planning and design of the Fort Garry campus.
Calm in crisis: Dr. Brent Roussin on leading Manitoba's pandemic response
Two hundred and eleven days spanned the gap between June 3, 2019, and December 31, 2019. Subtract weekends and holidays, and there was not much time for Dr. Brent Roussin to acclimatize to his new job as Manitoba's Chief Public Health Officer, which began on June 3, 211 days before the Chinese authorities announced they were treating dozens of strange medical cases that were later reported to be a novel coronavirus.
The four-time alumnus Dr. Roussin [BSc/96, MD/00, JD/09, MPH/11] and Lanette Siragusa [BN/95, MN/08], chief nursing officer, have drawn praise for providing up-to-date information about the spread of the virus in the province.
The Disrupters: Alumnae who persisted in an inequitable world
It's a fact: societies who have embraced more gender equality are healthier, wealthier and happier. As this year's International Women's Day called for a more gender-equal world, we celebrated our own UM alumnae whose perseverance led to incredible contributions for Manitoba, Canada, and the world.
Pandemic parallels: UM expert compares Spanish flu and COVID-19
A Rady Faculty of Health Sciences professor with experience studying the Spanish flu says there are parallels between the deadly virus from 1918 and today's novel coronavirus, and at the time of writing this past April, he was hopeful a vaccine would be developed. Dr. Kevin Coombs, a professor in the department of medical microbiology and infectious diseases, Max Rady College of Medicine, researched the Spanish flu for a study that was published in EBioMedicine in 2018.
And, in early spring as UM continued its closure of buildings and stopped in-person classes because of the COVID-19 pandemic, the present situation echoed what happened during the Spanish Flu pandemic of 1918-1920, more than a century ago.
UM Libraries and Special Collections also shared a historical perspective on COVID-19 and past pandemics.
Three UM researchers among most powerful women in Canada
At the beginning of December, three professors at UM have been named among Canada's Top 100 Most Powerful Women in 2020, by Women's Executive Network (WXN). Drs. Meghan Azad, Sara Israels and Soheila Karimi at the Rady Faculty of Health Sciences are receiving the honour in three categories, respectively: Emerging Leaders, Professionals, and Science and Technology.
Reduced human activity leaves room for urban wildlife
As humans limited their activity and spent more time indoors at the beginning of the pandemic, urban animals were suddenly faced with a new, emptier environment to navigate. While the ecological urban landscape changes, some species will thrive while others might struggle.
UM's literary giant lends her legacy to major new award
Carol Shields, the internationally renowned author, who died of breast cancer in July 2003, suggested that women's lives, along with their writing, have too often been invisible. Shields sought to ameliorate that centuries-long invisibility through her own work. Now, a new literary award worth CAD$150,000 will bear the celebrated author's name. Recognizing "excellence in fiction" and open to all North American female and non-binary writers, the Carol Shields Prize for Fiction will launch in 2022.