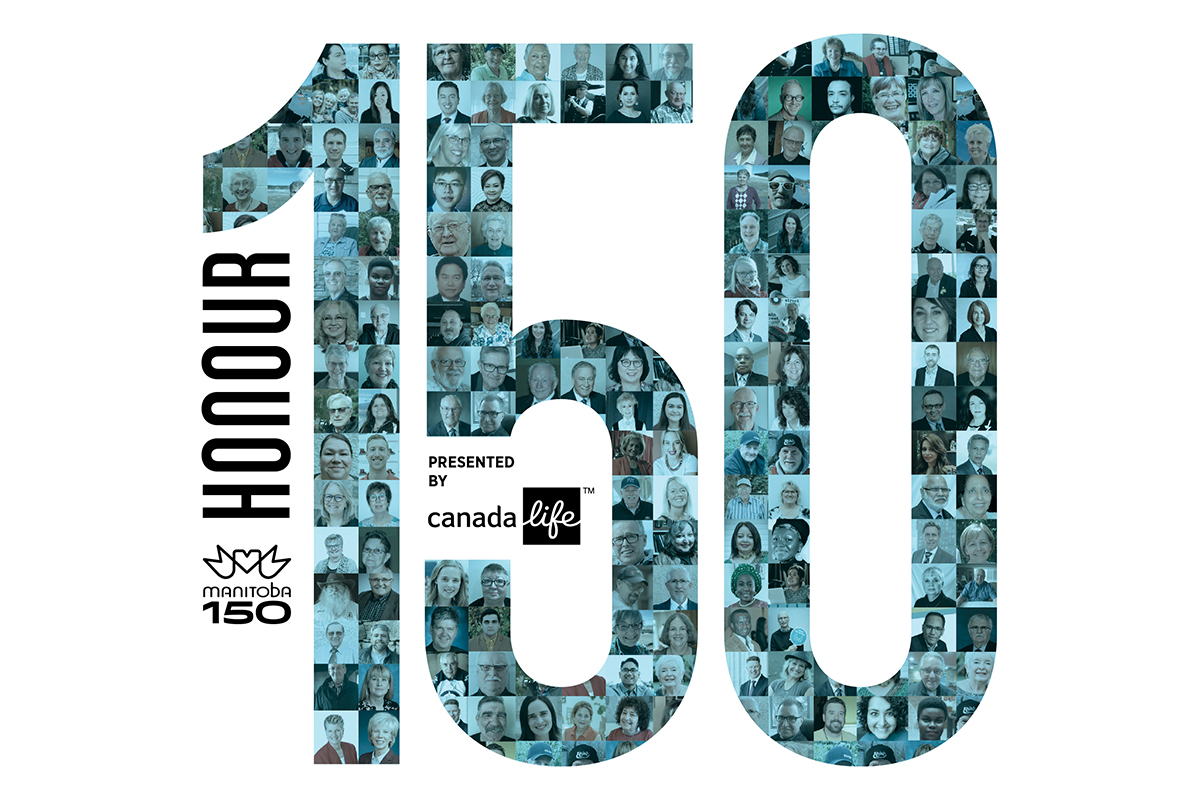 UM alumni among Honour 150 recipients
April 21, 2021 —
To commemorate Manitoba's 150th anniversary, Manitobans were asked to nominate exceptional people who are making a difference in their own communities through volunteer engagements ranging from the arts to environment, from health to education. Honour 150 presented by Canada Life, recognizes 150 people from across the province who stand out for their role in making Manitoba such an amazing province, so many of whom are University of Manitoba alumni, donors and friends.
Honourees receive a commemorative medal designed and created by Manitoba artist Takashi Iwasaki [BFA(Hons)/06].
Below we have highlighted just a few of these outstanding individuals with a proud UM connection.
Edward Acuna [BComm(Hons)/12]
As a child of new Canadians from Guatemala, Acuna moved to Winnipeg with his family at a young age, and to this day, values of 'paying-it-forward' instilled in him by his parents drive his dedication to supporting local organizations. Under his direction, the YMCA successfully launched a multimillion-dollar fundraising campaign to build new canoe training structures at Camp Stephens.
Dr. Ernest Cholakis [DMD/82]
Cholakis, the founder of Cholakis Dental Group, has contributed to numerous public health initiatives in Winnipeg over his 40 year career. The Open Wide campaigns, a free dental care program sponsored by the Manitoba Dental Association for disadvantaged Manitobans, was conceived and first chaired by Cholakis to assist Manitobans unable to afford primary dental care. Since joining the Winnipeg Art Gallery's Board of Governors as Chair, Cholakis has been been involved in the arts community including Qaumajuq, the new Inuit art centre.
Deborah Einarson Woods [BPE/91, BEd/94]
As an athlete, Deborah Einarson Woods was always at the top of her game whether it was playing ringette in Canada and Russia or playing hockey with the University of Manitoba Bison.
As a fundraiser, she has logged over 10,000 hours organizing charitable events and supporting families in her community. The cornerstone of her many fundraising efforts is the November-long Amazing Race, when teams must complete a set of fundraising tasks. She also established the Kienan LaFrance scholarship program in honour of the first Sturgeon Husky football alumni to win a Grey Cup.
Lila Goodspeed Everett [BScHEc/64, CertEd/68, BEd/79]
As co-chair of the Winnipeg Art Gallery's Inuit Art Centre Community Campaign, Goodspeed Everett helped raise the funds required to introduce Canadians to Inuit art, opening up a new path forward on the journey of Reconciliation. She was a board director for the Lake Winnipeg Foundation, former chair of the Nellie McClung Foundation, president of Volunteer Canada during the international year of the volunteer, and a founding member of Manitoba A.L.I.V.E., an organization connecting people with volunteer opportunities.
Jane Helbrecht [BComm(Hons)/07]
Since graduating from Asper School of Business, Helbrecht has served as the current President on the Board of Directors for Prairie Theatre Exchange, former fundraising event Co-Chair for Canada's Royal Winnipeg Ballet, and former Chair of United Way's Winnipeg's GenNext Council. One of the many projects that were most inspiring for Helbrecht was chairing the Barre After Hours fundraising event for Canada's Royal Winnipeg Ballet, an event that engaged a younger generation in supporting and patronizing the arts.
Amita Khandpur [B.esA/04, B.enEd/06]
The 37-year-old teacher has been involved with Festival du Voyageur, Théâtre Cercle Molière, Winnipeg Jazz Festival, Folkarama, Fringe Festival, and the Girl Guides Club of Canada. Khandpur uses each experience with different organizations to bring friends and students along. In her free time, she influences her students to acknowledge their full potential through fundraising opportunities and field trips exposing them to both local and world issues.
Olivia McCorriston [BEd/93, MEd/06]
McCorriston has dedicated her life to adult education and community building. She created learning opportunities with the Centre for Aboriginal Human Resource Development, which has developed into a college and a daycare program. A proud Métis woman, McCorriston has founded educational supports such as the Songide'ewin Program and helped open the Aboriginal Literacy Foundation.
Brenda Okorogba [BSc(Maj)/17]
Okorogba is the Founder and Executive Director of Momentswithbren, a global transformation consulting and advisory company that offers numerous resources, trainings and services to students, recent graduates, business owners, and professionals who are in the process of choosing a college, preparing for the labour market, transitioning into a different career, launching and expanding a business, starting a passion project or community-based organization, as well as those planning to attend grad school.
Margaret Ormond [ExtEd/94]
Margaret Ormond has been working as a nurse with some of Winnipeg's most vulnerable populations for decades, focussing on those living with HIV, the homeless, and transgender population. She often uses her nursing background to empower many oppressed Manitobans and prioritize their health, touching the lives of Manitoba's marginalized people, as well as health care workers, researchers, and community activists.
Sheilah Lee Restall [BComm(Hons)/06]
Restall founded the Poppy Blanket Project — a blanket composed of over 8,000 poppies and 2,000 dedicated ribbons stitched together with love and care in honour of Canada's fallen soldiers and veterans. She also spearheaded Winnipeg Animal Craft Group which brought Manitobans together to aid in the Australian fires, and Winnipeg One Neighbourhood, which connected Winnipeggers in need during the pandemic with volunteers who were willing to help get essential items such as groceries.
Titi Tijani [BHEcol/98]
For over 30 years Tijani's been involved with several organizations aimed to help African immigrants build a happy and successful life in Manitoba. Her dedication to the community has earned her the nickname Auntie Titi. Thanks to her efforts, an act was passed in 2007 that changed the way industries in Manitoba recognize international education and immigrants' employment qualifications.
Chris Voth [BPE/20]
Since becoming the first openly gay athlete on the Canadian national volleyball team, Voth has continued to be a role model for young LGBTQ athletes. He is now chair of Out There Winnipeg, an organization run by volunteers that promotes and offers opportunities for physical and social activity for Winnipeg's LGBTQ+ community.
Hong Wang [MSW/99]
For more than 17 years, Wang has served as the Chief Editor of the Manitoba Chinese Tribune (MCT), a not-for-profit magazine that helps newcomers and Chinese immigrants in various ways. Under her leadership, the magazine has grown to be the most recognized Chinese magazine in the city. Wang has recently retired from her position as social worker and student advisor at the University of Manitoba and is in private practice as a cultural consultant.
Clare(Doherty) Agnew [EE/96, EE/00]
Mike Babb [BPE/78, Cert.Ed/84]
Monica Baldwin [BEd/01, PB Dip Ed/18]
Margaret Bartlett [BSW/90]
Vince Boschman [BComm(Hons)/95]
Robert Cesmystruk [BSc/66, CertEd/68, BEd/71, MEd/84]
Charlie Clifford [BPed/71, BA/73, BEd/73]
Yvette Cuthbert [BID/84]
Karen Dana [BSW/77]
Harry DeLeeuw [BA/64]
Tom Dercola [BA/67, CertEd/69
Robert Fabbri [LLB/73]
Merle Gadsby [BPE/69, CertEd/70, BEd/71, PBCertEd/92]
Muriel Gamey [BPE/72]
Gary Gilmour [BA(Hons.)/72]
June Gray [ExtEd/98]
Deborah Harri [BComm(Hons)/79]
Ian Hughes [BA/84, ExtEd/97]
Don Huisman [ExtEd/07]
Tanya LaBuick [BA/93]
Nicole Matiation [B.A (Hons.)/88]
Catherine McLaren [BSc/74]
Ken Mikolayenko [BA/69]
Judy Morningstar [BScHEc/66]
Edith Mulhall [ExtEd/96]
Connie Newman [BSc/69, CertEd/70, BEd/79, MEd/90]
Paul Norris [BComm(Hons)/95]
Mervin Reibin [CertAdult/ContEd/13, CertApplMgmt/17, Cert Quality Mgmt/18, Cert Mgmt&Admin/20]
Arthur Rey [BEd/85]
Robert Roehle [BSA/68, MSc/71]
Roger Sheldon [BSA/71]
Tammy Shirtliff [BA/86]
Linda Small [ExtEd/05, ExtEd/8]
Colleen Tackaberry [BHEc/69]
Amy Tung [BHEcol/07]
Roman Yereniuk [BA/70]