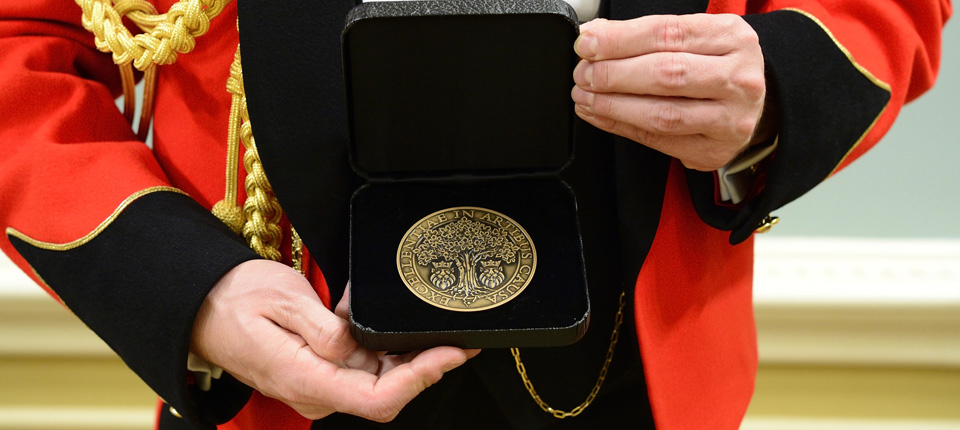 Two alumni receive Governor General awards
March 10, 2017 —
Two University of Manitoba alumni—both stewards of Canada's art scene—have received prestigious Governor General's Awards.
Philip Monk [BA/72], renowned curator and contemporary art critic for Maclean's magazine, won a 2017 Governor General's Award in Visual and Media Arts in the category of Outstanding Contribution. Winnipeg entrepreneur and arts philanthropist William H. Loewen [CA/54] earned the 2017 Ramon John Hnatyshyn Award for Voluntarism in the Performing Arts.
Monk and Loewen received their honours at Ottawa's Rideau Hall on March 1. The awards recognize and celebrate the pivotal role they both have played in Canada's arts sector for more than 40 years.
"[Monk's] rigorous critical voice, his consistently exceptional curatorial work, and his inventive transformation of disciplines and institutions have made an inestimable impact on the history of art in Canada," says Greg Staats, assistant director/curator at the Art Gallery of York University in Toronto, where Monk is director. "There is an underlying continuum to Philip Monk's practice that is rooted in a lifelong reflection on community and memory."
The sounds of music
Bill Loewen's love of music drives him to enrich our culture.
"Music has been particularly important to me," he says. "I compare it to a magnet and iron filings: a magnet orders the filings in a certain space, just as music orders your frazzled mind beautifully at the end of the day."
For 40 years, Loewen—a Member of the Order of Canada—has been passionately involved in many aspects of the Winnipeg Symphony Orchestra (WSO), so much so that in 1995, the orchestra's musicians voted unanimously to make him an honorary member of the WSO. No other person has received this honour.
Loewen also received the WSO's Golden Baton award in 1998, recognizing the profound support he provided the orchestra, such as establishing its Legacy Circle, providing ongoing donations to the orchestra's endowment fund, and sponsoring the annual Music at the Millennium free concert series.
The University of Manitoba is proud of Philip Monk's and Bill Loewen's exceptional accomplishments and service to society. We congratulate and thank them for their important contributions.