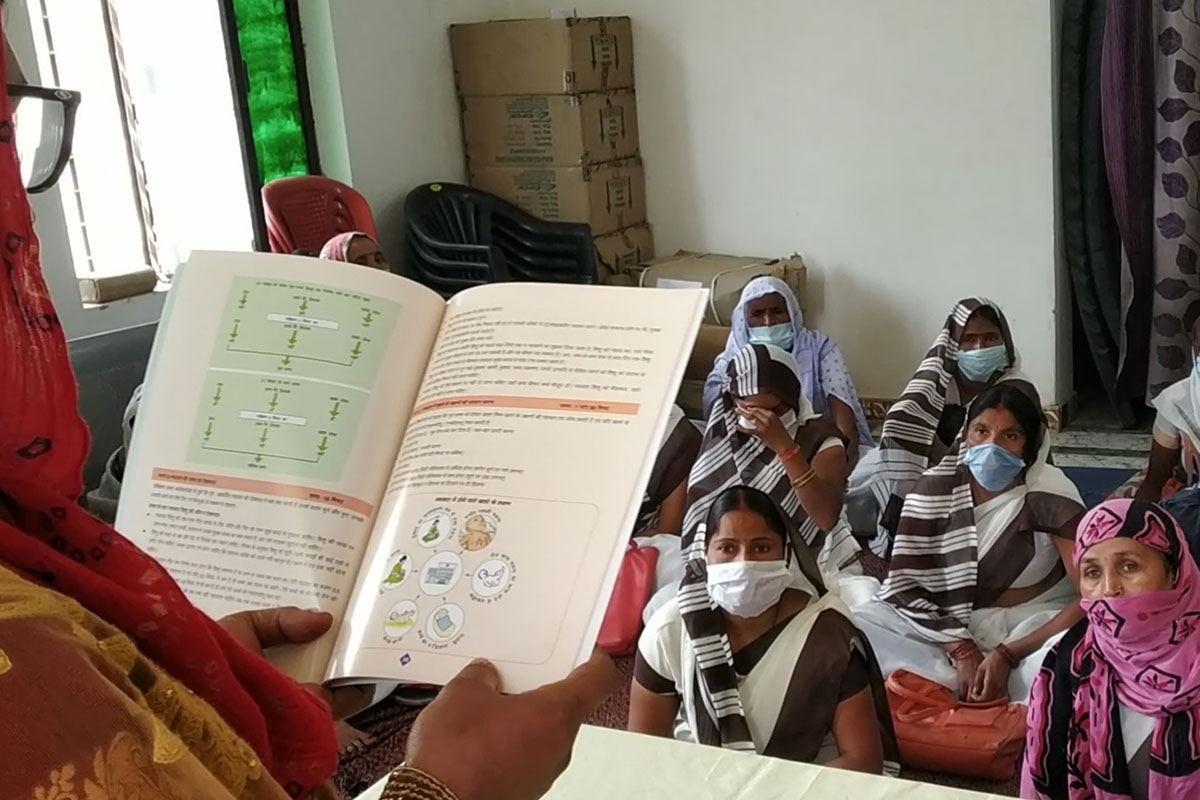 UM in India
June 3, 2021 —
Uttar Pradesh is a state in northern India with a population over 220 million people. It's also currently one of the regions of the world hardest hit by COVID-19 infections. Most of us have seen video or photos on the news of large numbers of funeral pyres, desperate people trying to obtain oxygen cylinders for their sick relatives, and hospitals overwhelmed by thousands of patients affected by the pandemic's relentless onslaught.
And the University of Manitoba is there.
Dr. Marissa Becker [MD/99] is an associate professor in the department of community health sciences and the department of medical microbiology and infectious diseases within the Rady Faculty of Health Sciences. She is also director of technical collaboration for the Institute for Global Public Health (IGPH).
In Delhi, her role with IGPH supports UM projects in India.
UM has been working in India since the early 2000s, beginning with work on HIV prevention and care led by Drs. James Blanchard and Stephen Moses. Since then, the work has expanded to maternal and child health, nutrition, family planning, and health systems strengthening, as well as work on infectious disease surveillance and tuberculosis.
Becker notes: "We currently work in Delhi, Madhya Pradesh, Karnataka, and Uttar Pradesh. Our biggest program is in Uttar Pradesh in partnership with India Health Action Trust, where we work with the local government to run a Technical Support Unit (TSU) on maternal and child health. We support the government in achieving its health goals in the areas of maternal, newborn and child health, nutrition, family planning and health system strengthening."
The UM TSU team, funded by the Bill and Melinda Gates Foundation, is large, with about 1,200 people, mostly local residents, providing technical support for programs at the state level and local community level. They work with frontline workers, health care providers, health systems, data, and they design and implement surveys.
Becker explains: "The TSU team is headed by Dr. Vasanth Kumar who has an appointment with UM community health sciences, as do many of our senior core team members from India.
In addition to the team in India, we have a number of UM faculty who support the work, including Drs. Stephen Moses, Maryanne Crockett, Rob Lorway, Shiva Halli, Lisa Avery, Ties Boerma, and BM Ramesh. Dr. James Blanchard is lead of the TSU team in Uttar Pradesh. A number of our postdoctoral students and other graduate students are also engaged."
When the pandemic hit India a year ago, UM researchers were asked by the government of Uttar Pradesh to help provide support in dealing with the pandemic. They created and implemented a multi-pronged strategy using data for decision making and helped establish a very comprehensive COVID-19 surveillance system for the state. In addition, they provided training and support to front line workers in the community around prevention measures and community surveillance. Further, they supported forecasting for strategic planning of equipment and supplies and helped in conducting COVID seroprevalence studies.
With the tidal wave of COVID cases today, the UM team is working with the government to help address the very serious and very dire oxygen shortages.
Becker says: "The situation here is very difficult- and the health system in many areas across the country is overwhelmed- the impact is immense. The health care facilities are full and many have insufficient equipment and supplies. Families are really struggling. On top of their trying to cope with loved ones that are sick, many are incurring significant financial costs — catastrophic out of pocket expenses."
She explains that the vaccination program in India started out strong but unfortunately the total proportion of the population immunized was still very low when this latest wave hit.
"I fear that the country will have a difficult time in catching up quickly enough to address this current wave," she says. "In the meantime, other prevention measures have been put back in place with lockdowns in many states across the country. We are also now seeing many countries step up with support now, but I'm worried about the shift to more cases in the rural areas and also to neighbouring countries in the region in which we are seeing increases in cases — and these countries are also facing shortages of vaccines."
Becker admits that the pandemic is affecting her personally to some extent.
"Many of our team members and their families have been affected," she says sadly. "Many friends and colleagues are trying desperately to help their loved ones find a bed, find medicines, to provide care to them. You can hear people's frustrations, grief and exhaustion when you speak with them."
Becker believes that the UM community should be proud of the UM response in India. "Not only has our team played an active role in addressing the pandemic, but it has also tried to help the state of Uttar Pradesh ensure that many of the consequences of the pandemic, such as interrupted health care services, have been mitigated. We have worked very hard to ensure the quick and safe return of full services for ensuring maternal and child health."
Finally, Becker appeals to all of us in taking the situation seriously.
"Sitting here in Delhi now, I want to convey that this is a global emergency and we need to treat it as such — with upmost speed in rolling out vaccination programs, and ensure access to all- within our own country, but also globally," she explains. "We must learn from this pandemic in effort to prevent and better address future epidemics, and mitigate their very significant consequences, including the tremendous health, social and financial impacts."
She adds: "As academics, we need to keep making sure we are using science and appropriate data to inform our response to the pandemic. It's so critical right now. I think our projects here demonstrate the use of data for decision making."