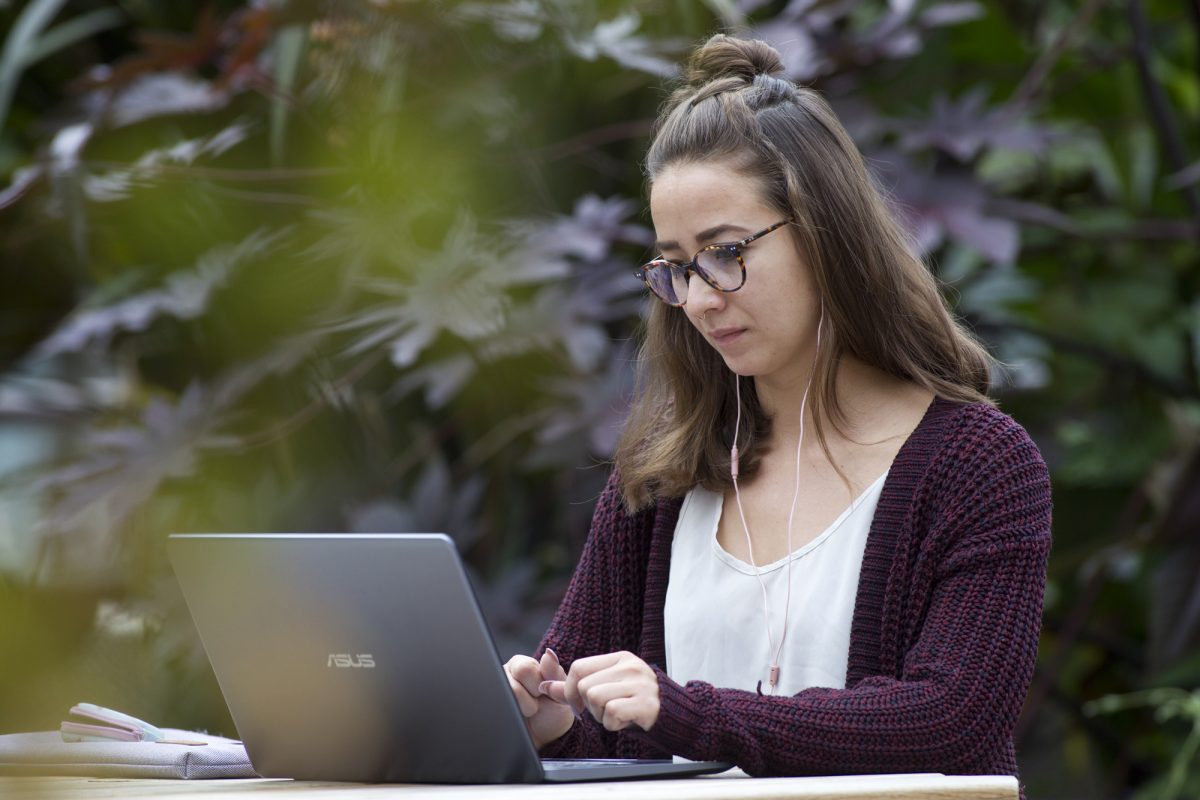 The show must go on
Reflecting on a pandemic year in Student Affairs
July 12, 2021 —
If there had to be one word to describe the university experience in 2020, "pivot" would certainly be a good choice.
Throughout the past 15 months, UM saw the introduction of a compassionate grading option, changes to the academic schedule, and fluctuating policies and protocols, each of which had a ripple effect on program and service delivery, systems, website content, resource materials, advising and counselling practices, and more.
If there was potential for students to be impacted, members of the Student Affairs team were at the table and worked hard to bring ideas to fruition.
With the conclusion of Winter Term, there is space now to reflect on the "pandemic year" in Student Affairs and offer insight to others as we look towards continued remote delivery in the fall.
Making progress through collaboration
From Prep Week to widgets to classroom allocations, cross-unit partnerships were key throughout the past year. The Student Affairs team is immensely grateful to our colleagues for the collaborative spirit and sense of common purpose that characterized our work together.
Monthly meetings of advising coordinators across academic units and Student Affairs ensured open lines of communication and alignment of practices as new pandemic-related policies and procedures were implemented.
The remote learning environment brought unique academic integrity challenges. Through collaboration across the institution, Student Affairs was able to deliver enhanced educational campaigns, provide additional supports for students, identify gaps in current processes, and longer-term strategies to address them.
Other notable highlights include:
The Sexual Violence Resource Centre opened its doors two months before the shift to remote learning and working. By building relationships with numerous campus and community partners, the Centre served 335 total contacts, with almost 200 continuing appointments, in its first year.
Career Consultants forged new partnerships with faculties to embed career development content in the curriculum for biosystems engineering, medicine, environmental and computer science.
Financial Aid and Awards collaborated with Donor Relations, the Faculty of Graduate Studies, the student unions, IST, the Bookstore and Food Fare to launch a new UM Student Technology Fund and a reimagined contactless delivery Food Bank program.
Student Accessibility Services worked in collaboration with faculties, IST, and the Centre for the Advancement of Teaching and Learning to establish procedures for accommodating online tests and exams for students with disabilities.
Being nimble
Faced with no other alternative and very little time, Student Affairs units – like many across UM – had to adapt in-person and paper-based processes to a virtual environment.
Student Recruitment successfully moved a full recruitment cycle online; Admissions transported a heavy paper-dependent admission and transfer credit assessment process to a virtual environment; and the Registrar's Office front counter and Records Advisors provided virtual services with no downtime – providing a lifeline for students and staff in the early months of the pandemic.
Other notable shifts included:
Student Engagement & Success converted programs to a remote mode of delivery, including new student mentoring programs, the student leadership series, orientation facilitators, full-time and part-time intensive academic English programs, all advising activities, and more.
The International Centre shifted all student advising to a virtual platform with no interruption in service. They also transitioned all in-person immigration sessions to a remote format, with great uptake from students; and moved the International Student Advisors network online. The team redesigned their intercultural programs for online delivery and saw a significant increase in online Fall orientation attendance.
Bringing in the Bystander training was converted to an online format by its authors which enabled us to resume our work in promoting a community responsibility approach to sexual violence prevention, with increased participation and mandatory training for all Bison athletes.
Student Support established virtual platforms and new programming to safely deliver services remotely through the Student Counselling Centre, Spiritual Care & Chaplains, Health and Wellness, Student Advocacy & Case Management, and Student Services at the Bannatyne Campus.
Following the fire at the UMSU University Centre in March, and then the shift to remote working, the University Health Service relocated twice, finally resuming in-person health care at the Bannatyne Clinic in October (which this team also managed to open in the middle of a pandemic), and ultimately moving to temporary modular space on the Fort Garry campus in February.
Embracing innovation
One of the clear benefits of this pandemic year has been the opportunity to reimagine some programs and services to ensure they were accessible to students from locations around the globe. Many of these have proven highly effective and will endure well beyond the pandemic.
Student Recruitment successfully launched a Chinese Micro Site and WeChat account, and highly successful virtual Open Houses;
The Registrar's Office created and uploaded a widget to enable students to make their compassionate grading choices;
The International Centre introduced new information sessions to share updates regarding quarantine protocols, travel considerations and restrictions, and offered a weekly virtual support chat space. Not daunted by the suspension of in-person exchanges, the mobility team regrouped and established a virtual exchange program for inbound exchange students, which has been approved for Fall 2021;
Community Engaged Learning launched the Working in Good Ways framework, to support those who engage in collaborative work with Indigenous communities; and developed new programs for the remote environment, including the Virtual Community Centre;
Student Engagement & Success established new welcome and transition programming for first year students, such as UM Commons; created remote delivery videos and student video testimonials for English Language Centre programming; and launched a new Virtual Study Hall.
Focusing on compassion
While the past year demanded new ways of doing our work, our approach did not change. Thank you to the many students who reached out to thank Student Affairs staff, and to offer feedback so we can continue to offer the supports, programs and services you need to excel throughout your academic journey.
Because of COVID, people feel a sense of loneliness, and this community has helped me overcome that. I was able to make new friendships, and I've recommended that my classmates join. ~Virtual Community Centre participant
I don't know how I could ever properly thank you for what you have done to help me. I have never met a more genuine, honest and compassionate person…who was there for me when it mattered most. ~Student Counselling Centre client
When I came to Student Services after dropping out of Engineering I was lost … I had a GPA of 2.33 … and really thought I was not cut out for university at all. Today, I finish my university career with six consecutive semesters on the Dean's Honors List while maintaining a GPA of 4.38 because I was doing something I absolutely love which was studying exercise and recreation. My life has completely changed for the better and I feel I am on a path of success now… Thank you so much for your work you do every day for students like myself. I am grateful we crossed paths at the time we did. I remember making you a promise that I would graduate and see you on my graduation day to celebrate finishing this degree. COVID has obviously changed our plans, but the thought of that moment drove me through some tough times where I wanted to give up as a student. Thank you for the impact you have had on my life. ~ Career Services client