partnerships and innovation News Archive
June 7, 2023 —
Sparked by his own curiosity, Carl Szczerski, a technician in the Faculty of Science, purchased his first personal 3D printer in 2018. Now, he's using the technology to support teaching and learning, too.
+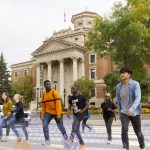 May 19, 2023 —
Map the System is a global competition out of the Skoll Centre for Social Entrepreneurship at the University of Oxford. Map the System requires participants to use a systems-thinking approach to demonstrate deep understanding of a pressing social or environmental challenge. In doing so, students ultimately uncover levers for change. Last year 16 Canadian post-secondary institutions participated in this global challenge. In 2024, Map the System is coming to the University of Manitoba!
+
March 6, 2023 —
President Benarroch talked about his non-traditional view of entrepreneurship and why entrepreneurship is more about ideas and impact than dollars and cents.
+